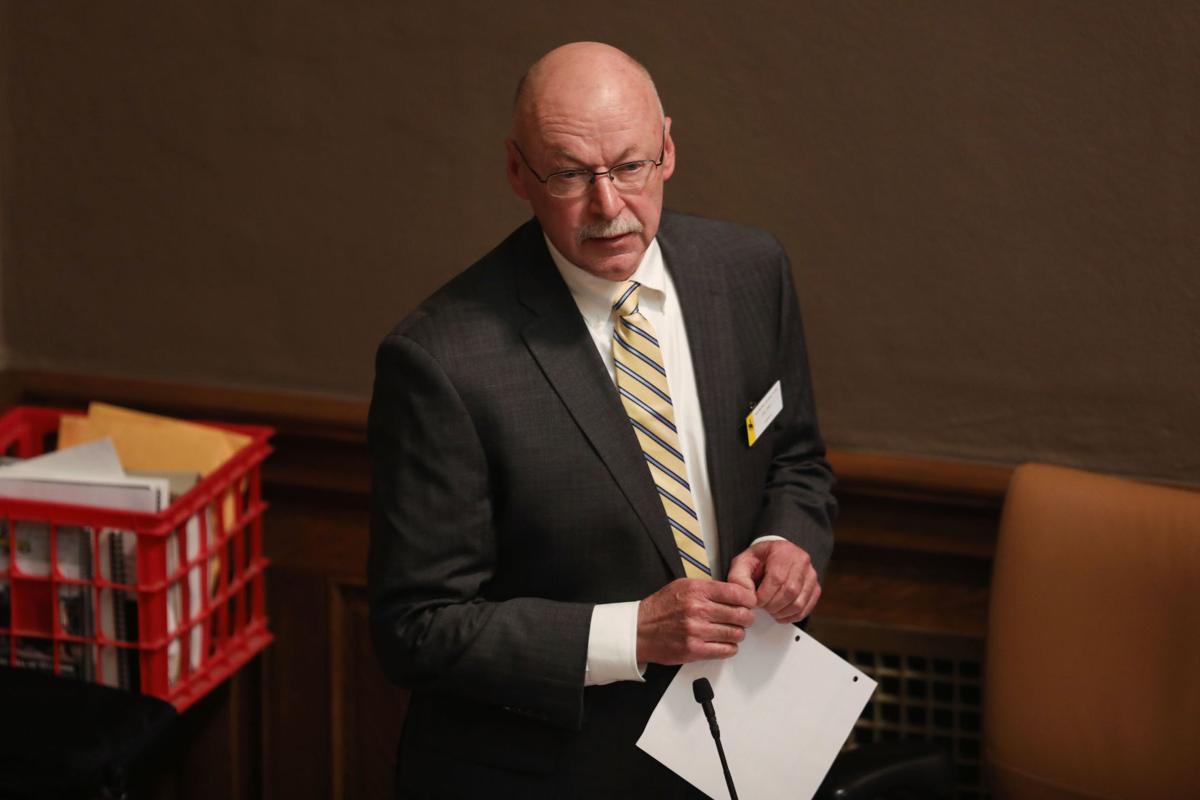 State lawmakers have been warning of Wyoming's fiscal reckoning for decades now.
Under Gov. Stan Hathaway in the 1960s, a collapse in revenues forced the state to implement its first severance tax and, decades later, Gov. Mike Sullivan, responding to another collapse of oil prices, shepherded the Legislature through the passage of a statewide sales tax. It contained a caveat, supported by now-U.S. Sen. Mike Enzi, that it would go away the minute the state's education system was fully funded.
But it never did, and, by the time the landmark Campbell County decision was passed down in 1995, creating a constitutional mandate around the state's funding of K-12 education, it quickly became clear that what the state had done to that point was not enough.
In 1997, state lawmakers approved a wide-ranging plan to fix the state's tax structure, diversify its revenue streams and prepare for a time beyond the boom-and-bust cycles that have long defined Wyoming's finances. The final document resulting from that legislation, dubbed Tax Reform 2000, painted an ambitious picture of what the state could be, laying out a wide range of reforms that were not only accountable to taxpayers but also relied on a broad range of revenue streams and provided a similar tax burden for businesses and residents living under similar circumstances.
While some of those reforms were eventually adopted, two decades later, Tax Reform 2000 stands out as a missed opportunity whose time has come again, particularly as the state begins to face one of the darkest economic forecasts in its 130-year history.
The three pillars that have long-supported the state — coal, oil and gas — have begun to erode. The state's sales tax is rife with exemptions and, amid the COVID-19 crisis, has seen a 12% hit over the last year, a decline equivalent to roughly $120 million.
Property tax revenues, which have gone relatively untouched over the years, remain far below those of neighboring states like South Dakota, while investment income — a rare bright spot for the state — is expected to earn even less as the country faces a recession.
And all of this, Gov. Mark Gordon said at a 20-year retrospective of the report put on by the Wyoming Taxpayer's Association on Tuesday, is hitting shortly after state lawmakers had already slashed the size of the government in half.
"When I was treasurer in 2016, we were facing what was then the largest loss in revenue that we had ever seen in the state," Gordon said. "And now in 2020, we have dramatically exceeded what we saw in 2016, and are now facing the worst challenge for our economic stance that the state has seen."
The nature of this year's unprecedented declines, Gordon noted, are not new to Wyoming, which has long been susceptible to the changing dynamics of international supply and demand. But a reckoning is coming, as innovations in the energy industry, growing anxiety about the changing climate and a global pandemic has exacerbated the downfall of the energy industry to a crisis point.
And while the Wyoming Legislature has long been able to bridge the gap using its ample reserves, a $1.2 billion deficit and the prospect of massive cuts to K-12 education, health care programs and other services have shown that time is quickly coming to a close.
"I haven't voted for a state budget in a decade, because I've expressed the view our budgets have not been sustainable," Senate Revenue Committee Chairman Cale Case, R-Lander, said Tuesday. "But things have really changed. I do think the Legislature is a reflection of what people want. And they've chosen the path of low taxes and a high level of services. But the truth is, that is not sustainable."
Around Wyoming, this year's economic crisis has inspired an outpouring from fiscal conservatives to cut government even further than it already has. Health and education, the biggest areas of the budget, are expected to see the most significant cuts, with Rep. Dan Zwonitzer, R-Cheyenne, telling attendees he anticipated K-12 education spending to see a 15-20% reduction in this coming legislative session. Gordon has already committed to cutting government by an additional 20% this summer, reductions he said will likely cut government "into the bone."
Even then, it likely will not be enough, panelists warned, meaning Wyoming stands a real risk of blowing through its savings within the next several years unless dramatic steps are taken. A widely circulating chart produced in 2018 by the Wyoming Taxpayers Association shows that the average Wyoming resident pays in taxes just slightly more than 10% of what they receive in services, a model that can no longer support Wyoming's current levels of services.
"I've been told this is a lie, that this is propaganda, but … it's the truth," Buck McVeigh, Gordon's chief of staff and the former director of the association, said Tuesday.
While cuts are a necessary part of balancing the state's budget moving forward, lawmakers have begun to openly consider what budget-sustaining cuts will actually look like, and whether those reductions will actively begin to affect critical services or the state's ability to attract new businesses.
Addressing this, lawmakers acknowledged, will likely require the state to pursue options that were once unthinkable: a suite of unpopular options lawmakers said includes a targeted income tax on the state's highest earners (good for $115 million in revenues per year, according to the Legislative Service Office) and a property tax code in line with other states like South Dakota which, despite having little mineral wealth, has $99 billion in assessed property value. Wyoming has $21 billion — half of which is mineral-related.
Other concepts include a competitive corporate income tax ($23 million per year, according to the LSO) and a broader sales tax base capable of generating equivalent revenues off the service and tourism economy the state has worked to cultivate.
"South Dakota hasn't found a service it won't tax," Wyoming Director of Revenue Dan Noble said Tuesday. "With the exception of health care, everything else — digital services, professional services, accounting, legal — everything is taxed. We need to consider that our existing tax structure maybe could still serve us well if we look at how to approach it from that perspective."
Those types of reform, said Noble, will not have an immediate impact, likely taking 18-24 months to begin returning revenues for the state. With state budget officials already acknowledging that a lack of cuts or taxes will likely dry the state's savings accounts within the next two years, the unpopular choice could become a necessary one and pose an existential question for voters headed to the polls this August.
"Real tax reform measures are going to have to wait after the election, after the dust settles," Case said. "That's just how it's going to be, and why this election is so important. And I'm sorry, but if someone has a billboard saying they're not to raise taxes or they sign a pledge committing to not raising taxes, they're not being fair to Wyoming or to your grandchildren."
Be the first to know
Get local news delivered to your inbox!