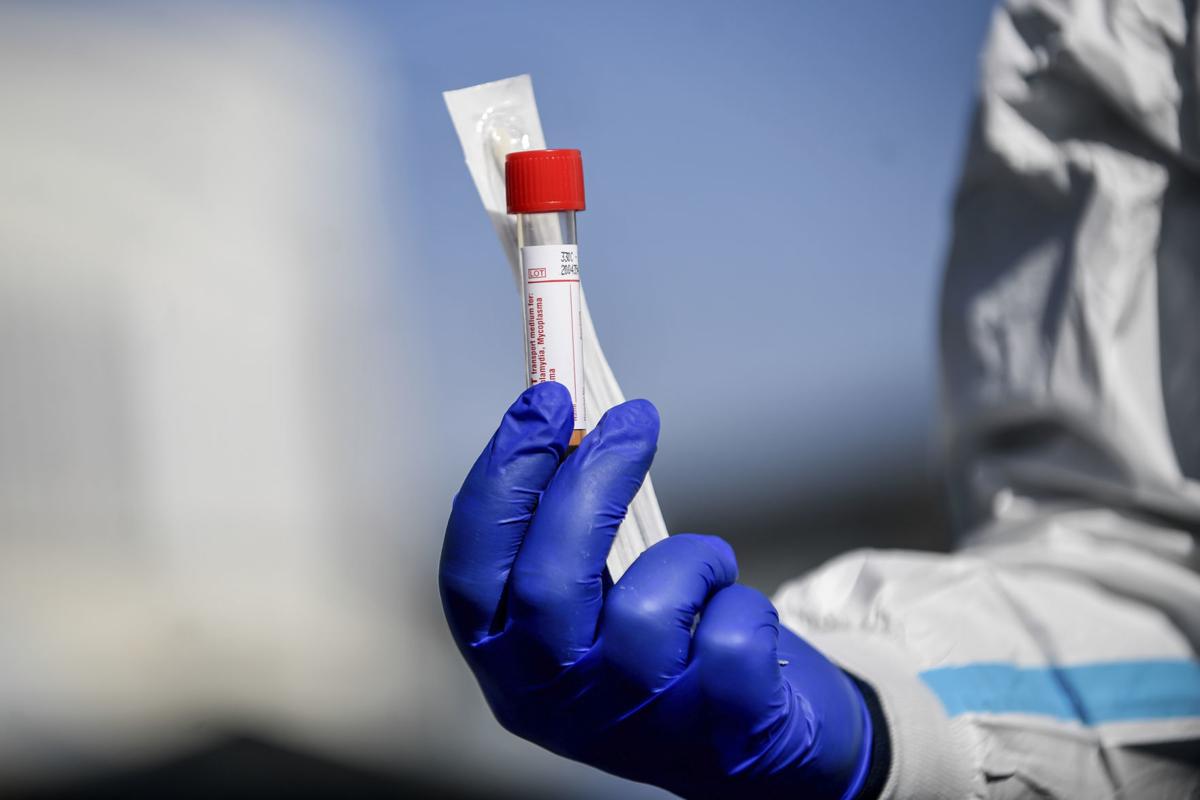 Two of the 10 confirmed Fremont County coronavirus patients have fully recovered, authorities said Monday, as county and tribal authorities announced more drastic recommendations to curtail the spread of the illness.
Those two patients have been released from isolation, according to the Fremont County Incident Management Team.
The age of the two patients is unclear, though they were associated with the outbreak at the Showboat assisted-living center in Lander, said Mike Jones, a spokesman for the incident management team. He added that he was unsure if they were residents or staff members.
But to be declared fully recovered, he said, "they would have absolutely no symptoms at all."
While the news should be celebrated, Lander Assistant Mayor RaJean Strube Fossen said, it doesn't mean area residents can stop being diligent about helping to stop the spread of COVID-19.
"Do not drop your guard, and keep following the CDC recommendations," she said. "We are in it for the long haul."
Fremont County has had the most coronavirus cases in Wyoming, with almost all of them linked to the Lander assisted-living center. The first case was announced on March 14.
And more confirmed cases could soon come, with 46 test results pending as of Monday afternoon, Strube Fossen said.
In total, there have been 28 identified cases of coronavirus in Wyoming as of Monday evening, all since March 11.
Self-isolation requests
The county's announcement also comes as authorities in the county and on the Wind River Reservation are asking some — or all — to self-isolate to help limit the spread of the coronavirus.
On Monday, the Wind River Inter-Tribal Council asked all Eastern Shoshone and Northern Arapaho tribal members to voluntarily self-isolate themselves, just days after the Northern Arapaho said one of its citizens was among the confirmed COVID-19 patients in the county.
The tribes asked members to leave their homes only for emergencies, to seek medical care, or to buy essential goods or services. They also again asked citizens to avoid gatherings of more than 10 people, while reminding members of the tribes' prior precautions.
"We recognize this stay-at-home-request, along with prior orders closing schools, canceling Tribal events and enacting other restrictions, impacts each of our daily lives," the joint council said in its announcement. "The good news is we as individuals can do our part to help break the chain of virus transmission by doing something simple: staying at home."
Other actions the tribes have taken include declaring states of emergency and temporarily closing their casinos.
The Northern Arapaho Tribe on Saturday said it had confirmed the first case of coronavirus on the reservation. The patient, the tribe said, was a woman in her 70s from the Ethete area who was being treated at a local hospital.
The tribe didn't list the patient's condition but said she was "stable."
"Let this news be a wake-up call: COVID-19 is here and it is critical that every Northern Arapaho member and family take necessary precautions," Northern Arapaho Business Council Chairman Lee Spoonhunter said in a Saturday news release. "With our prayers and traditional way of life, and by following common sense health precautions, we will emerge from this challenge stronger than before."
Indian County organizations like the National Congress of American Indians have said Indigenous people are especially vulnerable to the respiratory illness or complications because they suffer from higher rates of underlying conditions — like diabetes and heart, lung, liver and kidney disease — that are associated with increased chances of contracting coronavirus or suffering from its more serious side effects.
The organization also said higher rates of housing overcrowding — which applies to both Wind River tribes as they struggle with a housing crisis — among tribes can worsen the spread.
The tribes' request came after Fremont County health officials over the weekend asked those with symptoms associated with the illness, like fever, cough, congestion or other upper respiratory issues, to assume they have COVID-19 and self-isolate. Officials also said anyone waiting for test results — or anyone who has tested positive – is required to self-isolate.
"Rates of influenza and other respiratory illnesses are currently minimal in our community," a Sunday news release read. "Testing resources continue to be limited and most COVID-19 infectious symptoms are mild and can be managed at home with support from your local medical provider or from Fremont County Public Health."
In Lander, Strube Fossen, the assistant mayor, said most residents have followed recommendations about avoiding public gatherings. Area nonprofits and groups that offer assistance like food banks and community health organizations have been swamped with requests for help from those who have been affected, she added.
But, she said, many groups and individuals have stepped up to form volunteer efforts — though organization could be more centralized and better organized — to help out local residents in need.
"It's just fabulous," Strube Fossen said. "We have an awesome community."
Concerned about COVID-19?
Sign up now to get the most recent coronavirus headlines and other important local and national news sent to your email inbox daily.