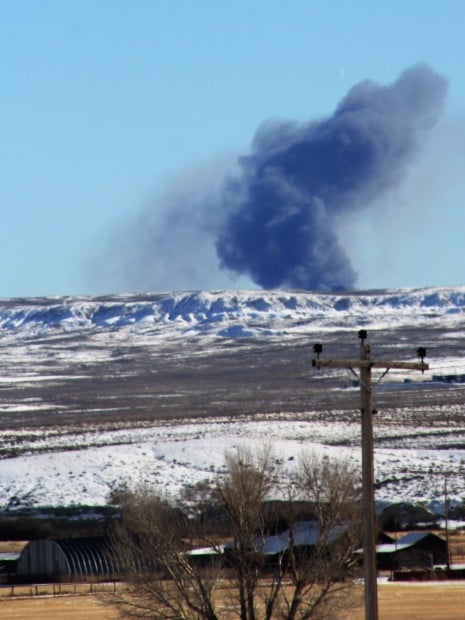 A fire at a natural gas compressor station in southwest Wyoming on Tuesday set off two explosions, sent smoke billowing into the sky and caused two people to be taken away by ambulance, authorities say.
The Sublette County Sheriff's Office received calls shortly after noon reporting a fire, thick black smoke and venting natural gas at the Falcon compressor station, part of a system in the Upper Green River Basin that gathers and transports gas produced from the Jonah and Pinedale Anticline fields.
Reports indicated venting gas ignited and set off two explosions, the sheriff's office said in a news release. Firefighters, medical personnel and sheriff's deputies responded to the scene.
All employees and contractors at the station south of Pinedale were accounted for, said Rick Rainey, spokesman for Houston-based Enterprise Products Partners, which owns and operates the station.
Two people were transported from the scene by ambulance after the incident triggered "pre-existing medical conditions," the sheriff's office said.
The fire will be allowed to burn out on its own under firefighters' supervision, the sheriff's office said Tuesday afternoon.
Rainey said he was unsure if it is accurate to call the incident an explosion.
"There was obviously a fire that occurred on some equipment inside the compressor station," Rainey said.
The company halted the flow of natural gas to and from the station, isolating it from the gathering system, he said.
As to the cause of the fire and explosions: "We just don't know yet, but we'll be conducting an investigation," Rainey said.
The station is part of the Jonah Gas Gathering System, which gathers gas from the fields for delivery to regional gas processing plants and major interstate pipelines.