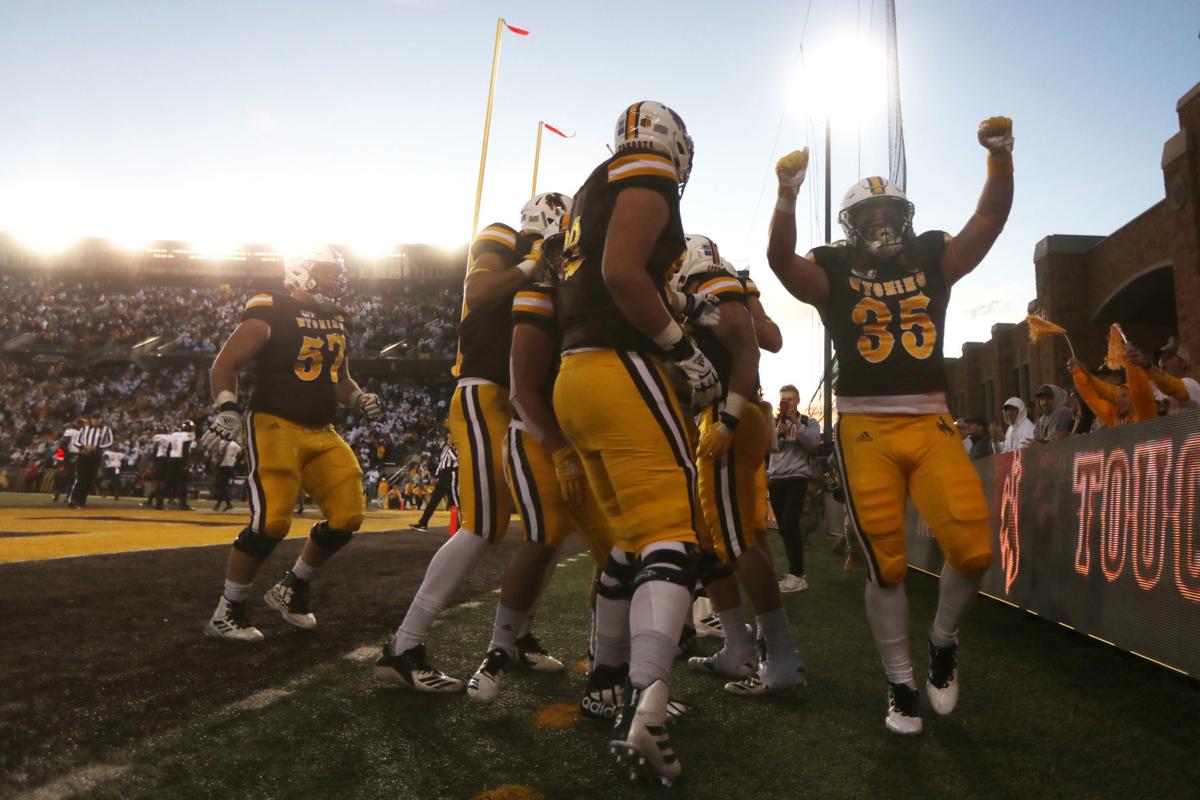 LARAMIE — With still five months left until games are scheduled to be played, no one has an answer.
But just about everyone involved in college athletics seems to have an opinion about the upcoming college football season. And whether it's publicly or privately, there's plenty of concern as to whether there will be one at all this fall.
That concern is growing by the day amid the coronavirus pandemic, which has brought much of the country to a halt. As of Saturday, the number of confirmed COVID-19 cases nationally had grown to more than 300,000, according to the latest data from Johns Hopkins University. Wyoming's case count, which is at 187, has more than quadrupled in the last 10 days.
The spread of the virus has caused Major League Baseball as well as the NBA and the NHL to put their seasons on hold. At the collegiate level, most conference basketball tournaments were canceled last month before the NCAA officially canceled its winter and spring sports championships, which included the Division I men's and women's basketball tournaments.
The Tokyo Olympics have also been postponed until next summer after originally scheduled to begin in July, which isn't the best sign for the start of football season given that's when NFL training camps are held and when college teams begin gearing up for fall camp in August. Wyoming athletic director Tom Burman admitted even the most extreme contingency plans have already started to cross his mind.
"I think there's multiple options to talk about with athletic directors whether it's delaying the season, eliminating preseason games, playing the season into later in the year and then even playing into the spring, which that one concerns me a little bit," Burman said. "It depends on how you define spring. In Wyoming, I define spring as April and May, and I'd be OK with that. If we were playing in February and March, (the weather) might be a little bit harsh."
UW, which has already scrapped an in-person graduation service for virtual commencement ceremonies in mid-May, has moved all of its classes online for the rest of the semester, so many players have gone home to finish their spring coursework and work out when they can. The Mountain West has suspended all organized, in-person sports-related activities indefinitely while other conferences such as the Pac-12 and the SEC have extended their suspensions of in-person athletics activities through at least the end of May, meaning teams won't be able to reassemble on campus until June at the earliest.
What the coronavirus outbreak looks like by then is anybody's guess, but safety remains the top priority. Schools could be taking a huge risk if they're trying to cram tens of thousands of fans into their stadiums by early September, which would be the exact opposite of social distancing that doctors and health officials are recommending as the best way to stem the spread of a virus that has no proven treatment or vaccine.
How government officials choose to proceed at that point will likely decide if any football games are played this fall, but Burman said he isn't "to the point of panic yet" when it comes to the possibility of the entire season being canceled. Burman said some of his optimism comes from a conversation he had with an unnamed NFL executive earlier this week.
"I asked him, 'Are you guys planning for a football season or are you making alternative plans?'" Burman said. "His comment to me was we're planning to start football in September but probably no preseason games. He said that's one of the options on the table. So that made me feel better. If the NFL isn't playing, it's hard to imagine the NCAA is going to play.
"The good news is we're in early April, so we basically have four months before August 1."
That's when Burman believes college teams need to be practicing if there's any hope of starting their seasons on time. UW's season opener against Weber State is scheduled for Sept. 5, but teams playing Week Zero games are supposed to start a week earlier.
UW coach Craig Bohl said there are too many variables at play to know what's going to happen four months from now, including what changes the NCAA might implement to the football calendar if players are finally cleared to return to campus at some point this summer given most teams had few if any spring practices. But it's his opinion that every other viable option should be explored before considering the worst-case scenario.
"We think it's really important for our student-athletes and then also for the fabric for our country," Bohl said. "We're going through some tumultuous times, and I think college football is special and it's a rallying point for people that can get emotionally invested behind their teams and feel good about stuff. I know this. The coaching staff, we will do everything we can to engage with a safe, playable manner. We just hope it gives us the ability to have a full season."
Follow UW athletics beat writer Davis Potter on Twitter at @DavisEPotter.
Concerned about COVID-19?
Sign up now to get the most recent coronavirus headlines and other important local and national news sent to your email inbox daily.