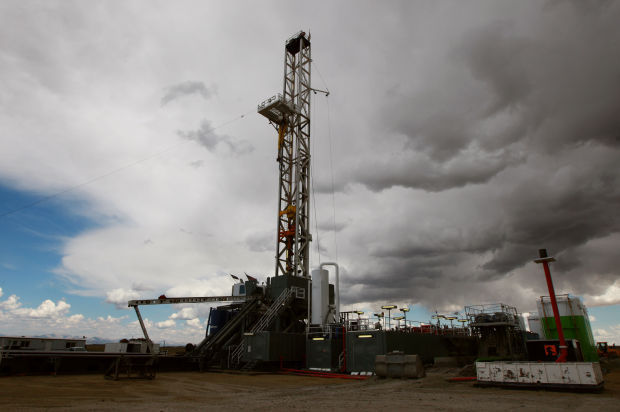 Wyoming ranks fifth nationally in volume of produced water. Produced water — or the water that surfaces during hydraulic fracturing and well treatment — is often chock-full of salts, metals and other chemicals.
But University of Wyoming environmental engineer Jonathan Brant sees the water differently.
This month, the scientist received a $1 million grant from the U.S. Department of Energy to develop new membrane technology that operators could employ to treat the water and capture additional natural resources.
The billions of gallons in water discharged daily during drilling could then be reused for industrial purposes. Brant and his team plan to create two membrane prototypes using electrospinning and electrospraying processes.
"We're aiming for a commercial, prototype product that we can then go and do field testing with," Brant told the Star-Tribune. "The ultimate objective is really to build a new product that we can manufacture here in Wyoming."
Testing will take place in Wyoming's bustling Green River Basin.
When wastewater discharge flows into an evaporation pit, it often contains residual oil as well as benzene, toluene, ethylbenzene and xylene compounds (or BTEX, for short). Operators throw out a majority of the produced water, often using deep well injection. But this disposal of some 60 percent of produced water can carry steep environmental and financial costs.
Through his research, Brant aims to limit the loss of uncaptured natural resources by developing a cost-effective way to recover the oil and BTEX. Eventually, the treated water could be reused for industrial purposes.
"I think this technology will allow people to view produced water not as a weight or problem, but as another resource that we, as a state, can take advantage of," Brant said.
Stubbornly low oil and gas prices have left operators scrambling to balance production costs and revenue. To Brant, an important goal of the research will be producing a cost-effective and simple product that operators can easily incorporate into current water management systems. The federal grant will enable him to conduct both economic and technical modeling on the products.
"The margins on oil and gas can be what they are so if you can not only improve our environmental footprint, which is certainly our goal, but also improve the economics here in the state, that is a win-win for everybody."
The project will launch in January.
Be the first to know
Get local news delivered to your inbox!