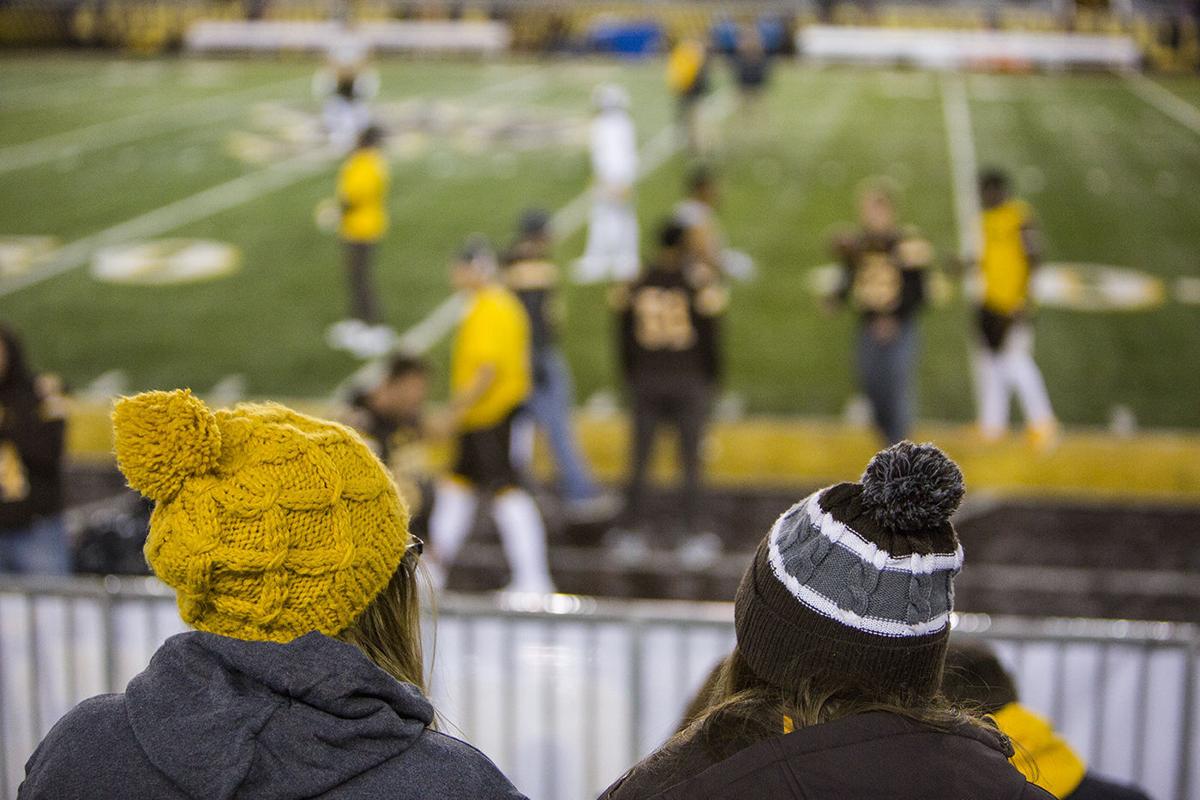 The University of Wyoming will begin in-person instruction for the first time in six months after its president decided Monday to end the two-week pause instituted by the school following the early spread of the coronavirus on campus.
UW had been on a pause since the beginning of September, after seven students and staff members tested positive within a 24-hour period. The pause began as a five-day stall, which meant students on campus were confined to their dorms and all instruction was moved online. The pause was intended to give officials time to study the spread of the virus, and it was extended so the school could evaluate the effect of Labor Day weekend.
But the numbers have stabilized since, and officials indicated last week that things had improved to the point that they were already planning to reopen campus. Over the weekend, though, 27 new cases were identified. Some of those were from earlier in the week, when Labor Day and inclement weather created a processing backlog.
As of Monday afternoon, the school has 93 active cases: 16 on-campus students are currently infected, plus 64 off-campus students and 13 employees. One-hundred seventy-five students are on 14-day quarantine orders. Seventy-eight students and staff have recovered, and 65 have exited quarantine. The university has collected more than 13,000 samples.
UW President Ed Seidel, who made the final call on reopening campus, called on students to follow social distancing and public health guidelines so the school could finish the year with in-person instruction intact. Though younger people may not be as adversely affected by the virus as older people, he said, it was everyone's responsibility to care for the broader community and slow the virus's spread.
"The pause succeeded in allowing us to get a better handle on the testing data and in taking necessary actions to help limit transmission of the virus," he said in a statement. "Now, we're ready to resume the phased return plan, with additional measures in place to keep the campus as safe as possible. For us to avoid another pause and proceed to the next phase Sept. 28, everyone — on campus or off — must adhere to those measures and avoid large off-campus gatherings where distancing and/or face protection are not employed."
The school will continue its regular surveillance testing, according to a news release, and buildings on campus "will reopen in a gradual manner." The library, for instance, will open with limited hours at first. The rest of campus will return on Sept. 28. Barring a significant spread of the virus that triggers another pause or a permanent shift to online learning, classes will continue until Nov. 20. After Thanksgiving break, the rest of the semester will move online.
The pause, which initially expired Sept. 9 and was then extended for another five days, gave the university time to study data and evaluate any potential clusters or outbreaks. But officials said last week that no such outbreaks had been identified. Though parties were initially a driver for early cases, the cause of the virus's spread gradually shifted to community transmission.
UW spokesman Chad Baldwin said that a "large number" of students living in sorority and fraternity houses had tested positive or had been in close contact with someone who tested positive. He said the school was preparing more targeted responses to future outbreaks, rather than a blanket pause for all of campus. For instance, if a single floor on a dorm had a cluster that was relatively contained to those students, that wouldn't necessarily a trigger to close down the entirety of campus.
The details of that more targeted approach are still being hammered out, he said.
Baldwin said UW was still investigating if any students broke university roles by hosting or attending parties. No student has been disciplined yet, he said.
"We know the virus is here, but we have been able to manage it in a manner that has kept our campus relatively safe," Seidel said in a statement. "As the situation has changed rapidly and our understanding of the disease is growing, we're developing new indicators and tactics to stay on top of it at UW. Everything we have done has one goal, and that is to be able to safely provide an in-person campus experience for the UW community."
The university has repeatedly changed its plans over the last six weeks, as the virus's presence in Albany County and throughout the state has shifted. In a plan approved in July, the school planned for a full reopening — all students returning to campus for in-person learning in August. That plan required limited classroom capacity, that all students and staff wear masks and self-screen for COVID-19 symptoms, and that students live alone in each dorm room.
While those public health measures have remained in place, the school in August shifted to a phased reopening plan. Under that blueprint, freshmen and select upper classmen would return in early September, and then older students would return in late September. From Aug. 24 to early September, classes would be entirely online.
That plan was paused before it had even really begun. In early September, as some students returned to campus but before classrooms reopened, the school hit pause after several cases were identified within 24 hours. Seidel was reportedly deciding between reopening to the phased plan or moving to entirely online learning.
Concerned about COVID-19?
Sign up now to get the most recent coronavirus headlines and other important local and national news sent to your email inbox daily.