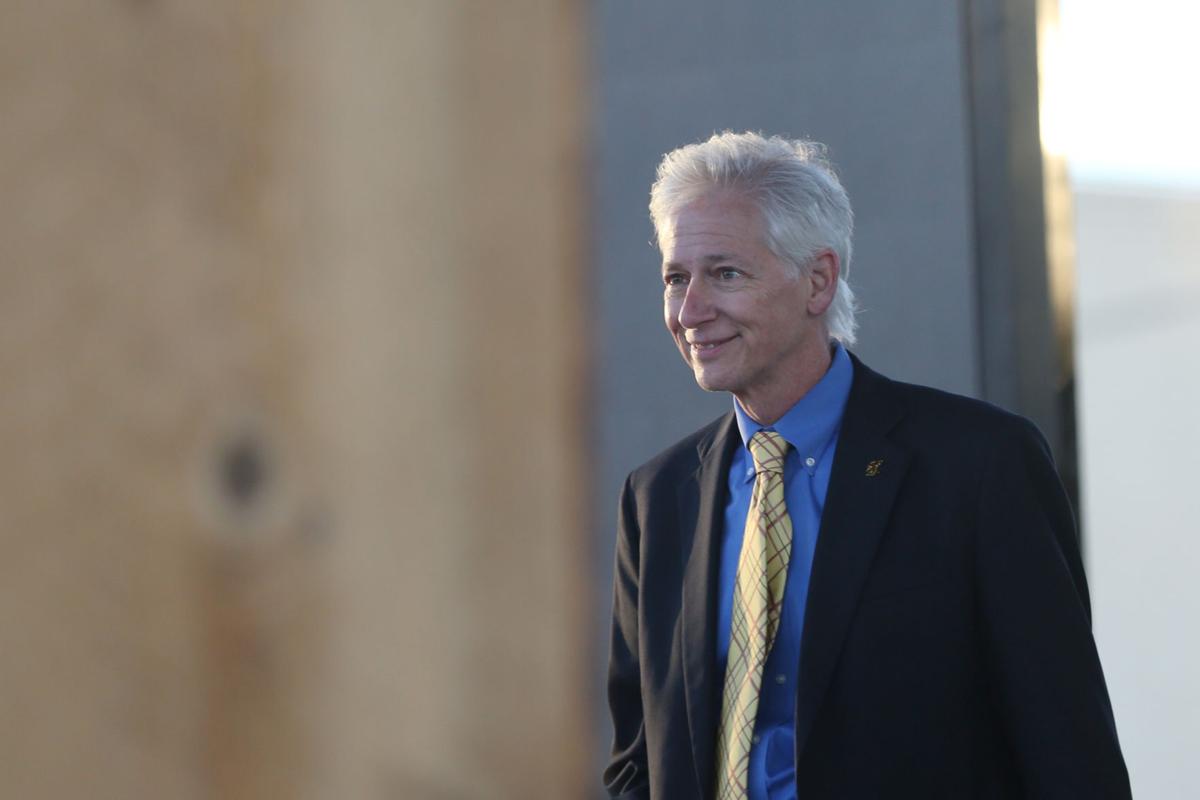 University of Wyoming president Ed Seidel offered a "State of the University" address Wednesday afternoon to staff and faculty, in which he reiterated many of the goals he's championed publicly over the last year.
Before making his standard "four pillars" pitch — focused on creating a more digital, entrepreneurial, interdisciplinary and diverse university — Seidel thanked a list of people for welcoming him and helping steer the university through the brunt of the pandemic. Now 14 months into the job, Seidel said he felt this new academic year is his first opportunity to get to know the campus.
"Those months were marked by milestones none of us ever expected," he said, referencing everything from budget cuts to COVID policies.
He also shared a long list of accomplishments among the school's various departments, ranging from the expansion of a student mentorship program, $93 million in research conducted over the last year, and the processing of a quarter-million COVID-19 tests.
Despite the successes, he said the university cannot maintain the status quo. When he arrived in Wyoming last July, he was met with a $42 million budget cut.
"These cuts have collectively added pressure to external forces of change that impact all institutions of higher learning," Seidel said. "We have to pivot, and so that's what this proposal is all about."
The university in July announced plans to cut $13 million from the budget and dramatically reshape its academic programs — which could result in up to 75 layoffs.
Both the reshaping and the layoffs are unprecedented, but the school has focused on how the "reconfiguration" will make room for new initiatives, namely a new school of computing, a Center for Entrepreneurship and Innovation, and a Wyoming Outdoor Recreation, Tourism and Hospitality Initiative.
Making way for the additions requires a sweeping reorganization of the institution's remaining offerings, which is expected to affect employees in various university departments. A variety of departments would be merged or moved under the plan.
Seidel acknowledged the reorganization is "a tall order" for staff and faculty, but stressed their input will make it into the final draft presented to trustees in November.
"My commitment to you is to hear you react to proposals we've made," he said. "You will see some modifications due to your input."
He explained why he felt the changes were necessary in much the same terms he's used to pitch university trustees, who publicly have expressed nothing but support for the shift. Gov. Mark Gordon has also voiced support, saying in July "At the bottom of this is our opportunity to really reset what our expectations for the university are and really put ourselves out in the lead."
"Seventy percent of our graduates leave the state," Seidel said. "That's not good for the long-term prospects for the state."
Seidel hopes the school of computing, programs focused on tourism and entrepreneurship, and partnerships with private businesses will all help create more opportunities for Wyoming students to remain in the Cowboy State.
"The traditional areas are still important," Seidel said, "but there are new things we need to do... or else we'll keep educating people who move to Colorado and Utah and Silicon Valley and elsewhere."
Chairs of both the university staff senate and faculty senate also addressed the room. Neither delved into specific frustrations with the reorganization, but both stressed the need for shared governance across the institution.
In the last decade, the university has seen a half-dozen presidents, each with their own unique visions, faculty senate chair Adrienne Freng said in her remarks. Those who have been at the university through recent tumult have "presidential vision whiplash," she said.
"Over the course of the many transitions that we've experienced as an institution over the last 10 years, campus morale — not just faculty morale — has continued to decline," she said.
She asked that the university provide more supports for existing faculty and focus on retaining "outstanding faculty currently here on campus" as administrators recruit new talent as well.
It's unclear how the initial reorganization proposal will change, though Seidel said trustees will receive an update with modifications during their regular meeting Thursday.
Follow health and education reporter Morgan Hughes on Twitter @m0rgan_hughes