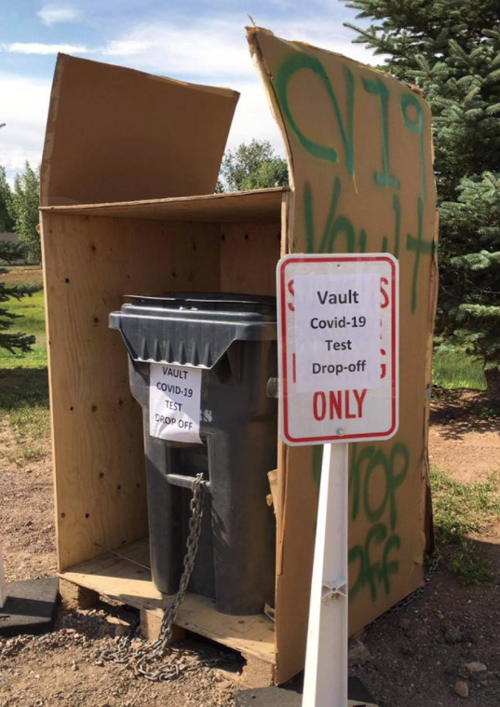 Skepticism swirled on social media this week over a makeshift drop-off site set up by the University of Wyoming to collect COVID-19 saliva test samples from students and staff.
Pictures of the "drop-off site" in Laramie surfaced online along with dozens of comments indicating students' shattered confidence in the testing system.
Individuals arriving to deliver their saliva sample just off 15th Street on campus earlier this week found a trash can-like container chained to what appeared to be a hastily-built wooden structure lined in tattered cardboard with the words, "CV vault drop off" scrawled in green spray paint on the side. Beside the structure stood a repurposed parking sign with a piece of paper taped on top indicating it was a "Vault Covid-19 Test Drop-off" site.
The university recently rolled out mandatory COVID-19 saliva testing for all students and employees through a third-party company called Vault Health.
UW spokesman Chad Baldwin said a new sign was installed as soon as possible in response to the concerns. The university set up the single drop-off site to relieve pressure on nearby UPS locations and drop boxes.
"The unfortunate thing is that the drop-off site made it look like the entire testing process was suspect, and that's just not true," Baldwin told the Star-Tribune. "It was just somebody's attempt to put up a sign so someone knew where the drop-off was."
He emphasized that all saliva samples taken to the drop-off site were secured in sealed envelopes and collected every day at 3 p.m. There is only one drop-off site for the university's testing effort.
Baldwin called the images circulating online "not an accurate representation of what is there now," adding, "our team now has a more professional looking sign up."
He called the previous set-up "unfortunate."
Testing kits were sent by mail to all university students and employees with detailed instructions on how to self-administer the test. The sample was then to be placed in a sealed envelope before being mailed back to the testing company. Individuals already on campus or living in Laramie could choose to deliver their samples to the drop-off site, an option the university installed to prevent UPS from becoming overburdened by tens of thousands of tests.
A plan approved by the university's board of trustees on Wednesday requires all students, faculty and staff to conduct a saliva test at home before returning to campus.
All university courses will be conducted online starting on Aug. 24, after which a select cohort of students will return on Sept. 7. By Sept. 28, the full student body will be welcomed back to campus.
The university intends to implement a surveillance test program, which includes contact tracing and mass testing to prevent the spread of the contagious virus. But the program will not be ready until Sept. 28.
In the meantime, mass testing using saliva samples, along with random testing of students and employees already back on campus, will be conducted.
Concerned about COVID-19?
Sign up now to get the most recent coronavirus headlines and other important local and national news sent to your email inbox daily.