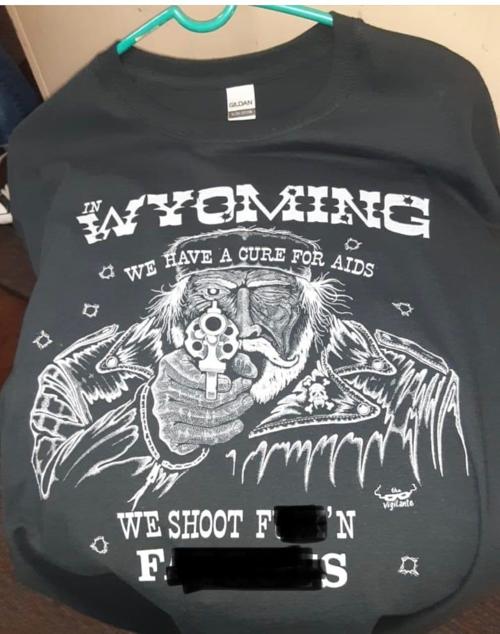 The discovery that a Cheyenne bar was selling a violent, homophobic T-shirt drew a strong rebuke Monday from community and state leaders.
Wyoming Equality, a prominent LGBTQ rights group, released a statement Monday afternoon calling attention to bar, which it did not identify out of fear that doing so may bring more business to the establishment.
The shirt depicts a bearded man dressed in a biker outfit pointing a revolver at the viewer.
"In Wyoming we have a cure for AIDS," it reads. "We shoot f---in' f------."
Sara Burlingame, executive director of Wyoming Equality, said she approached the bar's owner twice and asked him to stop selling the shirts. The owner refused, she said.
Prior to the press release, Wyoming Equality posted about the shirts on its Facebook page Monday.
"We are sad to say that we failed to convince a local bar to pull these shirts from circulation. We hoped that they would choose to stop selling them when they realized the harm it did to the LGBTQ community and those living with AIDS," the Facebook post read.
The organization also said in a Facebook comment that the Human Rights Campaign was assisting the Wyoming group in addressing the issue.
The shirt was quickly criticized by several leaders and organizations, including Gov. Mark Gordon.
"It's incredibly disheartening to learn that any business would offer a product for sale with a message like this," Gordon said in a statement to the Star-Tribune. "This hurtful rhetoric is not reflective of our state's values, and does nothing but promote hate and division."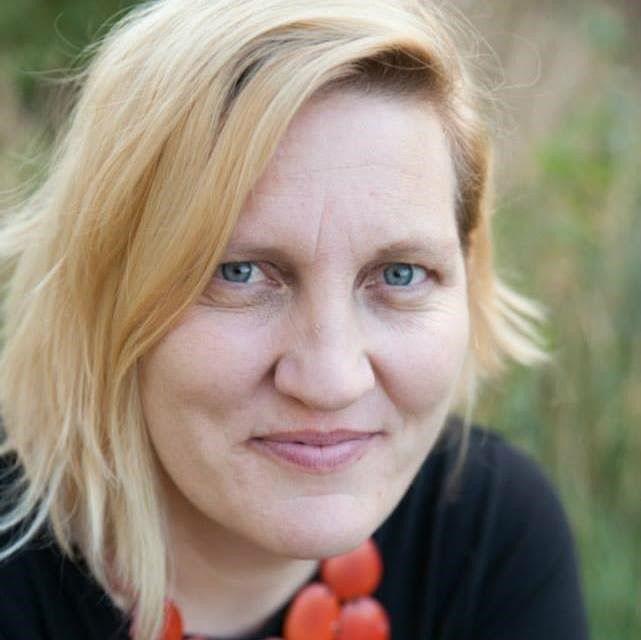 Scott Cheney, president of Wyoming AIDS, said the shirt was painful and damaging.
"For 19 years, Wyoming AIDS Assistance has seen the power of communities coming together to raise money and erase stigma for Wyomingites living with HIV/AIDS," Cheney said in his statement. "This shirt is not only disgusting and degrading, but it is phenomenally damaging to the image of Wyoming as a whole. We have to be better than this."
Dominic Bravo from Visit Cheyenne said in a statement, "This type of shirt doesn't represent the community we live in."
A person who answered the phone at the Cheyenne bar refused to put the Star-Tribune in contact with the manager or the owner when contacted for comment.
Also driving the conversation was concern that Wyoming is missing out on business opportunities because of the lack of robust hate crime legislation in the state.
Dale Steenbergen, president and CEO of the Greater Cheyenne Chamber of Commerce, testified that he heard that some businesses do not want to move to Wyoming because it is believed that the state does not have a hate crime law at all.
"Companies are more socially aware than they ever have been," Steenbergen said.
Chairman of the committee, Dan Zwonitzer, R-Cheyenne, echoed that concern.
"I do not feel the committee fully realizes how other Americans continue to see Wyoming, and by not having some kind of a bias motivated crimes statute, it continues that perception," he told the Star-Tribune following the meeting.
That image dates back decades and was solidified in many people's minds after the 1998 murder of gay University of Wyoming student Matthew Shepard.
"Wyoming has had 22 years to pass Hate Crime legislation and every year our legislators parrot the line that the Equality State doesn't need this law," said Judy Shepard, Matthew's mother and board president of the Matthew Shepard Foundation. "It is time for Wyoming to face reality and recognize that we are losing our youth, our economic potential and our soul. The time to take a stand is now, not after another family loses their child."
Follow state politics reporter Victoria Eavis on Twitter @Victoria_Eavis