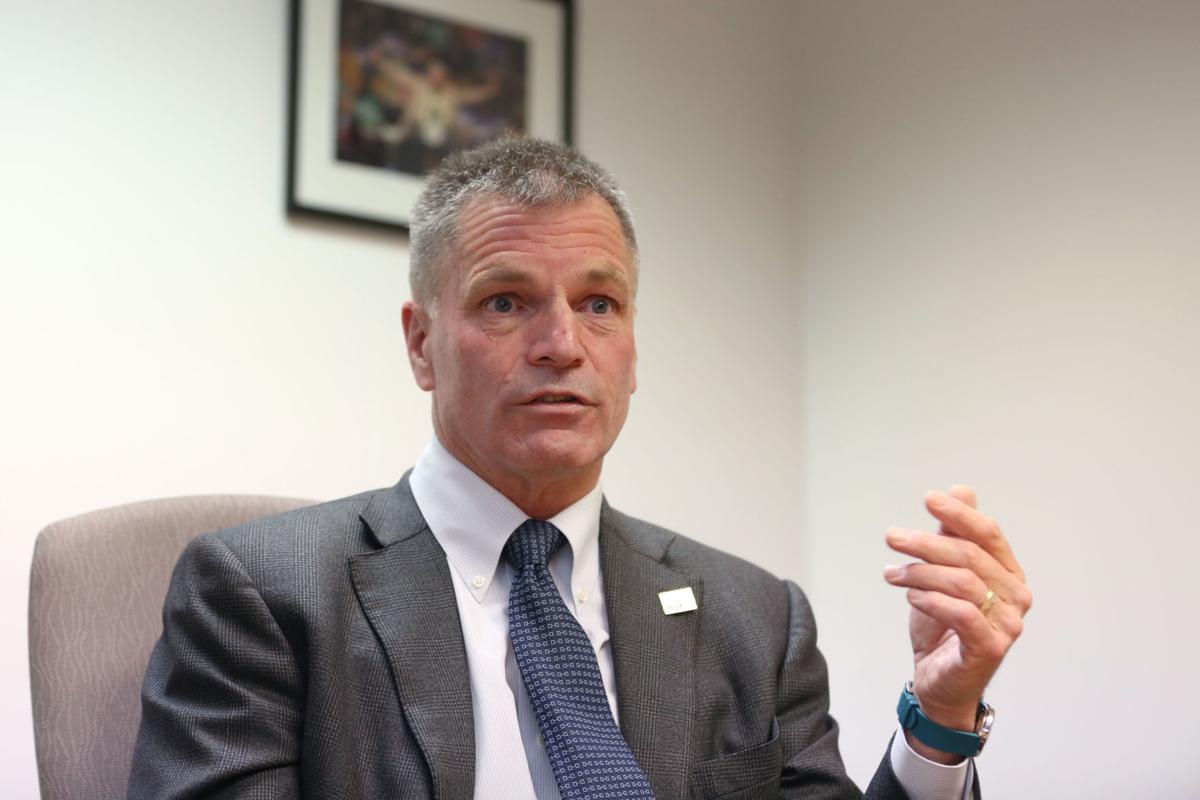 Gov. Mark Gordon delivered a bleak warning about the state's financial situation in a press conference Wednesday as he prepares to make major budget cuts to address an anticipated $1.5 billion shortfall over the next two years.
Gordon, who signed off on roughly $250 million in budget cuts earlier this week, has repeatedly emphasized over the past several weeks that the state's fiscal situation would require numerous reductions and the layoff of state workers. In recent days, the governor announced he would be looking to cut government by an additional 10 percent over the coming weeks, and has hinted that a fundamental rethinking of state government is likely heading into the coming year.
On Wednesday, however, the governor seemed to break character, shedding his often reserved demeanor at the podium to forcefully underscore that with no means to unilaterally increase state revenues, budget cuts – particularly painful ones – were the only tool left at his disposal amid a bleak economic future. While sales tax has seen an uptick amid the COVID-19 pandemic, it remains depressed as traditional sectors like coal, oil and gas have continued to wane.
New oil production, a normally reliable source of revenue for the state, now comes from just one rig in the state while coal production has fallen 36 percent from this time last year, according to a new report from the Wyoming Division of Economic Analysis released Wednesday. Without any new sources of revenue and no cuts, state analysts have said that the state will burn through its entire savings within the year, a fact Gordon stressed Wednesday afternoon.
"As governor, it is my duty to balance that budget," Gordon said. "One-third of our income is gone, and I have to reduce what our expenditures are. I have to cut the budget to make sure we have a balanced budget."
While Gordon already alluded to budget cuts amid a declining energy sector earlier this year, the situation has only been exacerbated by the COVID-19 pandemic, forcing him to phase in numerous cuts over the coming months to areas like mental health and substance abuse programs.
While nobody except the governor and the Division of Budget knows what those cuts will be yet, Gordon committed Wednesday to posting those on the state's budget transparency website for review and public comment at a later date.
"The people of Wyoming need to weigh in on the cuts we're going to make," he said.
While the executive branch is leading the charge for the lion's share of cuts, it will be up to the Legislature to ultimately make up the difference, either through additional budget cuts or the introduction of new revenues. While the governor has remained reluctant to support new taxes, he has publicly endorsed eliminating all current exemptions in the state's current tax code and has continuously urged voters to support candidates who understand the dire nature of Wyoming's economy.
"Anyone who is running for office this year should be able to speak to that very large concern," he told lawmakers Monday.
That announcement comes at a time where Wyoming's politics are at a crossroads. According to an analysis of House and Senate races by the Star-Tribune, 29 incumbent Republican lawmakers across the state are currently facing a primary challenge this election cycle. Many of the challengers say they are opposed to any form of tax increases.
The primary election takes place Aug. 18.
Be the first to know
Get local news delivered to your inbox!