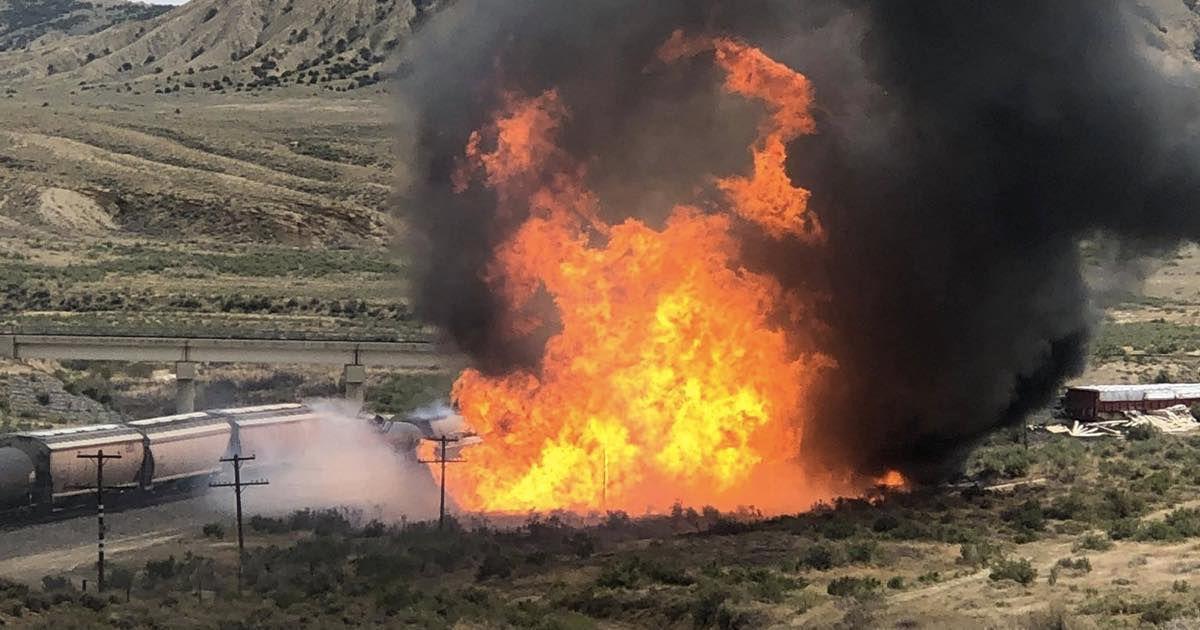 Plumes of smoke and flames shot upward of 100 feet in the air Saturday afternoon roughly four miles east of Rock Springs, moments after a train operated by Union Pacific Railroad derailed and caused several rail cars to catch fire and explode, according to details provided by the company and first responders.
Local crews extinguished the dangerous fire by 3:30 a.m. Sunday.
The mixed freight was hauling 116 rail cars of alcohol and other materials when it derailed at 2:54 p.m Saturday. Nine cars sustained damage, though the exact cause of the incident remains unknown and is under investigation by Union Pacific and the Federal Railroad Administration.
Though some responders initially suspected the rail cars may have contained liquefied natural gas, only two hazmat products were being transported: liquefied petroleum gas/butane and ethanol, Union Pacific confirmed.
Being an employee for the Union Pacific your job always seems routine. When this happens it makes you realize you are riding on a hazardous missile on rails. Glad this crew is safe. Glad this didn't happen in downtown Rock Springs. https://t.co/vrXeXk4pSV

— Stan Blake (@StanBlake) June 14, 2020
"When we first arrived on the scene, we saw huge, thick black smoke," Sweetwater County Fire District No. 1 Fire Chief Scott Kitchner told the Star-Tribune on Monday.
"This is pretty unusual," he added. "This is the second time in the 28 years I've been here that we've had a train derailment catch on fire."
He estimated about 20 to 30 train cars were flipped over on their sides when he arrived, with the freight's long line of cars fractured into multiple sections from the derailment. Over a half dozen rail cars were engulfed in flames. Kitchner suspects the ethanol catalyzed the fireball explosion.
Several other agencies, including Sweetwater Fire Department, the Bureau of Land Management and Southwest Wyoming Regional Airport's rescue truck, also arrived at the scene to help suppress the fire rapidly spreading. The incident damaged about 20 to 25 acres of federal land, Kitchner estimated.
The fire was extinguished by a local emergency response team comprised of over 60 individuals. An additional 60 people from surrounding regions arrived to help respond to the accident too, according to Kitchner. Responders worked clear into the night, extinguishing the fire and starting initial cleanup by early Sunday morning.
"Crews have moved the debris and damaged rail cars from the tracks, which will be hauled away sometime in the near future," Raquel Espinoza, senior director of corporate communications and media relations at Union Pacific said in a statement Monday. "Our engineering teams made the necessary repairs to reopen both main lines."
Two deputies on the scene sustained second-degree burns from the large explosion. They have been discharged from Memorial Hospital of Sweetwater County, according to the Sweetwater County Fire District No. 1.
No other injuries were reported.
The topography of the land helped contain the fire, with sizable rock formations blocking the nearby interstate, according to the fire department. Fire officials monitored the smoke from the explosion throughout the evening. Nearby traffic on Interstate 80 was able to proceed and the road was not closed, according to Wyoming Highway Patrol. Southwest Wyoming Regional Airport was alerted to the explosion too, but no flights were scheduled to arrive Saturday evening.
"Being an employee for the Union Pacific your job always seems routine. When this happens it makes you realize you are riding on a hazardous missile on rails," Rep. Stan Blake, D-Green River, wrote on Twitter. Blake is also an employee for Union Pacific. Though he was miles away from Rock Springs at the time, he witnessed the black smoke engulfing the sky Saturday.
He's concerned recent layoffs and furloughs within major rail companies, like Union Pacific and BNSF Railway, during the COVID-19 pandemic may compromise the safety of crews and the public.
"I'm worried," Blake told the Star-Tribune. "Are they cutting so deep that it's going to affect public safety? Because about three more miles, whatever caused that derailment, if that would have happened in downtown Rock Springs, that would have been a disaster."
On Monday, the Bureau of Land Management continued to clean up the area.
Be the first to know
Get local news delivered to your inbox!