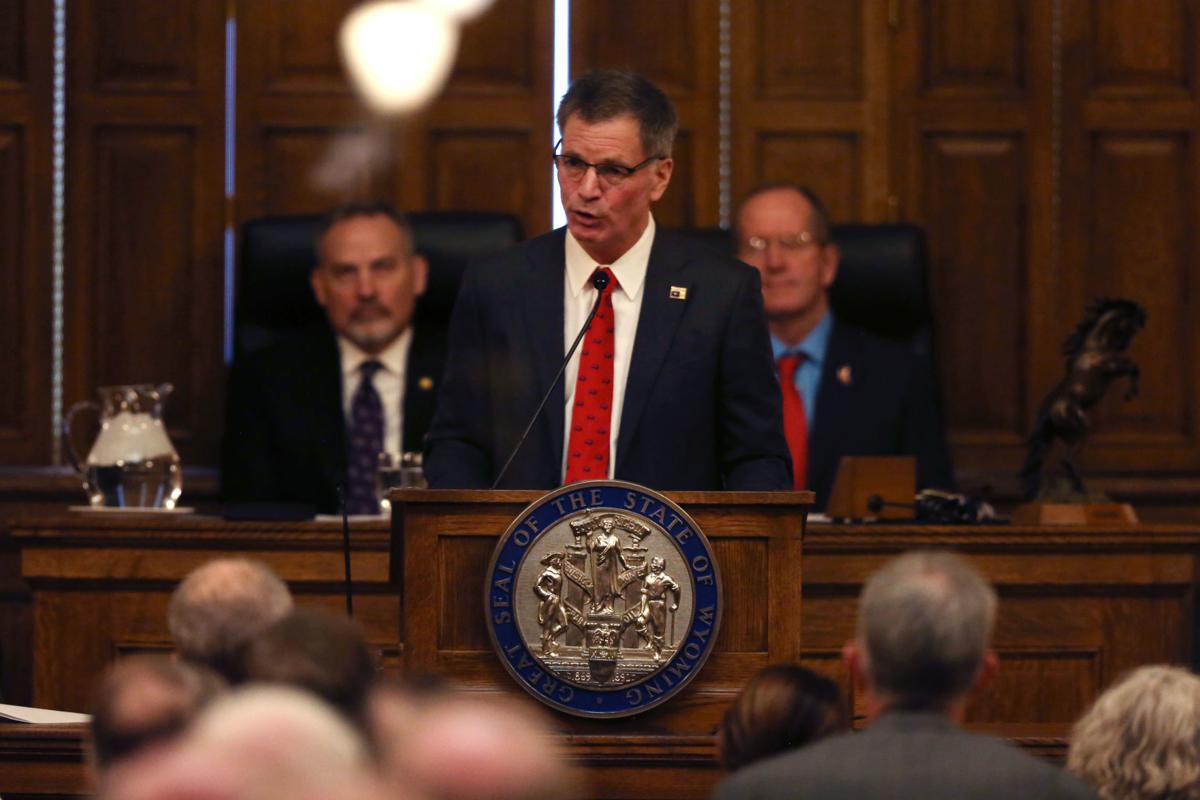 Just as his counterpart in Idaho joined a growing list of governors ordering residents to stay home, Wyoming Gov. Mark Gordon said he was doing his best to avoid similar measures here as the total number of coronavirus patients in the Equality State rose by more than 70 percent in roughly 24 hours.
"We are trying to avoid that order," he told media during a press conference Wednesday. "But we do have the tools to be able to issue that kind of order. But as I said, we are trying to avoid that order because of the complexities it involves."
"We do have means to enforce it, either through law enforcement or other means," he added. Even without the order, he urged Wyomingites to stay at home as much as possible. Health officials across the country have said that a sound way to slow this virus — as any other — is to maintain social distancing.
Gordon's press conference comes as Wyoming continues to experience its largest surge of new COVID-19 cases. As of late Thursday afternoon, there are now 49 confirmed cases in Wyoming, with 21 identified in roughly the past 24 hours. Nationally, there are more than 63,700 known cases, according to the New York Times. More than 900 people have died. Both of those numbers have jumped in the hours since this article was first updated. They will continue to grow.
The numbers grow here, too. Before the the governor started speaking early Wednesday afternoon, there were 41 confirmed cases in Wyoming. Minutes after his press conference ended, the state announced the total number of COVID-19 patients had risen to 44, with a first case for Albany County and two new patients in Teton County.
When dawn broke Tuesday, there were 29 known cases in total. Officials have said repeatedly that there are almost certainly more cases than have been identified because of limited testing capabilities. While the state lab has increased its ability to process samples by a factor of 10, there still remains a shortage of the swabs and tubes to take and transport the samples taken from patients. As a result, only a certain group of people are being tested. Elsewhere, people with mild symptoms are being told to go home and stay there for two weeks.
It's thus unclear how extensive the virus' presence is in Wyoming, which is why officials have repeatedly urged people to stay home as much as possible and avoid social contact with others. Asked if the state has modeled the potential extent of the virus, Health Department Director Mike Ceballos said the agency's epidemiologists were working on it. On Tuesday, Wyoming's health officer, Dr. Alexia Harrist, said the state was in the process of creating some of the supplies needed. A Health Department spokeswoman said Wednesday afternoon that some 2,600 sample kits — the materials needed to actually take a sample from a patient — will be distributed statewide.
While he was still reticent Wednesday to issue a shelter-in-place order, Gordon, along with Harrist, has ordered the temporary closure of schools, gyms, bars, hair salons and other businesses where people tend to congregate. Restaurants were permitted to remain open, but only to offer takeout and delivery. But Gordon indicated he wasn't for the time being planning to go beyond that step to a shelter-in-place order, as states such as Ohio and New York have done.
"We know this is a difficult situation, probably the hardest we will face in our lifetime," Gordon told reporters.
"We're not trying to shut down Wyoming," he added.
The first of Gordon's significant measures against the spread of the virus — the recommendation 10 days ago that schools close — is set to expire April 3. Gordon said he was working with the state Department of Education on how to proceed with an education system of nearly 94,000 students and thousands of educators and support staff.
At a separate press conference in Casper, Natrona County School District spokeswoman Tanya Southerland said the district was undertaking "proactive and precautionary planning" to keep students learning, should schools remain shuttered. She said no decision has been made on whether virtual learning will be offered here.
If schools are shuttered for the rest of the year or if there's a move to push coursework online, there are statutory obstacles to navigate. Though a federal waiver has cleared testing requirements, there's the matter of seniors who need to complete this semester's coursework to graduate — a process and set of standards dictated in statute, as well as in every school district's own policies.
Providers
Gordon stressed the need to protect health care workers from the virus, another multi-faceted problem. First is the shortage of personal protective equipment — masks, gloves and gowns — that providers in Wyoming and just about everywhere else in America have been warning about. Lynn Budd, the state's homeland security director, told reporters Wednesday that a shipment of the protective gear had been received from a national stockpile and that it had been distributed across the state.
"It's not enough, but we're doing the best we can at this point," Budd said, adding that the state had placed orders with the Federal Emergency Management Agency and the U.S. Department of Health and Human Services. The problem there, officials have said in the past, is that states, hospitals and clinics across the country are all queuing up.
Asked how much equipment had been requested and distributed, Budd said she didn't have those figures available.
The second issue affecting the safety of health care workers — who are one of the groups that's a testing priority — is their exposure to patients more generally. Officials in Natrona County and at the state level have urged anyone with symptoms not to go to their local emergency room unless they're having significant breathing problems, and to not go to their primary care clinic without calling first, for fear of spreading the virus to unprepared staff.
"More importantly, if our first responders and our health care professionals are themselves infected, they take themselves off the line, further complicating issues," the governor said.
In Wyoming, while hard numbers are difficult to confirm, several of the known cases are health care workers, including one in Casper and one in Park County.
Similarly, Gordon stressed the need to not overload the state's isolated hospital systems, warning that it would have a ripple effect.
"We want to make sure, if this crisis comes in greater detail — and we've seen it increase over the last few days — that we have adequate health care facilities," he said. "If our hospitals are filled and somebody has a stroke or somebody breaks a leg, you won't be able to be taken to the hospital."
Economic impact
At his press conferences, which have occurred with increasing frequency as the virus spreads, Gordon has repeated that the virus will damage the state on two fronts: its public and economic health. Robin Cooley, the state Department of Workforce Services director, took the microphone on the economic impacts after Gordon finished speaking.
She said the workforce claims center, which handles calls for unemployment insurance, has added 15 new employees and plans to install new phone lines as well.
The department is also working to push emergency rules that would expand the criteria for qualifying for the insurance. Currently to qualify, residents must be actively seeking work, for example. That's something difficult to do when the state has mandated statewide business closures.
Still, Cooley said there are employers in the state looking for workers. She directed those looking for work to wyomingatwork.com.
As far as the department's ability to serve an increased need for unemployment insurance for an extended amount of time, Cooley said she isn't worried. She said Wyoming's unemployment insurance trust fund was among the healthiest in the country before the pandemic. She said when comparing the current situation to the 2008 recession, she felt the fund was in a comfortable place.
Cooley added the department is working on making emergency federal grant money available to employers to keep staff on the payroll amid a statewide public health order that has closed a slew of businesses.
Asked about people's rent and mortgages in a time where people are out of work or furloughed, Gordon said he had been in discussions with the Trump administration and Wyoming's congressional delegation to seek relief on mortgage payments.
"Our ability to regulate is somewhat limited," he said.
Nationally, Congress continues to deliberate on what is being described as the largest economic relief bill in history. It comes with a $2 trillion price tag and will include a $500 billion fund for large corporations, $367 billion for small businesses, and funding for more extended unemployment insurance and hospital relief.
Some Republicans in the Senate demanded changes Wednesday to the unemployment benefits, while Sen. Bernie Sanders has said he will block the bill if the benefits are weakened.
The Associated Press contributed to this report.
Concerned about COVID-19?
Sign up now to get the most recent coronavirus headlines and other important local and national news sent to your email inbox daily.