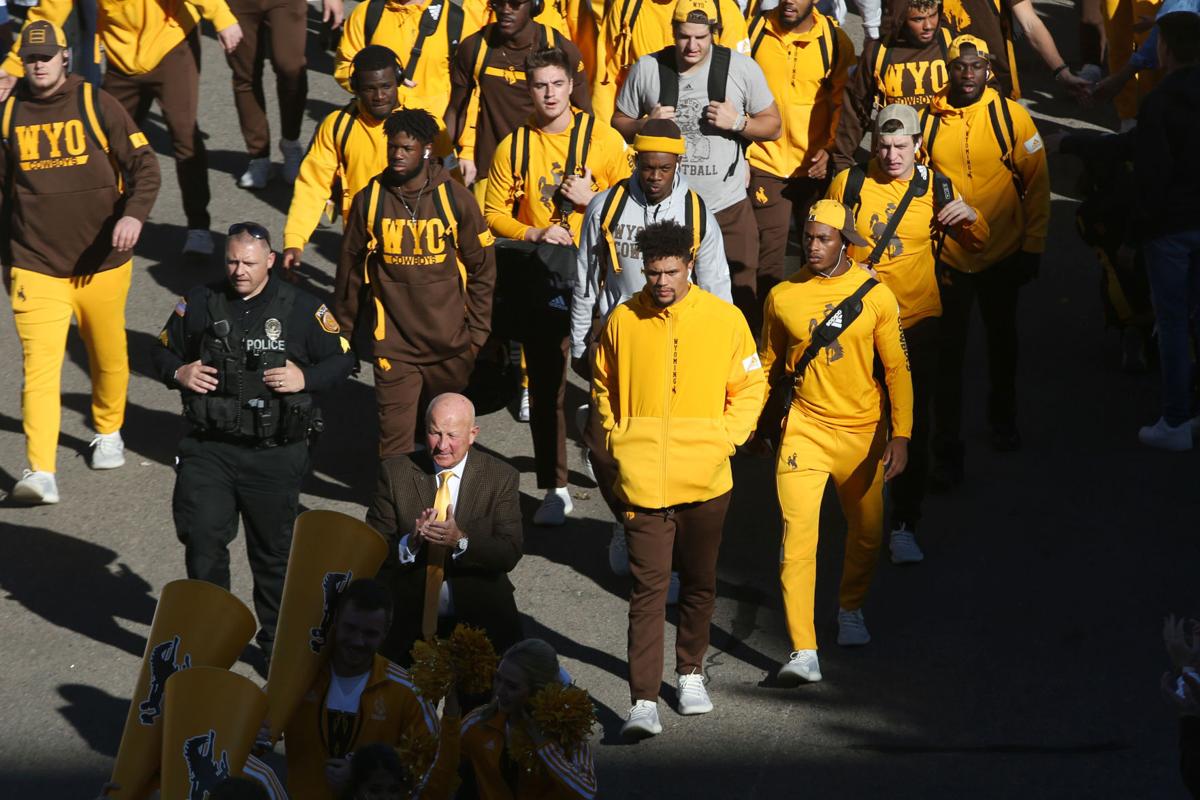 LARAMIE — Whether college football can safely be played this fall is an ongoing conversation among Football Bowl Subdivision conference commissioners, university administrators and public health officials.
But one thing is certain: Any potential plan to do so is going to require the implementation of specific protocols. One of them almost certainly would be for coaches and players to be tested weekly for the novel coronavirus, which continues to spike in case numbers nationwide.
Wyoming athletic director Tom Burman said the Cowboys' program has no problem with that.
"We are committed to trying to play. The Mountain West is trying to play," Burman recently told the Star-Tribune. "And testing weekly does not bother us."
Earlier this month, the NCAA issued its latest set of return-to-play guidelines that the association is recommending its member schools follow in order to maintain the health of student-athletes and slow the spread of the virus, including testing of student-athletes in "high contact risk" sports within 72 hours of competition and receiving the results in the same time period. If a PCR, or polymerase chain reaction, test can't be performed that soon before a game, then, according to the NCAA's recommendations, the competition should be canceled or postponed or an alternate form of testing should be agreed upon and implemented.
"I'm OK with that," UW quarterback Sean Chambers said of players being tested weekly. "If that's what we've got to do to play some football, then I'm OK with that. It's a small price to pay for the greater reward of playing football."
While no FBS conference has postponed or canceled the season at this point, two Power Five leagues — the Big Ten and the Pac-12 — have already decided to play a conference-only schedule. Sticking with conference opponents would make it easier for each league to develop its own uniformity when it comes to protocols, though none of the FBS conferences have yet to announce anything concrete.
Should conferences require weekly testing, the process during the season would likely cost more for schools than it is right now. At UW, which is testing its student-athletes and staffers via nasal swab, Burman said one exam is roughly $150. The school is having to wait nearly a full week to get back the results, which isn't going to fly when games start with teams needing to know almost right away whether their coaches and players are healthy enough to travel and play.
"I'm trying to understand how we can test kids in Laramie but we don't have a lab, so how do we get the results back?" Burman said. "It took us four and a half days to get the results back on the (first) 166 people we tested. That's not going to work during the school year, so we're working with the department of health and the state lab."
Throat swabs and saliva samples are among the other ways the test is administered. Some tests can yield results within hours but could be more expensive. Burman said the total cost for the school is difficult to nail down and will depend on which method of testing UW decides to go with during the season and what percentage of the tab insurance will cover.
"For the University of Wyoming, depending on which test you choose and how you're going to move the test from Laramie to a laboratory, you're in the neighborhood of $150 a test right now," Burman said. "Now it may go down, and some insurance may cover more than one test, so there's all these elements you have to look at. It's expensive, but we will figure it out."
Burman added the plan is to test football players and coaches again prior to the start of preseason camp next month and to retest all student-athletes that are on campus by mid-August at that time, though those plans could change based on the advice of medical staff.
Follow UW athletics beat writer Davis Potter on Twitter at @DavisEPotter.
Concerned about COVID-19?
Sign up now to get the most recent coronavirus headlines and other important local and national news sent to your email inbox daily.