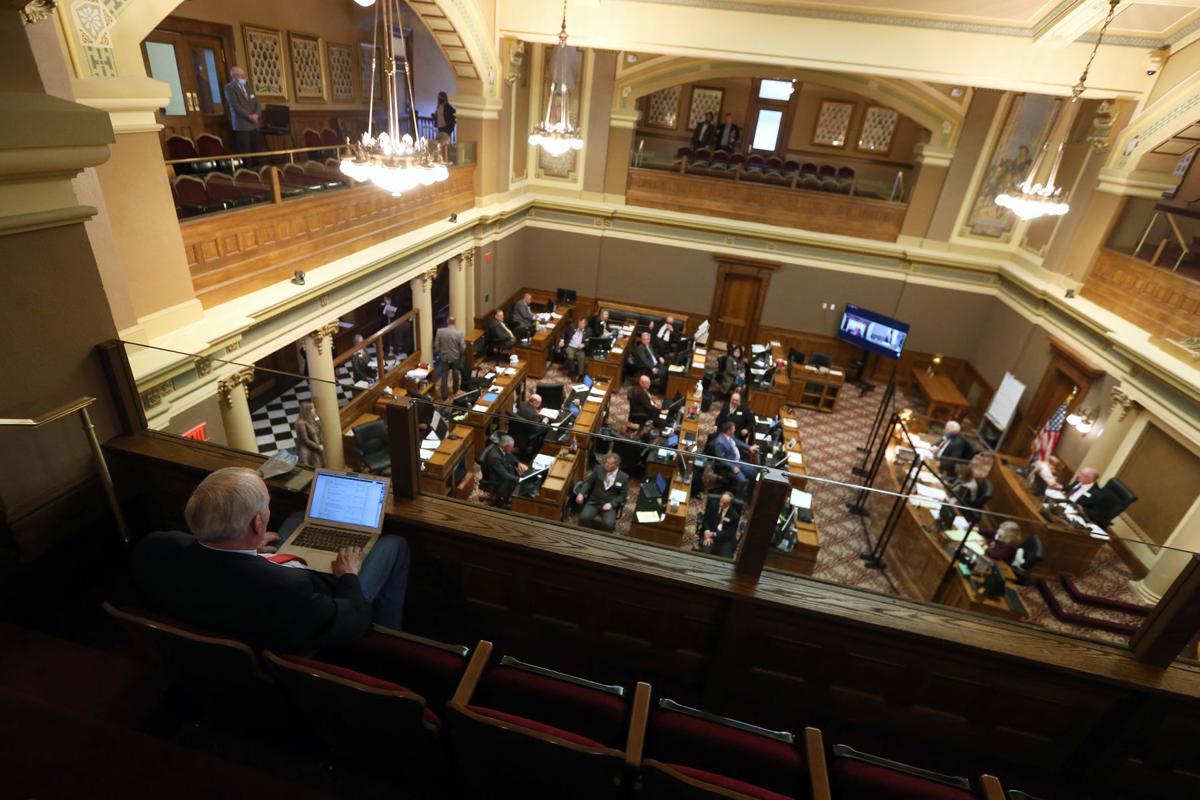 As the 66th Wyoming Legislature barrels into the final weeks of the session, a whirlwind of bills have been passed between the chambers and approved or rejected.
Some bills have passed both chambers and now head to the governor's desk for a signature.
The Star-Tribune monitored the progress of several consequential bills last week and provided a rundown of what you may have missed.
Medicaid expansion has never gone this far
Medicaid expansion passed a Wyoming legislative chamber for the first time in the near-decade it's been on the table. The bill received approval from the Wyoming House of Representatives on third reading by a 32-28 margin.
It must pass three readings in the Senate and obtain Gov. Mark Gordon's signature before becoming law.
The Senate did not give a hearing to a nearly identical bill Monday. The bill was referred to the Senate's Labor, Health and Social Services Committee.
Education proposal settled in House
After debating for much of the afternoon Wednesday, the Wyoming House of Representatives passed a bill to fund K-12 education. That bill will now go before the Senate, and the House now must consider the Senate's education funding proposal, which that chamber passed last week.
The House bill generates revenue through a 0.5% sales tax imposed only after one of the state's reserve accounts falls to a certain threshold. A cap is written into that tax, that would remove the additional half percent once that account reached an acceptable level.
Senate rejects runoff election proposal
Senate File 145 sought to require a runoff election after a primary election if no single candidate captured the majority of votes.
A candidate would need to receive over half of the votes to be considered the winner of a primary election. In packed primary races, if no candidate obtained enough votes, a runoff election would occur, with the two leading candidates facing off against one another.
The bill failed on the third and final reading in the Senate on Wednesday in a narrow 14-15 vote, with one lawmaker excused.
Gun rights trumpeted
A bill intended to exempt Wyomingites from future federal restrictions on gun rights passed the Senate floor with a 24-6 vote.
Sen. Anthony Bouchard, R-Cheyenne, sponsored Senate File 81 in an attempt to provide proactive Second Amendment protections for "law-abiding citizens" in anticipation of federal restrictions on guns coming from the Democratic administration.
After a series of amendments overhauled Bouchard's original version of the bill, the sponsor voted no on the version presented on third reading Wednesday.
Concerns over the bill's constitutionality, practical enforcement and its proposal to strip legal immunity from officers who "knowingly" infringe on citizen gun rights dominated the discussion when Bouchard presented it to the Senate Judiciary Committee last week.
Coal holds on
An effort by lawmakers to defend Wyoming's leading industry gained ground after a pair of bills aimed at slowing coal plant closures cleared the House.
Wyoming is the nation's leading producer of coal. For years, the state's thermal coal resources have been burned to make electricity for Americans. But since peaking around 2008, coal production in Wyoming has been declining, with annual production now about half what it was just a decade ago.
Inexpensive natural gas and renewable energy can also be used to create electricity and have gradually taken over the electricity market. Utilities tend to favor the commodity that is cheaper.
The drag on coal demand has hit Wyoming particularly hard. The state relies overwhelmingly on fossil fuel production to fund its budget each year.
Casper state office building to receive a new name
After an unusual challenge in the state Legislature, Casper will soon be home to Wyoming's first non-university state building named after a woman.
A state office building under construction on West Collins Drive is set to be named after Thyra Thomson, a former Wyoming secretary of state and the longest sitting elected official in state history.
Thomson served as secretary of state from 1963 to 1987, being reelected five times. No other person has held the position for more than two terms. She also cemented her legacy as the first woman to take the post. Since her retirement from public life in 1987, three women have served as secretary of state in Wyoming.
Rep. Tom Walters, R-Casper, however, proposed naming the building after longtime Casper businessman and politician John Wold, who is credited with spurring local oil and gas industries and making large contributions to various organizations. Walters said he led the effort on behalf of the building's task force, which includes state legislators and members of the Casper community.
Online sports
A proposal to legalize online sports wagering and drum up extra revenue for Wyoming passed a first vote in the Senate after an amended bill narrowly cleared the House earlier this month.
House Bill 133 still faces two more votes in the Senate before reaching the governor's desk.
If ultimately approved, the bill directs the Wyoming Gaming Commission to regulate online sports gambling, including imposing fees and penalties. The commission will have until September to draft rules.



Burial program finds some funding
A bill to fund the state's indigent burial program passed both chambers of the Legislature and will now head to Gordon's desk for review. The Senate voted unanimously in support of the bill.
House Bill 29 would provide counties with reimbursements when they cover burials for cremations for individuals who pass away without known family members or money.
In recent years, Wyoming's indigent burial program has suffered from multiple budget cuts, including a 2020 budget reduction effectively defunding the program. Some counties, particularly those without budgets for such services, have had a hard time finding enough money to bury the underserved.
Under the approved bill, funding for the state program would be collected through a $5 surcharge attached to each copy of a death certificate issued in Wyoming. The Legislative Service Office anticipates the state collecting approximately $181,000 each year.
Bill that concerned solar advocates faces likely defeat
A controversial bill asking state utility regulators to review Wyoming's system for regulating rooftop solar was put into jeopardy after a legislative committee voted to postpone a decision on the matter following hours of impassioned public comment against the measure.
The proposed legislation would have required the Public Service Commission to conduct public hearings and establish a new net metering system that ensures utility rates stay fair for all Wyoming residents, by minimizing any potential subsidies.
Rep. Joe MacGuire, R-Casper, introduced a successful motion to table the bill in response to public testimony.
Chairman Dan Zwonitzer, R-Cheyenne, implied he did not anticipate bringing the bill back before the Wyoming Legislature's House Corporations, Elections and Political Subdivisions Committee next week.
"If (the bill) gets tabled ... I'm not going to bring it back up," he said.
The deadline for bills to be reported out of committees in the second house is Wednesday.