It took until the third week of summer for things to get heated.
It was early July in Cheyenne and three of the six candidates vying for the Republican nomination for governor — Sam Galeotos, Mark Gordon and Harriet Hageman — shared a stage for a debate broadcast on Wyoming's PBS station and over the internet. The first of several debates held through the summer, the event was fairly innocuous from a standpoint of policy, the candidates reaffirming their support of numerous popular issues center around the state's business climate and social structure.
Then, roughly 20 minutes in, Hageman went on the offensive.
When asked how she, as governor, would work to balance the state budget, the trial attorney rattled through a number of ways to cut funding — ending no-bid contracts, introducing a reformed model around elder care — but also noted the investment policies of the state department overseen by her opponent, Treasurer Mark Gordon, which she saw as hospitable to wasteful spending.
"According to the treasurer's office report, last year, we spent $90.5 million on Wall Street for investment advice," she said. "Had we gone with the S&P Index 500, it would have cost us just $2 million. It would have saved us $88 million."
As Gordon looked down, she turned to her right, an intense stare directed toward the man at the podium beside her.
For the ensuing 40 minutes, the debate proceeded without much excitement. Then closing arguments began.
"I have, and I always will, put Wyoming first," she said. "But I do not believe the same could be said of my opponents."
"For example, when I was out protecting ranchers and wildlife from wolves, Mr. Gordon was spending money to bring them here," she said, her cadence keeping pace with the limited time she had allotted. "While I was fighting the Clinton Roadless Rule [a 2001 regulation that prohibited road-building and logging in the roadless areas of national forests], he was funding the Sierra Club. While I was fighting for water, Mr. Gordon was funding the Sierra Club's efforts to drain Lake Powell, which would have been devastating to the state of Wyoming."
Then, it was on to Galeotos, in a statement that was picked up by national media outlets including the Daily Caller.
"Sam Galeotos has touted his business experience repeatedly on the campaign trail; he has indicated that is the reason to vote for him," she said. "Sam's company took $3.75 million of Wyoming taxpayer money — money that came from the development of fossil fuels — to fund a company that touts its green bona fides."
"It is easy to be successful on someone else's money," she added, drawing raised-eyebrow responses from Gordon ("That's nonsense – I've never funded any wolves. I'm a sheep rancher," he said) and Galeotos, who said her comments around his company's purchase of renewable energy – on top of coal — showed a "severe lack of understanding of the private sector and how business works in the modern world."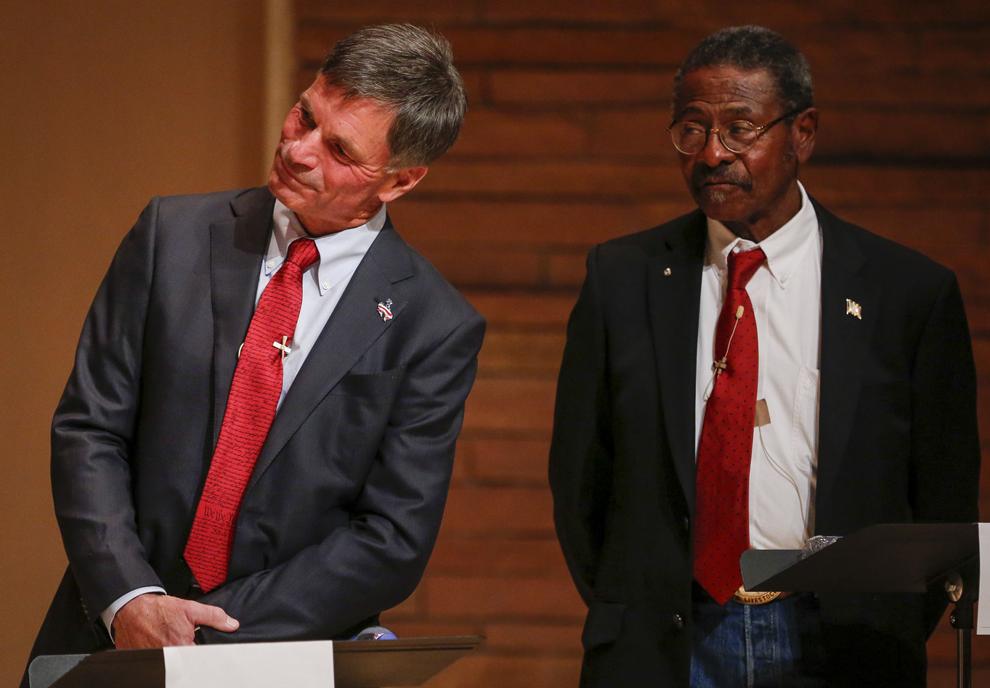 It was that night, arguably, that the pace was set for Hageman. The rest of July, up through the Aug. 21 primary, was going to be as hard-fought as any race to-date. Six weeks after that debate, Hageman went on the offensive again, slinging similar accusations against Galeotos and Gordon but also, billionaire candidate Foster Friess, whom she said — to a mix of jeers and applause — made "no secret" of attempting to buy the race. Several weeks earlier, her campaign released a website called "WrongForWyoming.com," with which she highlighted the perceived shortcomings of her opponents.
Even the most seasoned politicos are prone to short-term memory loss, many quick to say the race they are currently witnessing is "the nastiest they've ever seen." Those statements ignore the spirited exchanges between former Gov. David Freudenthal and Cynthia Lummis prior to a 2007 special election to replace the late senator Craig Thomas, which The Hill newspaper noted were often testy. "Most notably when she accused him," the newspaper wrote in a 2007 article, "of threatening to cut off her head."
Then there were the attack ads of past years – mailers with the candidate's face superimposed next to Hillary Clinton – that might have been the reason Democratic gubernatorial candidate Mary Throne lost her legislative seat in the 2016 election by less than 100 votes — and anonymous mailings attacking state lawmaker Rosie Berger's voting record on select conservative issues in her 2016 bid for speaker of the house. Even this year, mailers sent by an anonymous group called Protecting Our Constitution have worked to disparage and delegitimize candidates like Gordon, framing them as "outsiders."
Yet Wyomingites say they prefer to look not to the past, but to look ahead. The rhetoric and tone of the 2018 races, some observers have claimed, is the most combative they've witnessed, the rhetoric reaching a level that is uncharacteristic for Wyoming politics.
"I would normally refrain from calling out a specific individual," Galeotos wrote in a letter to supporters obtained by the Star-Tribune. "But, sadly, Harriet Hageman has publicly signed her name to the dissemination of false and utterly dishonest information. Her actions are unethical, and people need to be aware of it, especially, if folks unknowingly believe her false narrative and put their own reputation at risk by passing around the information."
"Wyoming is built on pitching in together, running on your ideas, not running on the fact you can make a fake website and a fake news site endorsing yourself and throwing shade at the very end of the debate so nobody can answer it," Rep. Tyler Lindholm, R-Sundance, said in an endorsement video for Gordon posted Thursday to his Facebook page.
"Harriet," he added, looking into the camera.
But some believe the attacks might work to Hageman's advantage.
"I was a little surprised by her barrage of Galeotos and Gordon," Kathy Karpan, a former secretary of state and gubernatorial candidate who has been involved in eight, separate statewide races throughout her political career. "It's unusual. But I think she felt a need to break out of the crowd. It seems Galeotos and Gordon have been present on TV for a while now, and money isn't as big for her. Coming out with a blast gets you a page one story. That's what gets you that exposure."
Making An Impression
Reaching and communicating a message to voters is an industry on its own, with candidates spending tens, if not hundreds of thousands of dollars for advisers on how to speak and where to advertise. And each of those strategists has a different approach of how to go about it.
Some campaigns, like that backing Gordon, rely on their candidate's established reputation, pointing to concrete accomplishments they've had in the past. Friess, with name recognition already, has settled on a media blitz with massive ad buys both on television and the internet. Hageman, who is known but not to the degree of Gordon or Friess, has taken a more aggressive approach to stand out in a crowded field.
Karpan noted how this could prove advantageous. She cited the campaign style of Hillary Clinton in the 2016 presidential race, which was technologically-driven and impersonal, versus the exciting and spectacular, experiential-heavy campaign of the eventual winner, Donald Trump. "Remember the fundamentals," as famed football coach Vince Lombardi said, and to Karpan, a similar principle holds true: Making an impact on voters in-person matters more than any online ad ever could.
"[The attacks on the other candidates] made her stand out," said Karpan. "It made her seem strong, assertive. It made her seem candid."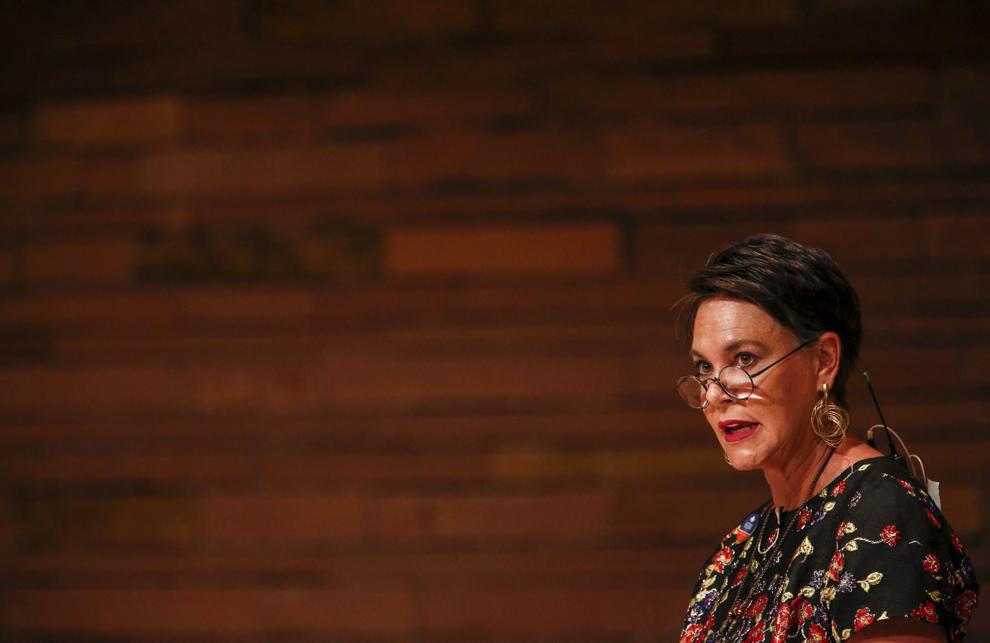 A similar attack strategy, particularly the WrongForWyoming campaign, is also seen as advantageous to promoting Hageman's standing with voters.
"Prior to the launch of WrongForWyoming.com, the backgrounds of some of my opponents had not been discussed in the public realm," Hageman wrote in an email. "In the early months of the campaign, the dialogue was more about what we all wanted to DO as governor, and less about what we have DONE. It was also apparent that some of the words of my opponents on the campaign trail did not match their history, the work that they have done, and the groups that they support."
"I believe that what we have DONE is perhaps the most telling indication of what we will DO. And there were many notable elements of my opponents' backgrounds that they simply weren't talking about on the campaign trail."
Other candidates, stuck with their own positions, are in a more precarious position.
While the Galeotos campaign declined to comment for this article, the Cheyenne-based businessman has had limited room to explain the nuances of his dealings and the greater market forces that dictate his decisions. In his letter to supporters released after the most recent debate, Galeotos spent three pages of text explaining the business dealings of his organization, Green House Data, outlining in extensive detail how his business is not complicit in no-bid contract policies by the state and putting into context the company's policies of buying renewable energy credits to "offset" carbon emissions from the coal-based electricity it uses. (Which, he said, customers demand.)
Gordon, a policy wonk, is often pressed to explain the intricacies of complicated economic strategies within 30-second soundbites, where he is admittedly at a disadvantage. There, he has had to pare down his expertise to a realm the average voter can understand. Favorable headlines – such as his taking a stand against the Bank of the West, a public depository of the state that recently chose to divest from fossil fuels – offered Gordon an opportunity to explain himself.
"As a politician, you do want people to understand the work you're doing," he said in a recent interview. "In terms of trying to be opportunistic about trying to find things like that … that's not in my DNA. It's about finding the things we need to do to stand up for the state of Wyoming, that we inform the people of the state about what we're doing and take pride in that work. From a campaign standpoint, that's the way we run our campaign. I grew up in Kaycee, and you didn't brag about yourself a lot. It was about the performance you had."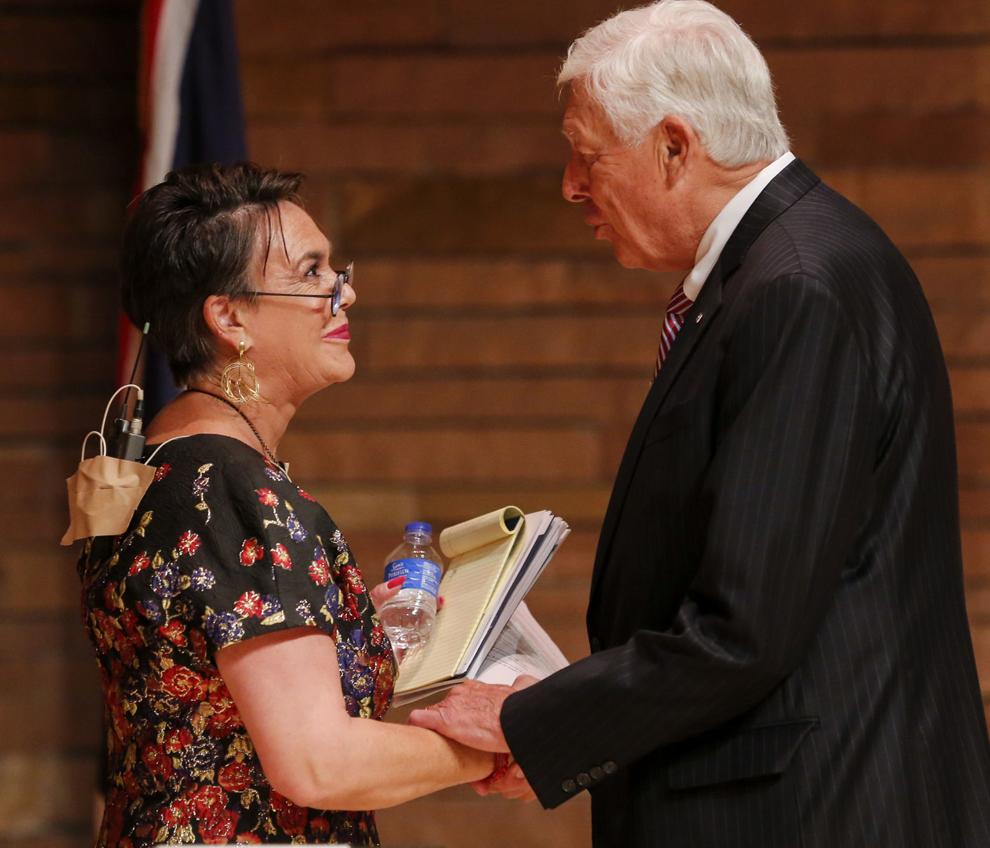 Friess, a Jackson-based multimillionaire with a near limitless war chest and the means to stand out independently, has remained intent on flying above the muck. He has directly advised all of his volunteers and staffers not to disparage or speak negatively of his competition — privately to the dismay of his campaign staff. Throughout the race, Friess has very much presented the image of the wise-cracking class president, interchanging jokes and folksy tales from the campaign trail with his own thoughts on policy. In a candidate forum around wildlife issues held at Casper College Thursday night, Friess was more complimentary than any of the candidates, expressing gratitude at the policy knowledge of people like Gordon and, at one point, calling Hageman "a very smart woman," drawing a smile from her.
"I told all my guys, 'I don't want you making negative comments about any of the other candidates,'" he said. "'In fact, I don't want you to even compare us, saying I'm the best at this or the best at that.' Don't even make a comparison. Just tell people who we are, what we represent, what our background is, what our skill set is and what we bring to the table."
"From there," he added in deadpan delivery, "voters can figure out for themselves that I'm taller than Harriet."
Does Negativity Hurt Or Help A Campaign?
There is no better tell on campaign strategy than the final results on Election Day. But some research conducted on the campaigns of female candidates, particularly in the midst of a "pink wave" nationally, suggests Hageman's aggressive strategy is unusual for women politicians.
In 2005, political strategists Celinda Lake, a Democrat, and Kellyanne Conway, a Republican, co-wrote a book tracking the trends and opinions of American women that, while missing the mark of its title, did indicate a growing trend of women ready to take on greater influence in the shaping of American life. "What Women Really Want: How American Women Are Quietly Erasing Political, Racial, Class, and Religious Lines to Change the Way We Live," makes wide-ranging assumptions on the classes of women running for office, dividing them into distinctive groups of female candidates and voters based on observed trend lines that hint at women's desire to take on more significant roles in public life. More than a decade later, those trends have manifested into the greatest wave of women running for office in the history of the nation — and winning.
"These are all awesome women running," Christina Reynolds, a spokeswoman for Emily's List, told Time Magazine in a story published earlier this week, "because mediocre women don't stand up and run for office the way sometimes mediocre men do."
Yet that's not to say women running for office don't feel pressured to adhere to a certain set of rules as a candidate. In 2014, the Barbara Lee Family Foundation released research in the form of a book called "Keys To Elected Office: The Essential Guide For Women," which lays out numerous research-based standards that the group says presents a road map for female candidates to win.
"Running for office as a woman is different than it is for a man," the book begins. "Why? Because voters expect more from women and afford them different advantages. And even though voters say it is important to have more women in office, it doesn't always mean they will actually vote for women. Facts about voter demographics help paint the picture."
From outlining how to toe the line between presenting one's qualifications and maintaining likeability, the guidebook acknowledges the cynical realities that even the most qualified women still face a cultural disadvantage when running against men.
"Women have a harder threshold of being viewed as competent or qualified," said Karpan, one of just a handful of women in Wyoming's history to run for governor. "But if they can do that, certain assumptions kick in in their favor, like being more honest or more knowledgeable about health care or education."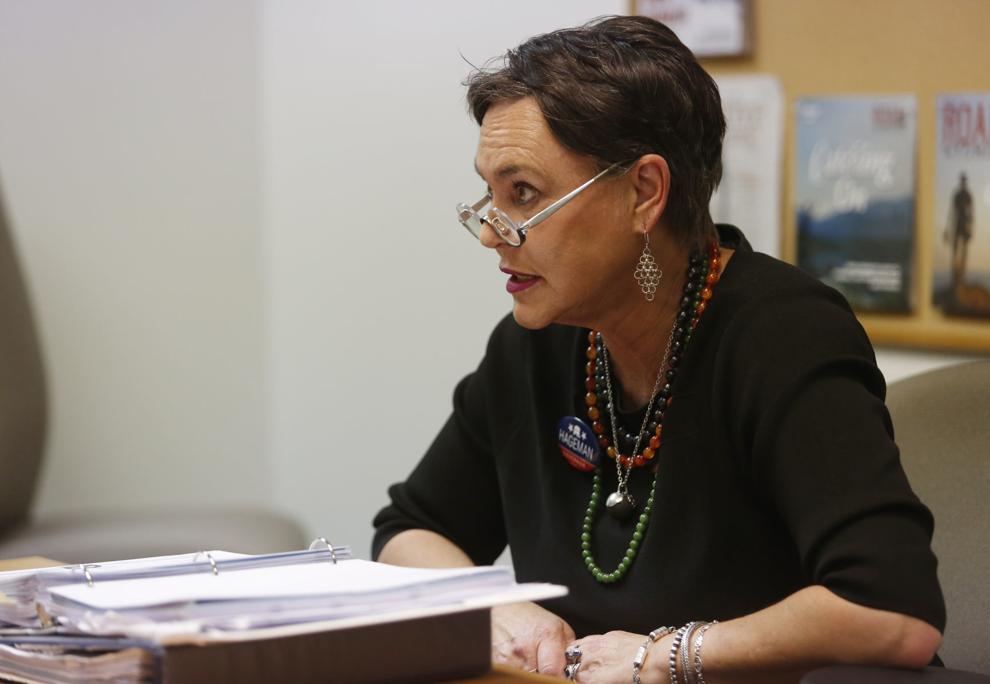 However, the intangibles could be changing. Around the country, there are signs that the "old boys network" of government is collapsing, Karpan said, and in elections from Maine to California, female candidates have come to be perceived as inherent reformers ready to clean the mess and restore order. In that sense, Hageman has room to buck the typical theories around what women need to do to get elected.
When asked if gender perception played a factor in her campaign strategy, Hageman said she was "mystified" by the question, saying that she had never given that much thought. As a lawyer of 30 years, her approach has always been analytical and based in the facts, she said, and that in the black-and-white realm of a courtroom, the intangibles of gender rarely play a factor.
"I don't have consultants telling me how to act or how to use hand gestures," she said on a phone call in between campaign stops Friday morning. "I'm just me, and I pull from my experience in who I am. I'm a strong woman. I'm a strong person. I don't look at things through the window of gender or sex. I look at how to get things done. I haven't used a consultant to tie down my clothing or put a sock in things."
In this line of thought, peoples' perception of her aggressive strategy, Hageman said, has overshadowed its substance.
"People have called me "mean" and "unethical" for bringing these things to the surface," she wrote in a separate email to the Star-Tribune.
To those folks, she wrote, she would like to say two things:
Firstly, she would never resort to character attacks in order to demean her opponents, focusing only on fact-based and well-documented observations that she said could impact their policy decisions. "That's not being mean," she wrote. "That's being honest."
Second, that her decision to launch the website has not caused Wyoming voters to be less informed about the candidates. "On the contrary," she wrote, "my release of this information has resulted in a greater dialogue about all of our backgrounds, and it provided my opponents with an opportunity to explain their actions."
"That's not being unethical," she said. "That's being transparent."
Follow politics reporter Nick Reynolds on Twitter @IAmNickReynolds