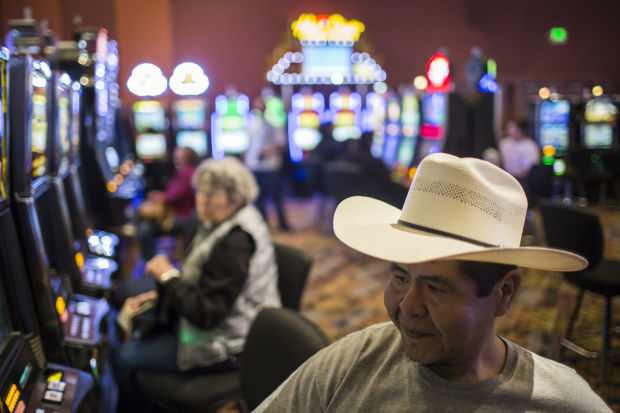 RIVERTON — If longtime Wind River Hotel and Casino CEO Jim Conrad does leave at the end of June, one of the biggest decisions his successor will have to make is whether to stick with the conservative fiscal approach Conrad has taken since he began running the casino in 2005.
By conventional standards, Conrad's operation is "under-leveraged," and more debt might help invest in new ventures that would increase profits.
However, an independent evaluation of the casino conducted in April by consulting firm Spectrum Gaming Group depicts Conrad's approach as one that's likely helped the casino survive through Fremont County's boom-and-bust cycle and become the county's largest employer.
The casinos' assets currently are about 2.6 times its liabilities, significantly higher than the industry norm of 1.2 and 2, according to the Spectrum report.
"This indicates that the operation has little debt, is liquid and will not have any problem in meeting any short-term debts," Spectrum officials wrote. "This is also indicative of a company with sound financial practices."
The casinos have $57.5 million of equity and $9.5 million in debt, which Spectrum means the casino's financial picture keeps "improving year over year, in large part, due to the operation's ability to utilize its own cash flow for various expenditures such as slot machine purchases without having to incur substantial debts resulting in being highly leveraged."
Revenue dropped by 11.1 percent in the 2015 fiscal year, and then another 9.5 percent in the 2016 fiscal year after the oil and gas industry slowdown in the county.
By 2017, casino revenues had dropped to $34.4 million, $12 million less that the high point of 2014, when the casino's assets were almost 5 times its debt.
Conrad told Spectrum officials that the revenue from table games and slots has dropped about 34 percent since the high point of 2014.
"Mr. Conrad stated that prior to the downturn many high-end table players frequented the Wind River Casino, but since 2014, at least three to five oil and gas executives, each with a bankroll between $50,000 and $100,000, had left the area and relocated elsewhere permanently.
As a result of losing these players, Mr. Conrad stated table games revenue has been a consistent "grind" and likely will not recover anywhere near the level since 2013-2014 unless and until there is a drastic improvement with the economy."
Spectrum indicates that the casino could increase profits, but likely only by dropping many of its social programs and taking a harder line with employees.
"The judgment regarding the performance of this tribal casino operation is not simply or even primarily based on profit, but the economic impact on the tribe and tribal members," Spectrum wrote.
The casino's earnings before interest, taxes, depreciation and amortization — known as EBITDA in the business world — dropped from $17.6 million in 2014 to $7.9 million in 2015.
Spectrum credits that drop to the drop in the economy's slide and the numerous social programs that Conrad begin implementing in 2015, including the wellness programs for employees with addictions, a registered nurse, job training, transport to and from the treatment center, and other business ventures that keep people employed but don't make money, like the laundry facility, grocery store and embroidery shop.
"In a regular commercial casino setting, those individuals who are deemed unemployable will not be given an opportunity because it taxes the bottom line," according to Spectrum.
"The (Wind River Casino) on the other hand, hires these individuals with issues, but also needs to hire additional employees to handle the job task normally handled by one person.
"This practice is to simply provide an employment opportunity to those with persistent drug and alcoholic problems, over-age job seekers, persons enrolled in the wellness program and/or the job corps, individuals with multiple re-employment history anywhere from three to five times per year."
If the social programs were dropped and the casino management didn't prioritize tribal employees,
Spectrum says the casino's 2018 EBITDA would likely be $4 million more than its present position.
Spectrum noted the fact that more than 75 percent of employees are Northern Arapaho members and another 10-15 percent are members of other tribes "represent one of the highest levels of tribal employment that we have seen in working for over 40 tribes."
That also means unusually high labor costs.
In 2018, the casinos' labor cost or table games sat at 78 percent, the restaurant's labor cost was 91 percent, and the deli's labor cost was 51 percent.
High turnover also plagues the casino, which typically issues about 1.5 times as many W-2s each year as it has employees
"But partly as a result of this being the first place of employment for many new recruits, the managers we spoke to found that many personnel do not have the skills needed and do not remain in the job," Spectrum reported. "Repeated stories were also relayed to us that many new employees simply are not reliable. Many do not show up for work after a receiving their first paycheck, according to numerous accounts."
In September 2017, CIT Bank, which refinanced the casino's debt in 2009, warned against ousting Conrad.
That loan's maturation date has been extended three times due to what CIT vice president Michael Parisien described as Conrad's "solid business acumen and can-do attitude to ensure compliance."
He also said Conrad's use of internally generated cash-flow to finance the construction of the 90-room hotel was "an accomplishment that few gaming operators are able to achieve."
"Your tribe did that under the stewardship and solid leadership of Mr. Jim Conrad," he said, calling the CEO a "well-versed and highly respected" member of the gaming, hotel and restaurant industry.
In recent years, there have been attempts through the Northern Arapaho General Council to oust Conrad and former assistant manager Andi Clifford.
In September 2017, the general counsel voted to fire Conrad and Clifford, now a Wyoming state legislator.
However, the NABC, which has sole discretion on whether to terminate Conrad's contract, kept the pair in place after a 3-3 vote.
When Clifford left her position at the casino in January 2018, she expressed concern that Conrad's departure could jeopardize the future of the casino.
Conrad had been grooming her to take over as CEO for years, but Clifford said in 2018 she still would have need a few more years experience.
"It's concerning that we have a small group of people ... that think they're qualified to run a multi-million dollar company, when they're not," Clifford told The Ranger at the time.
"If they force out Jim, it would be detrimental to not only our patrons, but also to tribal jobs."
Be the first to know
Get local news delivered to your inbox!