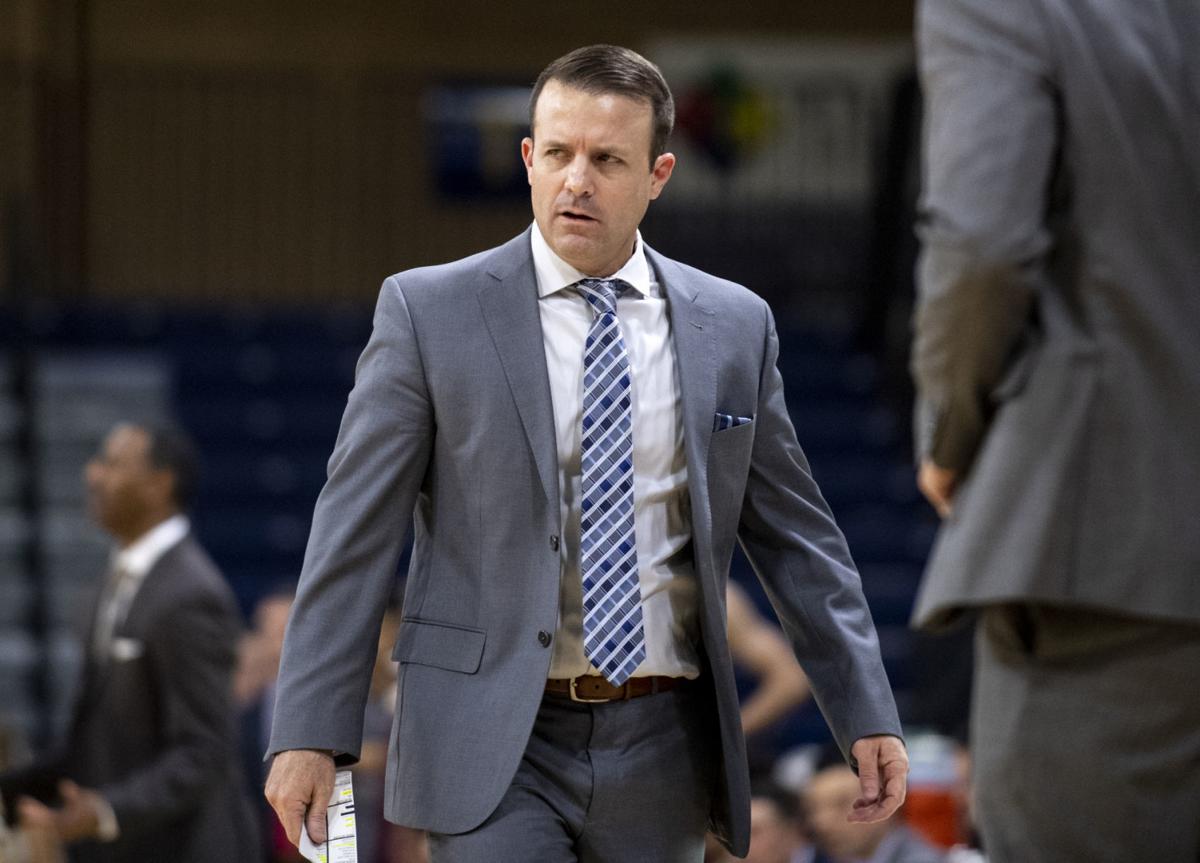 LARAMIE — Jeff Linder had to navigate the coronavirus shutdown just like all of his coaching peers. But after being hired midway through March, Wyoming's first-year coach also had to deal with a much shorter time frame when it came to corralling recruits for the Cowboys' 2020 recruiting class.
But with the help of modern technology, Linder and his coaching staff made up enough ground to sign not only six prospects when the spring signing period started Wednesday but players that also fit the style Linder wants to implement with a roster that's undergone plenty of turnover in the last month.
"It wasn't hard because our video staff did such a tremendous job under less-than-ideal circumstances of putting together just some great video of the facilities," Linder said. "Then from there, with having (recruits) actually see it, we can sell everything else. That's the beauty of Wyoming is if we can get guys here and they see the facilities and they see the resources, they know it's a great place, especially if you want to get better."
UW signed all five verbal commitments it had entering the day and added three-star center Graham Ike before it was over. Ike, who signed with UW out of Overland (Colorado) High, is one of three high school players to ink with the Cowboys, joining AZ Compass Prep combo guard Xavier Dusell and Dickinson (Texas) High combo guard Marcus Williams. The other half of the class is comprised of junior college prospects Drake Jeffries, Drew Lamont and Eoin Nelson.
"I think we did a really good job of finding some guys in a short period of time that can really help us move forward with the returning players and allow us to win a lot of games in the near future," Linder said.
Dusell, the first prospect to verbally commit to UW once Linder was hired as Allen Edwards' replacement on March 17, and Williams both followed Linder after initially signing with Linder's former school, Northern Colorado. Linder praised Dusell's versatility as a combo guard and his ability to play off ball screens.
As for Williams, a 6-foot-2 guard who helped lead Dickinson to a 32-5 record this past season in Texas' highest classification, Linder said he has a skill set that's comparable to a former Mountain West Player of the Year that Linder used to help coach during his days as an assistant.
"He's as dynamic of a guard as there will be in the Mountain West, and I know that from the fact of having coached for six years at Boise State and having the Mountain West Player of the Year in Derrick Marks," Linder said. "He's a guy that could be that type of player."
Jeffries shot 44.8 percent from 3-point range last season at Indian Hills Community College in Iowa while LaMont shot it at a 40.8-percent clip from deep for Indian River State College in Florida. Nelson, a former rugby player in his native Ireland, is a more raw prospect having played just one season at Otero Junior College in Colorado, but the 6-9 forward has size and athleticism the Cowboys can work with.
Most importantly, nearly all of UW's newcomers have the ability to stretch defenses with their perimeter shooting, a skill Linder covets in his offensive system. His teams at UNC attempted the second-most 3s in the Big Sky Conference over the last two seasons and finished 10th nationally in 3-point percentage this past season.
"One, our playmaking on the perimeter and our ability to make shots on the perimeter," Linder said of his priorities recruiting this year's class. "And then to add size and athleticism up front up."
At 6-10 and 240 pounds, Ike is "as talented of a post player probably as a freshman that I will have ever coached," Linder said. But Ike will have to wait another year to suit up for UW after having ACL surgery in January that will require him to redshirt next season.
Linder said guards Kenny Foster and Kwane Marble II are returning for their sophomore seasons, though the newcomers will still outnumber the returning players (5) on next season's roster. The math means UW will be relying on many of them to fill out its rotation, which is likely to lend itself to some stiff competition once the new-look Cowboys are able to assemble for the first time.
"We're not going to play 12 or 13 guys, and those guys know that coming in," Linder said. "But I do think we have more depth, and we definitely have more options. It's just going to be a matter of guys coming in, competing and earning minutes."
Follow UW athletics beat writer Davis Potter on Twitter at @DavisEPotter.
Be the first to know
Get local news delivered to your inbox!