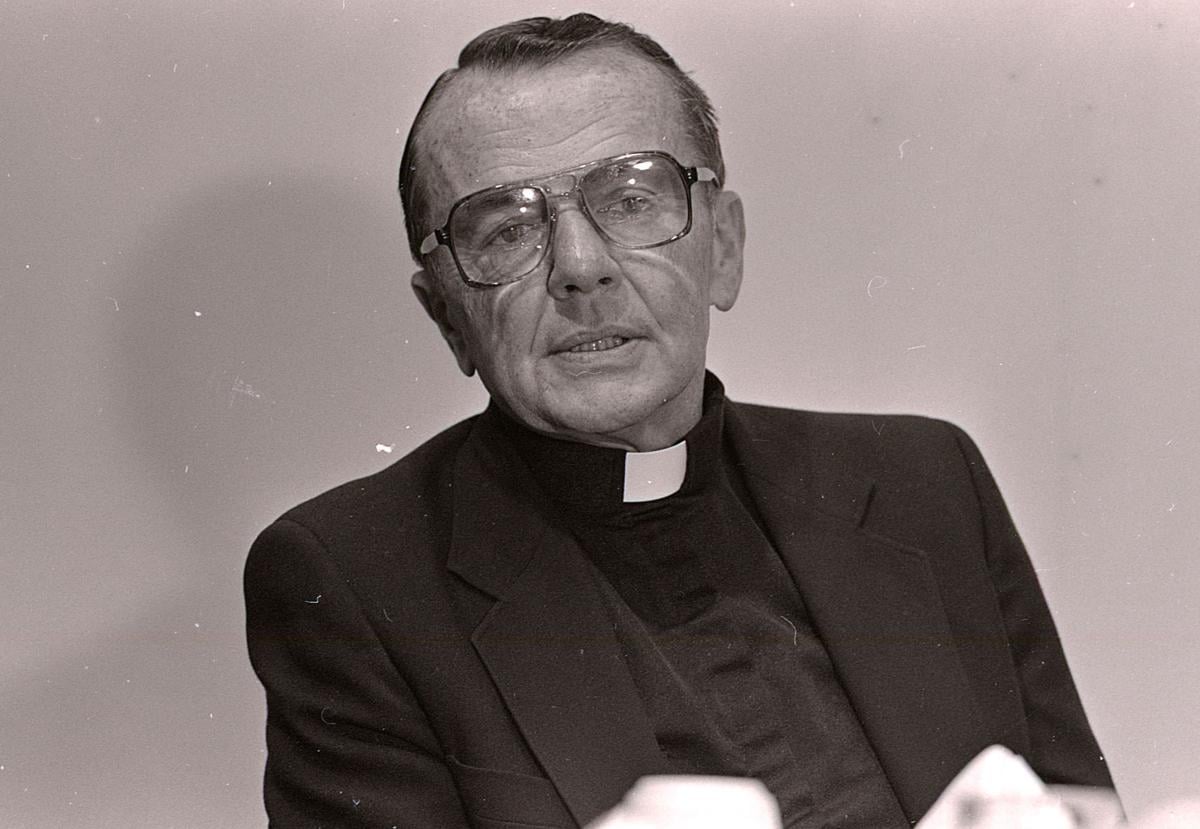 The Wyoming attorney general has decided against charging retired bishop Joseph Hart, effectively ending law enforcement and victims' efforts to hold accountable a top Catholic cleric facing decades of sexual abuse allegations.
A spokeswoman for the Cheyenne Police Department, which launched the sexual abuse investigation into Joseph Hart in April 2018, said in an email that Attorney General Bridget Hill would not be pursuing charges. Cheyenne Police brought the case to Hill's office in July, after prosecutors elsewhere in Wyoming also declined to charge the retired bishop. Police had interviewed several alleged victims or their family members. The attorney general's prospective role has not previously been revealed.
Hart, who as bishop led the Catholic flock in Wyoming from 1978 to 2001, has been accused of sexual abuse by more than a dozen men. Dioceses in Wyoming and Missouri, where Hart worked previously, have settled lawsuits with victims and said their accounts are credible and substantiated.
The news comes just days after the Vatican announced it had exonerated Hart on seven accusations of sexual abuse and couldn't prove five more. It brings to a halt a monthslong effort by Cheyenne Police to have Hart charged. It also effectively ends a 2 1/2 year criminal probe that, had it led to charges, would have made Hart the highest-ranking Catholic clergyman to be prosecuted for abuse in U.S. history.
Hart has denied the allegations consistently over the years. His attorney, Tom Jubin, said in an email Thursday that he wasn't surprised by the decision. He criticized the current bishop in Wyoming, Steven Biegler, for his role in reigniting scrutiny into Hart, which has continued for more than three years.
Darrel Hunter, who had two brothers allegedly abused by Hart and who himself was inappropriately touched by him, said Thursday that he, too, wasn't surprised. Hunter's family is among the first known to have raised allegations against Hart in the 1990s, after one of the brothers died of AIDS.
"It's kind of like a hurricane," Hunter said. New disappointments about Hart "come in and cause a bunch of anxiety and destruction and bad feelings, and then they go away and you kind of forget about them. You go along, and then a year-and-a-half later, another one comes along. I'm over it, then it rears its ugly head."
"I wish it was over with," he continued. "But maybe it won't ever be over with, even after he's dead."
Hart is 89 and in poor health, Jubin said.
A message sent to Hill was not returned Thursday.
Hart was first ordained in his hometown of Kansas City, Missouri, in 1956. He stayed there until 1976, when he became auxiliary bishop in Wyoming. He would became full bishop two years later. Victims have said Hart's alleged abuse began as early as the 1960s; other victims have said they were abused in the '70s and '80s.
Though victims began to come forward in the 1990s, and were greeted by church lawyers and questions about settlements, Hart is not known to have been investigated until 2002. By that time, he was retired and living in Cheyenne. A victim — who would be a central victim in the most recent case — told Cheyenne police that Hart had abused him in the mid-1970s. Because Wyoming has no statute of limitations, it was still possible to charge him with sexual abuse.
After the victim stopped cooperating, police closed the case and declared the allegations baseless. The victim has previously said he stopped cooperating with that investigation because the lieutenant handling it was aggressive and too focused on Hart's reputation.
Several years later, the church in Kansas City began settling with victims. But Hart remained a retired bishop in officially good standing. He would stay that way until his ability to participate in church services was restricted several years ago.
In late 2017, Biegler, the current bishop, began an internal investigation into the allegations against Hart, which would end in July 2018 with the church declaring two victims credible and their stories substantiated. Since then, four more men have come forward to allege abuse in Wyoming.
That led Cheyenne police to open another investigation in April 2018. That concluded in August 2019, with the agency recommending Hart be charged.
In June, after 10 months of review and supplemental work, the Natrona County District Attorney's Office told an alleged victim that they would not be prosecuting Hart. But Cheyenne Police investigators and agency leaders, including then-Chief Brian Kozak, felt the case was strong, and a spokesman later said that prosecutors hadn't fully read case documents.
Eventually, Kozak took the case to the attorney's general office in a bid to have Hill take on the prosecution herself. That door was closed this week.
A message left for Kozak, who has since left the department, was not returned Thursday. Beyond confirming details for this story, Cheyenne police declined to comment further.
For victims, Hill's decision not to pursue charges was their last hope that Hart would be held accountable for what they say was years of abuse. For Hart and Jubin, it's the end of a "vendetta" leveled against the retired bishop by Biegler.