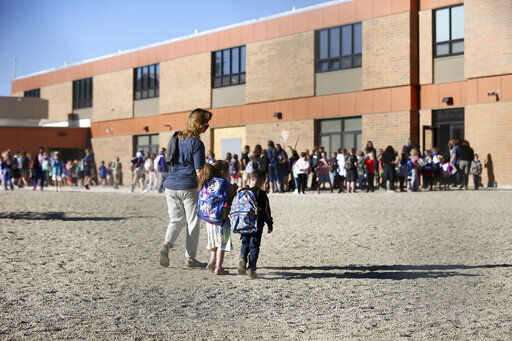 Wyoming's civics and U.S. History education standards are among the worst in the nation, according to a new report from a national education group.
The state's top education official is hoping the grim analysis will serve as a call to action.
The conservative-leaning Thomas Fordham Institute in June published rankings of each state's standards in civics and U.S. history. It recommended "a complete revision" for Wyoming.
Why we failed
Wyoming's biggest flaw is that it doesn't have course-specific standards for either civics or U.S. history, and it's one of a few states that doesn't require either for a student to graduate.
The Fordham Institute describes the standards as "inadequate, failing to offer even a basic outline of essential content."
Indeed, one of the most significant differences between Wyoming's standards and the few states that earned top marks was a lack of specifics.
"Because of the broad, vague language Wyoming employs in its benchmarks, there is almost no sense of scope, and it's impossible to say how content is meant to be sequenced," the report continues.
For example, in Tennessee, which earned all "A's," the standards say students should learn about specific people and events. In Tennessee's section outlining what fourth-graders should know about the War for Independence, it offers specifics about what students should understand about Benjamin Franklin and Thomas Jefferson. Wyoming's standards mention neither people, nor the American Revolution specifically. For almost all other topics, our standards are similarly vague.
Wyoming's one redeemer is the detailed outline for teaching about tribal history and government — a 2018 addition mandated by law. "Yet, the specificity of these standards only throws the vagueness that surrounds them into starker relief," the report adds.
Moving forward
"I'm actually enthused by this call to action," State Superintendent of Public Instruction Jillian Balow told the Star-Tribune.
Wyoming's existing social studies standards must be revised by 2023, and Balow said that work will begin imminently. She said the state requires a more comprehensive review, but she already has a template in mind.
The document has substantial nonpartisan and academic backing —- from Harvard, Tufts and Arizona State universities, along with the National Endowment for the Humanities.
Developed with input from hundreds of teachers, parents, students, administrators and scholars, the framework functions as a guiding document to help in the development of content standards. And it was created because Wyoming is among many not making the grade.
Twenty states failed the Fordham Institute review. Data from the National Assessment of Educational Progress shows just 24% of students nationwide are proficient or above in civics at either the eight or 12th grade levels, if students are assessed at all. In Wyoming, they aren't.
Balow would like to see that change, too. Students do have to pass a test on the U.S. and Wyoming constitutions to graduate, which she said was a start.
"There's an old adage, what gets measured, matters," she said.
Standards dictate curriculum, which dictates content. More comprehensive standards will better guide what content is being taught, Balow added.
She's recently suggested that communities should have a greater role in that process. She used the Rotary Club as an example during a presentation for Casper's last month, and suggested communities find more ways to engage students.
Follow health and education reporter Morgan Hughes on Twitter @m0rgan_hughes