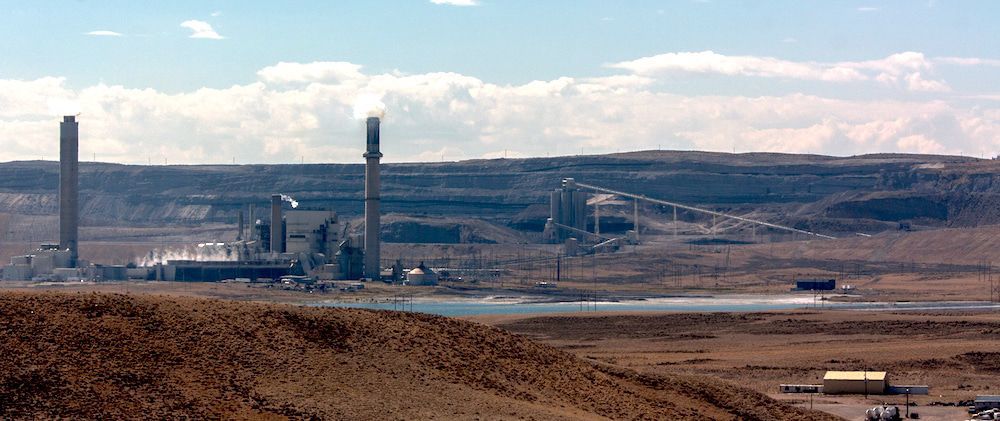 GILLETTE — A Trump administration plan that would spend billions of dollars to subsidize aging coal-fired and nuclear power plants may not be much of a boon for Wyoming coal, one of the state's leading economists said Wednesday.
"It's really unclear how this is going to work out," said Robert Godby, an associate professor in the College of Business Department of Economics and Finance at the University of Wyoming. "What we do know is this really only affects the places that have competitive coal sale markets."
In other words, Godby said a Department of Energy memo that outlines a plan to require power companies to buy coal-fired and nuclear-generated electricity won't have a large impact on Powder River Basin operations, which supply about 30 percent of the nation's thermal coal.
"Where this really matters is in the East where they have this competitive wholesale market," he said. "As far as Wyoming is concerned, our coal-fired power plants aren't at risk."
If implemented, what the requirement could do for companies mining in the PRB is stave off some potential production drop-offs over the next couple of years, which also could save some mining jobs, he said.
"A few of the mines (here) that are supplying those plants have a hope of supplying them for a couple years more," he said. "If you were to keep all of those power plants online, that's demand you know that's not going away. The problem is, it's going to impose an economic cost on the economy."
That cost, which could range anywhere from $3 billion to $30 billion, would ultimately be paid by electricity consumers in those markets required to operate the more expensive coal and nuclear plants, he said.
While the subsidy may promise to give a temporary break to coal and nuclear power in the United States, it won't affect an overall energy market that's being overhauled by cheap natural gas and increasingly inexpensive renewable energy like wind and solar, Godby said.
"The problem that's been facing coal is the eastern grid coal just can't compete with natural gas and it can't compete with renewables when they're available," he said. "It's cheaper to run a natural gas plant than to run a coal plant … and that really leaves no demand left for coal."
While some question the DOE plan to prop up coal and nuclear power, it's an example of the president making good on a campaign promise, said Ashley Burke, a spokeswoman for the National Mining Association.
"It's encouraging that the administration is taking this situation seriously," she said about the continued decline of coal-fired power in the U.S. "We're really at a reliability crisis point."
She said that more than 100,000 megawatt hours of coal-fired power has been retired in the U.S. since 2010 and another 12,000 MWh is set to retire this year.
"That's enough to power 8 million homes," she said.
Because coal is the backbone of electricity generation in the United States, something needs to be done to bolster a critical industry, Burke said.
"Something you have to look at are the reforms that are needed here," she said, adding that the two-year subsidy of eastern coal will give government officials time to come up with a long-term plan.
"We need to be doing more to encourage upgrading of the older facilities here," she said.
Burke also referenced a recent poll the National Mining Association conducted that shows 55 percent of American voters believe the government should be involved in upgrading aging coal-fired and nuclear plants. That same poll also says that 73 percent of Americans think developing near-zero-emission power generation should be a priority.
"Even beyond carbon capture, there are technologies available today and being used today (around the world)," she said.
Because nobody's building new coal plants in the U.S. anymore and retiring older ones instead of upgrading them, Burke said we're lagging behind the rest of the world. As an example, she said the U.S. has one advanced coal plant while China has 90.
"The world is using coal and many of these countries are building new plants and building these new ultra-critical plants," she said.
The main reason to justify requiring companies to continue buying coal and nuclear power is national security, an argument Godby said is shaky at best.
"Nobody's really sure what the national security risk is," he said. "This is pretty controversial. The only people who have come out in favor of it are coal operators and a few operators of coal- and nuclear-fired power plants."
Godby said the DOE has cited a potential for unfriendly countries or terrorists to target the nation's natural gas pipelines, which makes maintaining coal and nuclear power a priority. However, he said that potential is so low that even other energy industry officials question it as a legitimate motive.
It's also the administration's second bite at the apple, Godby said. A first attempt to change regulations failed, so now the national defense argument is being used, he said.
"The bottom line is, they're justifying this on national defense," he said. "The idea is they require a certain amount of coal power be purchased and that would be enough to forestall the list of retirements we're expecting right now."
In the end, if the DOE plan is adopted, consumers in the East can expect to pay more for their electricity, Godby said. Wyoming is on the Western grid, which isn't in a competitive market and largely wouldn't be affected by the directive.
"Unless there actually is a national security threat that has a realistic chance of occurring, what we're saying (with this) is that we're willing to spend an additional $3 billion to $30 billion, and it's effectively a tax on all the consumers of electricity."
It also wouldn't change the energy market, which is driving the reduction in coal because of cheap natural gas, he said.
"It would not affect electricity consumers in Wyoming and would benefit, to some degree, the mining operations in the Powder River Basin," he said. "But keeping inefficient power plants online is a really expensive way to do it. And the bottom line is, it's probably only temporary."