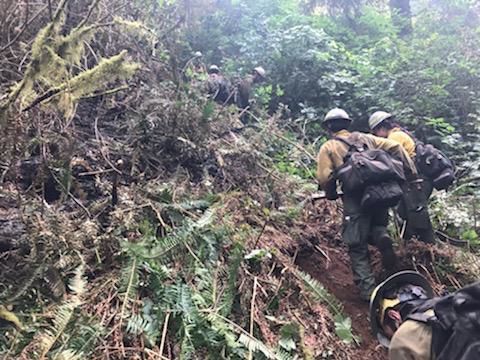 Wyoming fire crews are assisting in the effort to contain the massive wildfires that are burning in Oregon.
On Saturday, the Wyoming State Forestry Division sent a strike team of fire engines to Oregon, which is struggling through a historic wildfire that last week prompted the evacuation of 10% of that state's population.
The strike team includes 27 firefighters, seven wildland fire engines and three support vehicles, according to the forestry division.
The team includes people and resources from five local agencies in Wyoming and two other states: Kansas and South Dakota. They were dispatched to the Echo Mountain Complex Fire near the Oregon coast.
That fire has so far burned 2,500 acres and is 40% contained, according to a federal firefighting database.
Wildfires raging across the state have burned more than 1,300 square miles. At least eight people have been killed.
Authorities say more than 1,140 residences have also been destroyed by the blazes and 579 other structures have been decimated.
"No single State or agency has all the resources needed to deal with fires of this magnitude," Wyoming State Forester Bill Crapser said in a statement. "Wyoming has received lots of resources over the years from other States, and are glad that we are able to send support to them when needed."
The team will be on assignment for 18 days, according to the forestry division.
Be the first to know
Get local news delivered to your inbox!