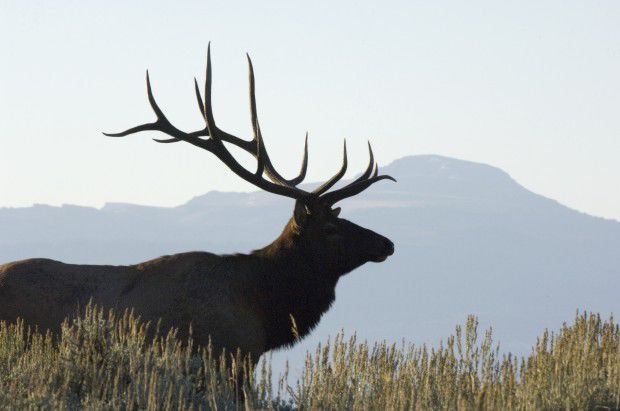 Hunters and anglers alone can't keep supporting the bulk of Wyoming's wildlife management, according to Wyoming Game and Fish Department officials.
Like many other state agencies, Game and Fish is facing a projected budget shortfall, even with recent cuts, said John Kennedy, deputy director of Game and Fish.
"We need short and long-term funding, there is no doubt about it," Kennedy said. "Our funding challenges are intense but not insurmountable."
Traditionally, user fees from hunters and anglers, along with federal taxes on hunting and fishing equipment, sustained Game and Fish's management needs. Those numbers are decreasing at the same time costs are increasing.
If Game and Fish officials can't find long-term funding from other places, they will have to start looking at cutting programs, Kennedy said.
As a result, officials are asking the public for ideas on other possible sources, both traditional and nontraditional. They are hosting a seminar Thursday in Cheyenne that will be streamed online. Anyone with a computer and access to the Internet can participate.
This isn't the first time Game and Fish came up short.
Wildlife officials first went to the state Legislature in 2005 to ask for general fund money to help offset the decline of hunting and fishing licenses. The legislature gave money for specific programs that benefit the general public, such as sage grouse and wolf management, sensitive and endangered species programs and aquatic and invasive species programs.
In 2011, the Legislature gave Game and Fish $4.36 million, about 6 percent of the department's budget.
Funding problems continued, despite the general fund boost, a 2008 increase in license fees and budget cuts. This year the Game and Fish Commission cut 8 percent from the general fund money and an additional 3 percent from the commission budget, Kennedy said.
To continue existing services beyond 2014 in the short term, Game and Fish needs an additional $8 million to $10 million that it hopes to get through fee adjustments and perhaps other sources, Kennedy said. That doesn't address the long term.
It's an issue many state fish and wildlife agencies are facing, Kennedy said.
Between 1996 and 2006, numbers of hunters went down 11 percent and anglers went down nearly 15 percent nationally, according to Game and Fish.
To worsen the issue, inflation continues, and the department faces increases in health care and feed costs, invasive species issues and predator management.
"You can't fund a 21st century conservation organization on federal aid and license fees," said Walt Gasson, director of Trout Unlimited and former executive director of the Wyoming Wildlife Federation.
"So how do you expand that both sustainably and equitably? That's hard."
Knowing the issues it has faced, and will continue to face, Game and Fish officials are asking the public for help.
"Fish and wildlife management is critical to everybody in the state, that's why we live here and we want to involve everyone in that," Kennedy said. "We know we can't do this alone."
Some license fees will be increased. Wildlife officials told the Legislature when fees were raised in 2008, they would be back again. But Kennedy worries if licenses are raised too much, people will simply stop buying them.
Officials are working with an outside consulting firm to find creative ways to raise more money with licenses such as multi-year fishing licenses and altering license lengths.
Wildlife officials have not formally asked the Legislature for more general fund money. Gov. Matt Mead's office is aware of the department's budget issues, said Renny MacKay, communications director for the governor.
"It's been the situation of the Game and Fish Department for several years, and it is a situation for wildlife agencies across the country," MacKay said. "They are trying to adapt and efforts to adapt have been coming for quite some time."
The situation is serious, Gasson said. And it worries him.
"I see us in a time right now when people, right, wrong or indifferent, are vigorously questioning government spending at all, in any sense," he said.
But Game and Fish has a track record worth supporting, he said. Wyoming's fishing is better than it was 50 years ago, the wild turkey population has blossomed and elk numbers are closer to those when Europeans came to the West, he noted.
"The big picture says that you don't fund adequate wildlife conservation in a state like Wyoming on a narrow portfolio," he said.
"Broadening that portfolio is difficult and nobody has found the silver bullet, but unless we are willing to say we want less wildlife conservation out there on the ground, I don't see the alternative."
Be the first to know
Get local news delivered to your inbox!