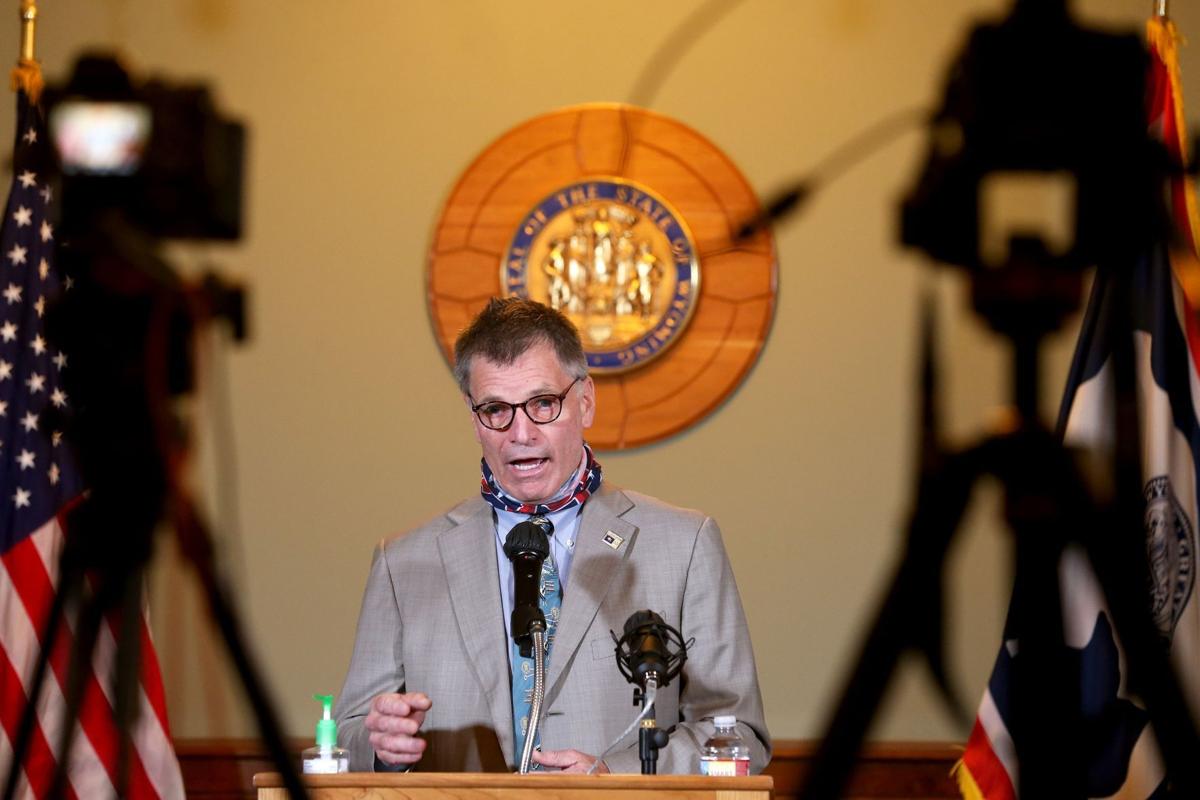 Gov. Mark Gordon has tested positive for COVID-19, his office announced Wednesday.
The governor received the positive test results on Wednesday, his office said in a statement. He has minor symptoms and plans to continue working remotely, according to the statement.
The announcement comes one day after Gordon's office closed temporarily when another employee there tested positive. The office was set to reopen Wednesday.
When the governor's office announced that it was closing Tuesday, it indicated that the facility would undergo a deep cleaning. Gordon, according to that announcement, was not required to quarantine, but would work remotely out of an abundance of caution.
Gordon policy adviser Renny MacKay said it was still unclear where the governor contracted the virus, and that staff were being tested. MacKay said Gordon had not attended any public events over the last two weeks and that the office closure was related to a different staff member, not Gordon's test result. He said so far that staff member is the only other positive case among Gordon's staff.
The governor is the second high-ranking official in Wyoming to contract COVID-19. Northern Arapaho Chairman Lee Spoonhunter tested positive for the virus in early November. The governor was exposed to a positive case at an event with Spoonhunter the week before, where White House coronavirus coordinator Dr. Deborah Birx visited the state as part of a multi-state tour. Gordon was tested for the virus at that time, but his tests came back negative. He still quarantined for two weeks, following health experts' advice.
Gordon is also among a handful of governors to have tested positive. Governors in Nevada, Missouri, Virginia, Ohio and Oklahoma have all had COVID-19, according to local news reports from those communities.
The coronavirus has grown more and more rampant statewide. Active cases topped 11,000 last week and hospitalizations and deaths are at levels not before seen as well. As of Wednesday, 228 people were in the hospital statewide with the virus. Wyoming Medical Center alone was caring for 75 patients.
Active cases and hospitalizations have for the last few days decreased slightly, but health experts have warned Thanksgiving could be a boiling point for the state.
Gordon's office on Nov. 19 announced new restrictions on indoor and outdoor gatherings, and half the state's county health officers have enacted mask requirements in their jurisdictions, Natrona County's included.
Follow health and education reporter Morgan Hughes on Twitter @m0rgan_hughes