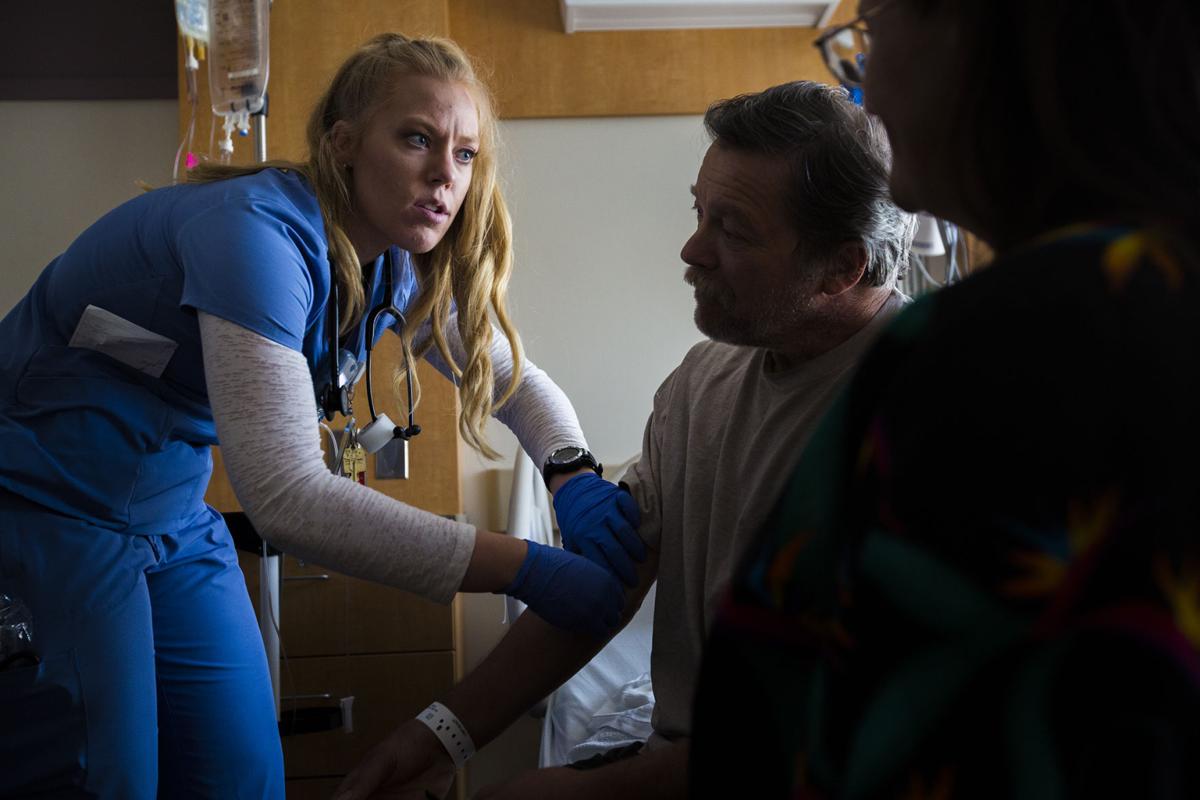 Before Jamie Rhodine even graduated from the University of Wyoming, she already knew there was a shortage of nurses in her home state.
"It was in every class in school," she said.
Rhodine, now a nurse at Wyoming Medical Center, has theories: Nurses who work longer shifts and care for more patients burn out, which forces other nurses to pick up more hours and care for even more people. Plus, the pay could be better. Doctors and supervisors can be frustrating. Being on call is stressful.
Whatever the reason, there are fewer nurses. And fewer nurses affects patient care.
"In (Gillette), we had to stop taking patients," she said. She worked at Campbell County Memorial Hospital before earning her degree. "We had to ship patients, and they had to pay for that because we did not have enough nurses staffed to open more rooms. That was huge. They were from the town we were in, but we couldn't keep them there."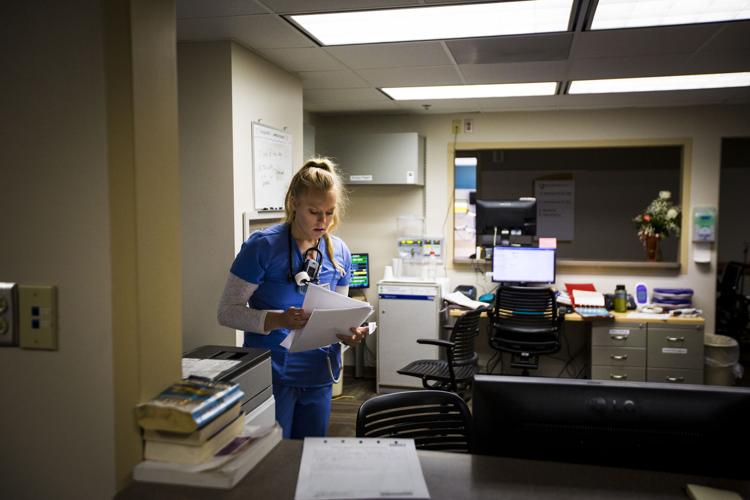 Fewer nurses means more hours for those who are there. That increases stress and the likelihood of errors, Rhodine and others explained. Rhodine, who works in the neurological unit at WMC, said she can't give every one of the patients the care she'd like.
"I do not have time to make sure they have their hair brushed or their teeth brushed," she said. "All that little stuff that makes a person sane, we don't always get the time to do. And that drives us insane."
Though some nursing officials said Wyoming is in the midst of a shortage now, every person who spoke to the Star-Tribune for this story said the situation will likely grow worse in the coming years. As baby boomers age and retire, more nurses will be needed to care for the influx of elderly Americans. Among the wave of retirees will be older, more experienced nurses, leaving an even larger gap.
"By 2024, there's going to be 3.2 million nurses," said David Gardner, the chief nursing officer at the Wyoming Medical Center. That's about 440,000 more than there were in 2014. But to simultaneously care for the aging population and make up for the number of nurses who will retire, "we would need 1.1 million more trained in the next seven years."
Wyoming, a rural state with 26 scattered hospitals, has been proactive in building its nursing workforce, officials said. The Legislature has funded scholarships and approved a system that allows nurses in other states to come here without obtaining a new license. Residency programs, like the one Rhodine is enrolled in at WMC, have popped up throughout the state. The state's colleges have worked to streamline nursing education.
Instituting those programs before more baby boomers retire is vital.
"It's only going to get worse," said Dee Gilson, the president of the Wyoming Nurses Association and operating room director at Sheridan Memorial Hospital, which she said has a shortage of specialty nurses. "We don't have a replacement plan."
The source of the shortage
Gardner believes that the lack of nurses will be most pronounced in the coming years. But Cynthia LeBonde, the executive director of the state Board of Nursing, believes Wyoming and the United States are already in the midst of a shortage.
"The need to fill nursing positions is now," she said.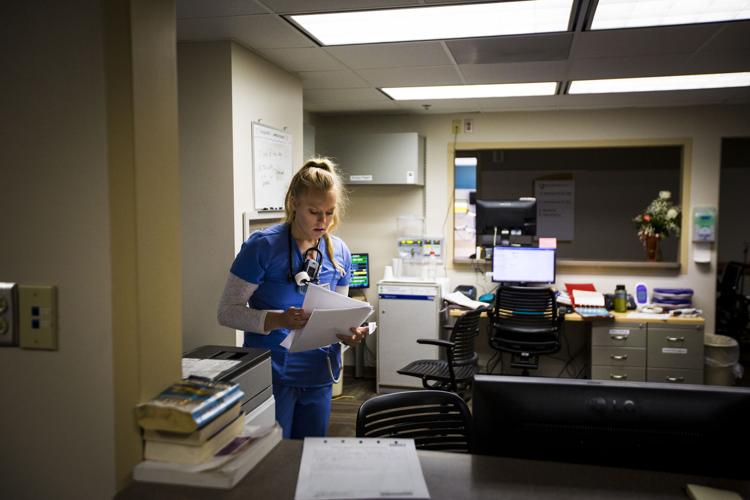 It's difficult to pin the dearth of nurses on one singular factor. LeBonde ticked off salaries, the challenge of the work and the long hours as contributors.
Education likely plays a role as well. A report by the American Association of Colleges of Nursing said that more than 64,000 qualified applicants were turned away by collegiate nursing programs last year because of faculty shortages. Gardner and LeBonde said nurses returning to the classroom to teach full-time often take a pay cut to do so.
On top of that, there's the issue of recruiting nurses to Wyoming. Gardner said WMC — where 17 percent of nursing positions are currently vacant — has to sell applicants on moving to Casper.
"We're a very rural state. It's hard to recruit," LeBonde said. "You can recruit a nurse to Riverton, but what's a spouse going to do? How do we provide a living to both spouses? How do we get them to buy into where they're living?"
There are other factors as well, officials said, but older nurses retiring is the biggest contributor to the shortage. Gilson, the nursing association president, said the problem isn't just a nurse leaving the workforce. When those workers retire, they take with them years of experience.
"It's not just body for body, but it's experience and training level," she explained. "Even if you fill new positions with a bunch of baby nurses, you still might have a deficit."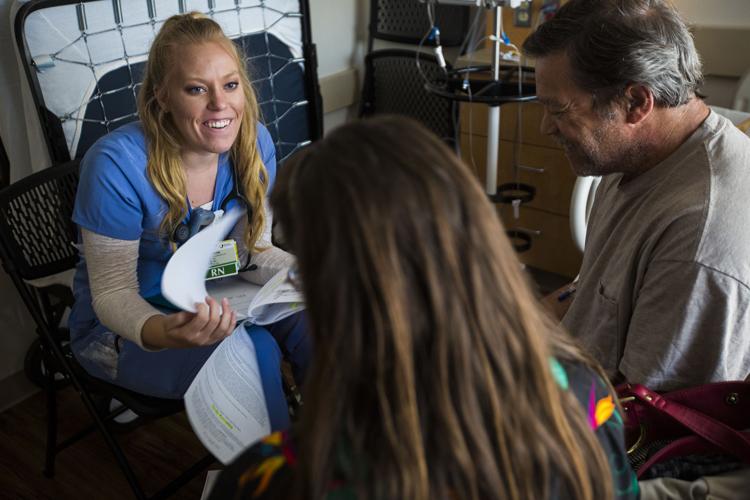 Marjory Christiansen, the director of nursing at Casper College and a member of the state board, said as boomers retire, there will be three times as many elderly Americans as there are now.
"As a state, we really are working hard to try to help the future of nursing," she said.
Bridging the gap
Christiansen said the nursing board has been proactive for years in trying to avoid a shortage — or at least lessen the impact. For instance, the board has worked to respond to license applications more quickly.
Last year, the Legislature approved the enhanced nurse compact. That allows nurses who are licensed in 25 other compact states to practice here without obtaining a new license. The board hopes that program will make it easier to recruit nurses from out of state.
The state has also worked on improving the educational side of nursing, she said: The University of Wyoming and the state's community colleges have been working for seven years to create a uniform nursing curriculum, called ReNew — or revolutionizing nursing education in Wyoming.
"You can be licensed as a (registered nurse) when you graduate" community college, Christiansen explained. "Then it's seamless to go to the University of Wyoming to get your bachelor's of nursing in a year, if you have your prerequisites."
"It's pretty exciting," she added, "and we think we're going to produce better nurses. Better, smarter nurses."
Years ago, the Legislature approved funding for the WyIN — Wyoming Investment in Nursing — scholarship, which helps pay for students here on the condition that they stay and work in the Equality State. The program also helps pay for colleges' nursing faculty.
Christiansen said Casper College's nursing program has 12 full-time faculty — one of which is paid for by WyIN money — teaching more than 300 nursing and pre-nursing students. In her 10 years at the school, the program has never had to turn away a student.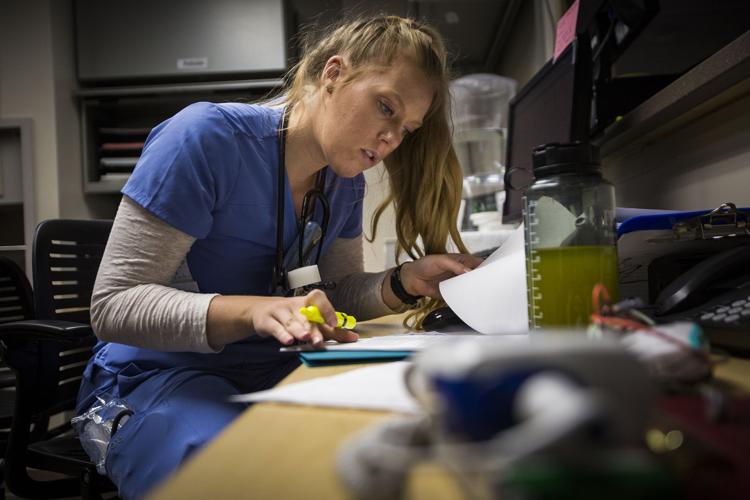 Several hospitals, including Casper's WMC and Sheridan Memorial Hospital, have also started nurse residency programs for recent graduates. Gardner said the hope is that the new nurses learn together, gain experience and stay at the hospital.
Rhodine, who started at WMC's program in mid-July, said it's helping her continue her education and become accustomed to the nursing world. After graduation in May, she wasn't prepared to jump in feet-first, she said.
She had planned on leaving Wyoming and going to work at a major hospital — "gunshots and all that" — but decided she wasn't ready. The graduate program offered an opportunity to work in the state she grew up in and gain experience early in her career.
"Transitioning from a student nurse to a (registered nurse) is very difficult," Rhodine explained. "I never thought I would end up here."
Follow education reporter Seth Klamann on Twitter @SethKlamann
Be the first to know
Get local news delivered to your inbox!