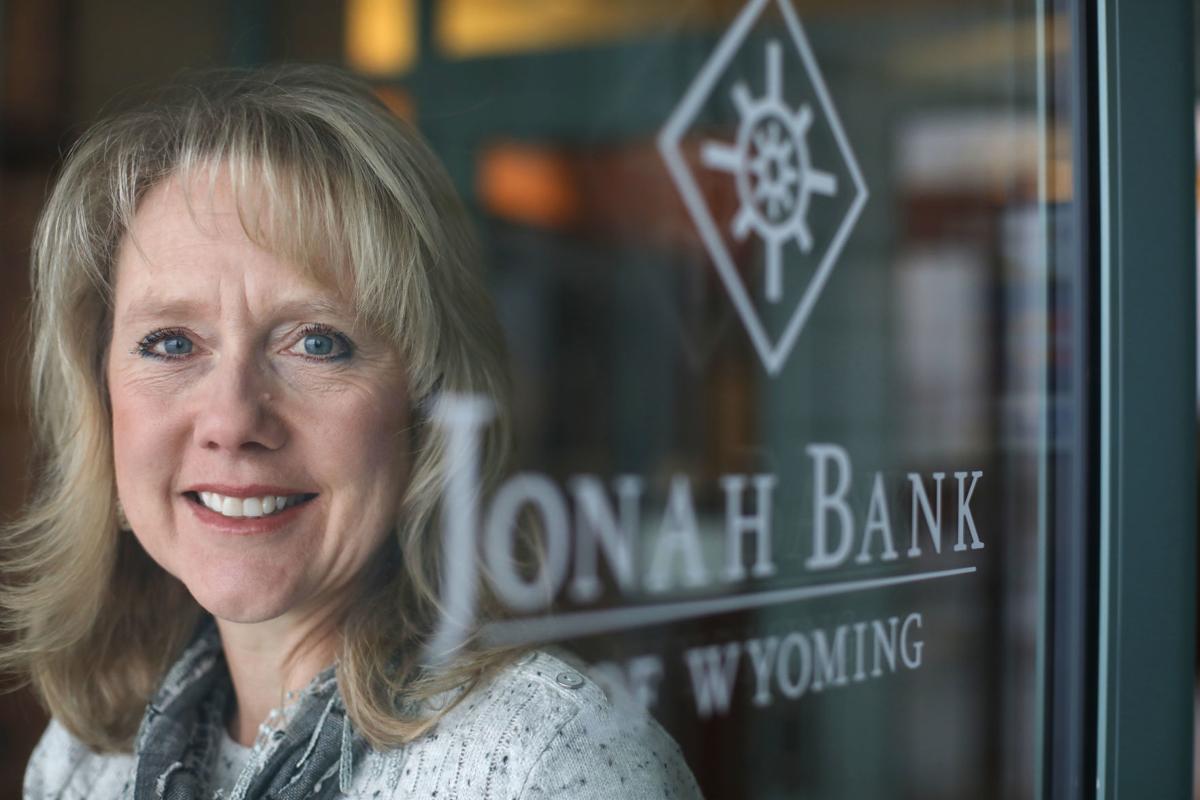 Toasty morning air heavy with the smell of freshly ground coffee filled Grant Street Grocery and Market. Sun filtered through wide storefront windows outlined with frost that mimicked lace.
Kim DeVore strolled inside the store as one would enter a home kitchen, with ease and purpose. She arrived adorned in exercise clothes, reusable grocery bags dangling from her arms. Atop her head of blond hair sat a baseball cap with the embroidered logo of Jonah Bank of Wyoming. DeVore, the bank's chief financial officer and founding director, greeted the two baristas and said hello to the two customers at the counter — all by name.
This same effusive warmth mixed with a splash of grit likely helped DeVore climb into the executive circle of one of the state's most renowned financial institutions. Shuffling with her coffee in hand, she settled onto a bar stool, her face flushed with joy — no makeup, no airs, just a candidness about her humble beginnings.
DeVore, 48, grew up in Cheyenne and took her first gig at a bank as a senior in high school.
"I was pissed," she blurted out with a laugh. "I was like, 'What? I don't want to work for a bank!' But I did anyway, and I loved it."
She loved the people — and working with money, she added. The role led her to college in Arizona where she elected to study accounting.
"I hated it," she said. "I hated all the accounting classes. I realized I'm never going to see another person. I'm going to sit in a cubicle."
So, DeVore quit. She never finished college.
"How I got to where I am today is that I have literally done every job in a bank," she said.
DeVore has helped start not one but two banks — the latest being Jonah Bank. She's dedicated herself to building the community-focused institution for about 14 years, raising four children along the way. Occupying the role as a woman and mother hasn't always been easy.
"When they asked me to be the chief financial officer, I said, 'OK, I will do it, but I really need to do it under these terms,'" DeVore said.
The terms included working from home two days a week and having the flexibility to support her children as needed. She said it took her weeks to muster up enough courage to ask her coworkers for the accommodation. But they agreed on the spot.
Despite DeVore's success story, she spoke to the heavy expectations that working women often carry.
"I was raised in a world where if I perform, I would get rewarded," she said. "Even my banking career, because I dropped out of college, I always felt like I had to work harder than everyone else. And I did to move up. But I always felt if I work hard they'll recognize it and I'll get paid what I should be paid. I will get the flexibility I should get."
That's not usually the case though, she said. In reality, women need to ask, she emphasized. Those in leadership positions also must address head on a particular sore spot for Wyoming: the gaping gender wage disparities.
"When you talk about that wage gap — you can't define the problem just in terms of wages," DeVore said. "Sometimes it's flexibility. You can't put a dollar amount on flexibility."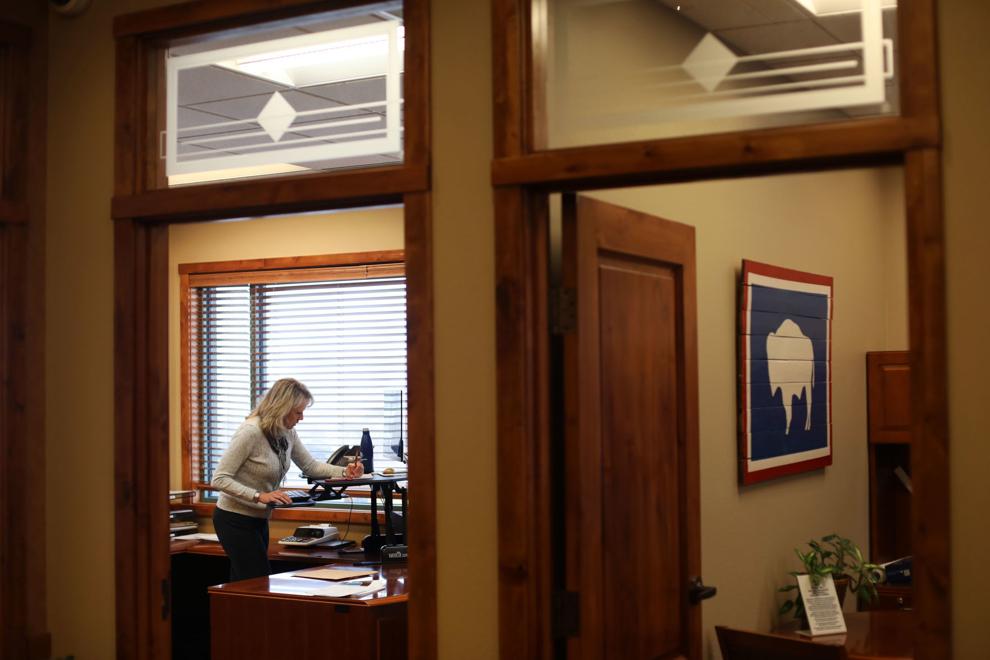 Despite numerous examples of Wyoming women defying gender workforce norms and achieving economic security, the state has repeatedly ranked as the place with the largest wage gap between men and women in the country.
Wyoming ranked 49th in the country, with women making 69 cents for every dollar men made, according to a 2016 study conducted by Rep. Cathy Connolly, D-Laramie, at the University of Wyoming, in partnership with the Wyoming Women's Foundation and Wyoming Survey and Analysis Center.
That's a 31-cent gap. It means Wyoming women working full time make on average $16,274 less than men a year.
Last year, the Wyoming Department of Workforce Services undertook a comprehensive study of the state's wage gap and came to similar conclusions as Connolly, suggesting the problem has persisted. In fact, the report used 2016 U.S. census data and found Wyoming ranked 51st when it came to the gender wage gap, besting only Louisiana among U.S. states, D.C. and Puerto Rico. Women of color and Indigenous women in Wyoming face the steepest wage gap, the studies showed.
Public officials and advocates emphasize that the reasons behind the disparity can be complex and entangled. But many also said solutions to the wage gap exist; it's just a matter of implementing them.
Ultimately, the variance in working women's experiences across the state doesn't lend itself to a single story. The wage gap can fluctuate greatly depending on what county women live in, their education level, employment sector, race and more.
But data collected on both a national and state level illustrate there are enduring gender disparities when it comes to the workplace. It's a yawning gap that advocates of gender equality say leads to more financial insecurity for Wyoming families and less economic activity for the state.
"We know — though not everyone believes or agrees — that women in Wyoming are earning less than men for full-time work," said Jen Simon, director of Wyoming Women's Action Network, an organization advocating for gender equality.
Wages and salaries come laden with stigma. It's not uncommon for individuals to keep the amount of money they make to themselves, advocates explained. Some employers go so far as to retaliate when workers do discuss their earnings or ask for more.
What's more, Wyoming women make up the majority of low-wage workers, particularly in the service sector.
"When women comprise so many of our low-wage workers and are impacted by the gender wage gap, there are long-term implications for families too," Simon told the Star-Tribune in an email interview. "It is harder to pay for basic necessities, so things like preventive healthcare might fall by the wayside longer than they should. It means that women are more likely to age into poverty."
If Wyoming reached gender parity in terms of wages, working Wyoming women would be able to afford on average over 30 months of child care, 133 weeks of food or over a year of mortgage and utility payments, according to research conducted by the National Partnership for Women and Families.
"It's empowering and good for individuals and also good for our state, because the better our people are doing, the better our state is doing," Smith explained. "We certainly see that women and families who are (economically self-sufficient) are not using as many public resources and they're able to contribute more in their communities."
The skeptics
When Rebekah Smith was a young girl, she recalls her mother telling her that women often make less money than men on the job.
"I just was blown away," Smith remembered. "That really stuck with me, and I remember just feeling really disappointed in the world to hear that."
Smith now directs the Wyoming Women's Foundation, an organization seeking to help women obtain economic self-sufficiency.
"There are a lot of ways that the wage gap can be explained away," she said.
Often, skeptics will point to Wyoming's booming, male-dominated energy industry as the primary reason for the wage gap, Smith said. Industries dominated by women often provide less pay than industries with a majority male workforce. But that's led Smith to ask why male-dominated industries typically receive greater pay than industries dominated by women.
"I think that's great for men," Smith said. "We don't want to decrease their wages by any means, but why is it that female-dominated jobs are paid less? Is the work (women do) any less hard, or any less important? Is it any less important to have nurses than it is to have construction workers? Well, no."
To Smith, awareness of the problem remains key.
"There is a lot of misunderstanding about the wage gap and a lot of disbelief that it exists," she said. "It's a tricky one. There are also a lot of things that get overlooked that are simply unequal."
Research conducted by Wyoming Department of Workforce Services concluded the type of industry and the amount of hours worked in a week are crucial variables to consider when understanding why Wyoming's wage gap has lingered. After adjusting for over 100 variables that could affect the gender wage gap, economists involved in the study still could not conclusively identify all the factors contributing to the wage gap.
Discrimination could be an additional factor widening the gap, the report noted. But more research is needed to tease out other factors. Additional studies require more funding from the Legislature, according to Tony Glover, manager of research at Wyoming Department of Workforce Services.
A new report from the Institute for Women's Policy Research found women nationwide often work more hours than men in unpaid caregiving roles. That translates into fewer hours available to work for pay and less ability to save or access capital.
"Gender differences in paid and unpaid time at work are an important aspect of gender inequality," the report concluded. "Women tend to spend more time on unpaid household and family care work and men spend more time in paid work. This unequal distribution of time creates barriers to women's advancement at work and reduces women's economic security."
Economic insecurity also exacerbates other issues working Wyoming women might face, including domestic violence, several advocates noted.
"Because we know women are overwhelmingly the victims of domestic violence, improving economic security and equal and living wages are so critical to ending that violence in her life and the lives of her children," Muir said.
A sufficient wage ensures women experiencing domestic abuse can have safe and accessible options to survive — from an apartment to child care, food and other basic necessities.
"When we look at the important jobs women do in Wyoming, we have to ask ourselves why are the wages so low for women? Why do so many lawmakers refuse to believe the research?" Muir said. "From wait service to nursing assistants to social workers in nonprofit organizations, we have to commit to valuing the jobs women more often do as much as the male-dominated fields. And if male-dominated workplaces were safe enough for women to be free of sexual harassment or assault, perhaps women would want, and would stay in, the high-paying jobs that men have here."
Finding solutions
On the individual level, upping women's wages could carry fruitful returns for families, state-led research revealed.
According to the 2018 Wyoming Department of Workforce Services report, overcoming the gender wage gap could have substantial financial returns for the state as a whole, including pumping some $153 million in labor income into the economy and over $80 million in output. Bolstering women's wages overall could also result in a $5 million uptick in state and local taxes collected.
The economists also found eliminating the gender wage gap could infuse the state with 604 more jobs.
Though Glover, manager of research at the department, remains doubtful.
"The reality is that that would be hard to do," he said.
He worries that increased wages could translate into a loss of jobs instead.
"It could have a detrimental effect on the economy," he said. "We're not sure."
But advocates see it differently.
"Ultimately, what we really want — and need! — to see in Wyoming is an increase in good jobs with good wages all the way around," wrote Simon, the activist. "For women and for men."
"The gender wage gap is often referred to — and dismissed as — a 'women's issue,'" Simon added. "But when it is more broadly understood as an economic issue, closing the gender wage gap would offer significant economic impacts and benefits to the entire state."
Solutions to combat the wage gap exist and have been fought for in Wyoming.
To start, more funding for data collection and training about the issue is needed, fair wage advocates said. Workers should also not be penalized for discussing their wages. Nor should employers ask for salary history on applications. Raising the minimum wage in Wyoming (which is one of the lowest in the nation) would also overwhelmingly support the women who dominate minimum-wage service jobs in Wyoming.
Connolly, the professor and state representative, introduced multiple bills in the Legislature in 2019. Each sought to chip away at the gender wage gap, but only one passed.
Gov. Mark Gordon told the Star-Tribune on Dec. 3 that he does not plan to consider legislation to narrow the wage gap.
But examples of women defying the odds still abound.
DeVore of Jonah Bank said she remains determined to expand the number of woman entrepreneurs, lenders and executives in the state. That way, women can access wealth more readily and accumulate capital.
To DeVore, it's a "wildly exciting time" in Wyoming for women entrepreneurs. It's important to see the entire picture, that acknowledges the issues but also the myriad solutions. In her eyes, most Wyomingites are actually quite eager to help women advance and thrive.
"The joy is we don't have to seek out women-owned businesses to lend to because there are so many of them," she said. "We have kick-ass women in this town, and we have them through the whole state."