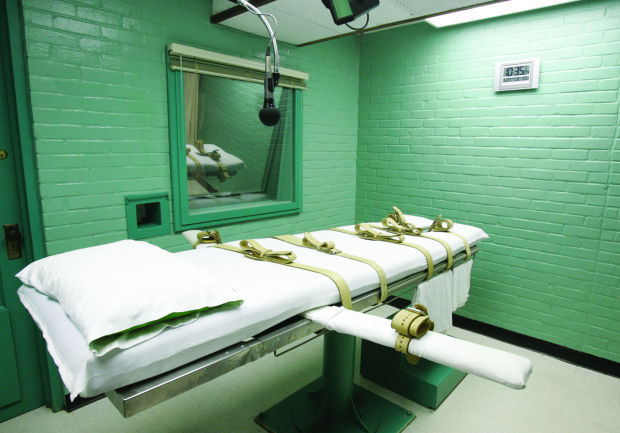 CHEYENNE — In one of the most personal and reflective hearings in the House of Representatives this year, lawmakers chose to forward a bill to repeal the state's death penalty with an eight-vote majority on the bill's first reading, bringing the state closer to repealing the death penalty than it has been at any point since it was reinstated more than 40 years ago.
While the bill still needs to pass two additional votes in the House to move on to the Senate, the 36 votes in support of the repeal mark the most serious chance to end the state's death penalty since its 1976 reinstatement nationwide.
Wyoming is currently one of 31 states that still has a death penalty. However, it has not executed anyone since the early 1990s and currently has nobody on death row. Despite this, the state allocates nearly $1 million in public funding each year to a death penalty legal defense fund, which typically goes untouched.
Prior to the vote, the bill's primary sponsor, Rep. Jared Olsen, R-Cheyenne, urged the House to look at the facts and think about what he described as a broken system of justice that has done nothing to affect the state's homicide rate.
"This is the most silent I've seen the body all week," he said after lawmakers concluded their comments. "You're listening and contemplating, and that's important. This is one of the most important decisions we're going to make this week."
"You have to decide if you want a system of retribution or not," he said.
In emotional and sometimes personal testimony, members of the House shared their own experiences facing violence in their lives, as well as their own struggles grappling with how their morality and theological beliefs would shape their vote.
"I've thought of the theological argument and all that, but ... what really made me change my mind is that, on so many issues, I really don't think the government is always right," said Rep. Sue Wilson, R-Laramie, highlighting a number of the criminal justice reform bills the House has currently worked with.
Noting that she understood the pain families might feel to have a relative murdered or to be the victim of a heinous crime, she added, "I can't imagine what it would be like to be an innocent person put to death by your government," and said she would vote for the bill.
There were numerous lawmakers who spoke in opposition of the bill. Rep. Bill Pownall — a former Campbell County sheriff — opposed the repeal, saying that while the death penalty isn't often used in Wyoming, a jury should have the option to punish crimes they deem worthy of death, a tool he firmly believes "is a deterrent" to crime. Others, like Rep. Shelly Duncan, R-Torrington, put personal beliefs aside, saying that when she was elected, she promised she would leave her religious and personal beliefs at the door.
Wednesday's vote was a marked change from the fate that has befallen similar bills in recent years. A 2018 bill fell well short of the necessary votes needed for introduction, and a bill the year before failed to even make it out of committee.
This year, efforts to pass the bill were much more organized, with numerous interests working behind the scenes to get the bill past the House. Throughout the week, Randy Steidl — an exonerated death row inmate from Illinois who was wrongly sentenced for the 1986 murders of Dyke and Karen Rhoads — was working members of the House to bring them around to an "aye" vote on the bill.
Talking to lawmakers, Steidl told the Star-Tribune he had heard numerous stories about the victims they had known and heard personal anecdotes about the gruesome nature of some of the crimes that had been committed. But violence, he told them, will always be a pervasive influence on our lives.
The worst crimes — the Aurora, Colorados of the world — are not perpetrated by the everyday killer, he said. Those are psychopaths who got their hands on weapons, something the death penalty cannot stop, he said. He said the death penalty only creates more victims and that life in prison with no hope for parole is a fate much worse than death.
"All of them had good questions for me," Steidl said. "I don't pretend to be an expert on the death penalty. But I'm damn sure one of them, I know that."
"Life without parole, to me, is a far harsher sentence," he added. "It's torture. I've witnessed men walk by me to their death, and they were smiling. It took me a while to figure that out until they gave me natural life. Then I realized why they were smiling — they were being released."
"It's good to see Wyoming's evolved."
Follow politics reporter Nick Reynolds on Twitter @IAmNickReynolds
Be the first to know
Get local news delivered to your inbox!