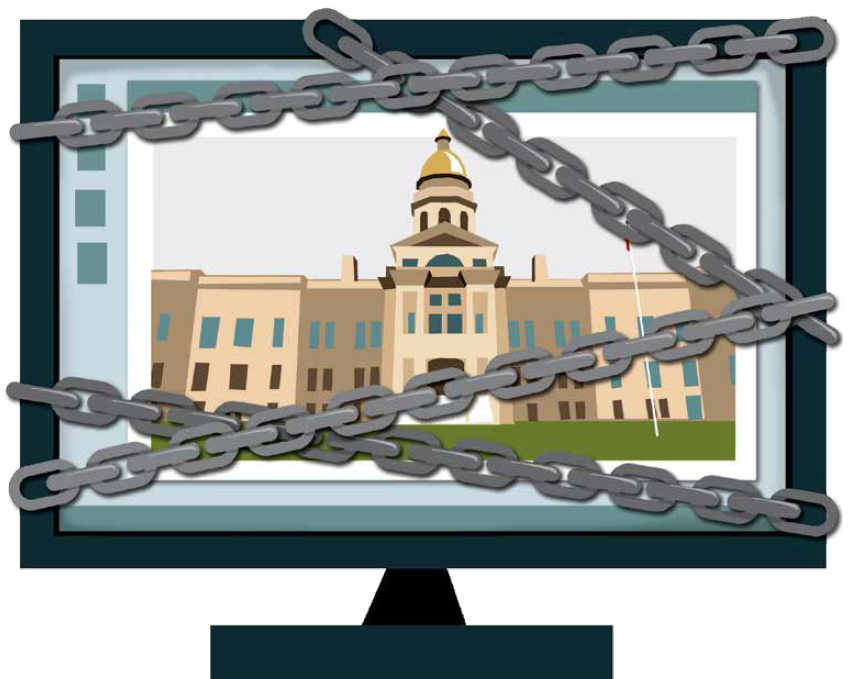 Wyoming thinks it's time to start a new kind of bank.
Inside this bank will be no vault doors, no safe deposit boxes, no small bowls of lollipops or even a teller. Rather, this bank will exist inside of servers in some undisclosed location and, rather than money, could one day hold something no bank in the United States currently allows: cryptocurrency, a digital, encrypted form of currency that is quickly becoming the standard for web-dwelling merchants of the 21st century.
Unbeholden to any bank or government's treasury, cryptocurrency is lauded for its anonymity as well as its volatility, able to make or break millionaires in a snap.
Think of cryptocurrency as a share of stock you can buy a sandwich with. It works through a type of technology called blockchain, or a series of encrypted codes that allows for secure transactions of money and data. The technology has been used as the foundation for popular online currencies like Bitcoin — the most well-known cryptocurrency in circulation — and has been widely employed in online marketplaces.
Transactions using cryptocurrency are notoriously hard to track, and can be used to buy illicit products and services online, though some mainstream businesses, like Microsoft and Subway, also accept it. Most banks aren't equipped to accept it or hold it for a multitude of reasons, be it from a legal standpoint or otherwise.
However, real businesses providing real goods and services are making real transactions with cryptocurrency, and the fact banks are unwilling to cater to businesses that employ cryptocurrencies is seen as a severe inhibitor for online-based entrepreneurs.
"If a bank somehow realizes they're dealing with crypto or blockchain currency in any way, a person's accounts can be shut down immediately," said Tyler Lindholm R-Sundance, a state legislator and a co-chair of the blockchain committee. "The way I see it, that's banks being discriminatory toward certain businesses."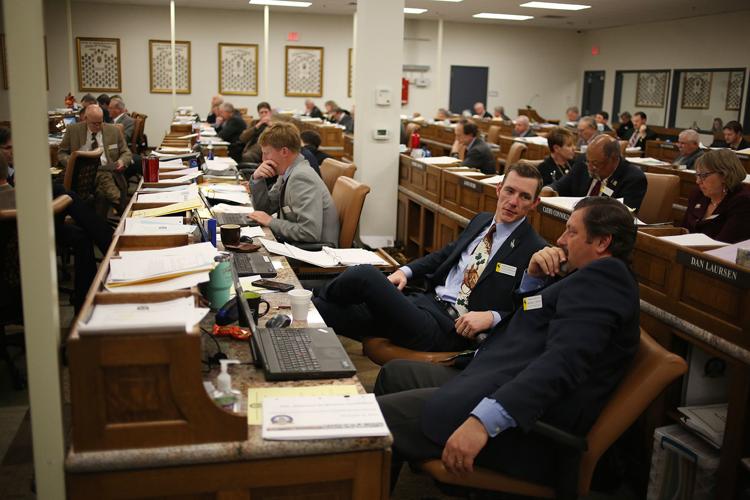 Wyoming sees opportunity in these businesses; a reason why the blockchain committee committed a segment of its two-day meeting in Jackson last week to discuss draft legislation to allow the creation of what it calls "special purpose depository institutions" to facilitate the transaction and storage of online currency, a continuation of a series of cryptocurrency regulations passed last session intended to better facilitate the financial activities of blockchain-utilizing businesses in Wyoming.
While not a "bank" in the traditional sense, Lindholm said, these institutions will create regulated accounts that will allow cryptocurrency-dealing businesses to operate within the state of Wyoming. This bank — owned, operated and insured by approved "members" decided on by a board of industry professionals — will not be able to loan money and will be subject to a set of strict regulations set by the state's Division of Banking to ensure its operations are on the up-and-up. Independent of the Federal Deposit Insurance Corporation, which ensures bank customers against unexpected losses, the bank will also be required to maintain a 100 percent ratio of crypto assets to liquid funds — in the form of cash or bank authorized investments — whereas traditional banks only require a fractional reserve, as a way to prevent money laundering or other fraud.
"It's essentially a money warehouse," said Lindholm.
What the bank would do
Unlike a bank where you could cash a check, take out a loan or apply for a mortgage, these institutions are more or less a juncture for companies that deal in cryptocurrency or blockchain technology to engage in markets where traditional forms of currency are still the norm.
As the bill is currently structured, the bank won't be able to directly hold cryptocurrency, as the current system maintained by currency systems like Bitcoin — which employs its own "wallet"-type depository — eliminates the need for a new place to store it. The volatility of cryptocurrency, which can rise or fall in value at a moment's notice, also presents institutional challenges.
Yet, as things stand now, traditional banks won't even deal in traditional currency that has been associated with cryptocurrency due to the liability it creates and its difficulty to track. This is in spite of the continued prevalence of the U.S. dollar's use in funding terrorism and the trade of illicit drugs, which proponents of cryptocurrency says is blatantly discriminatory toward businesses dealing outside of the traditional currency system.
At a 2017 hearing of the Senate Judiciary Committee on money laundering's use in illicit activity, Jennifer Fowler, deputy assistant secretary for terrorist financing and financial crimes at the U.S. Department of the Treasury, stated that although cryptocurrency has been well-documented for its use in illicit transactions, "the volume is small compared to the volume of illicit activity through traditional financial services."
Part of the reason crypto-supporting banks are so few in number is because of the lack of regulations around them. Switzerland, one of the world's most forgiving financial landscapes, has recently begun making a push to support cryptocurrency-related transactions after it began losing capital to other nations. Earlier this summer, the island nation of Malta became the first nation to set framework regulations for cryptocurrency as a way to stay ahead of changes the future may bring.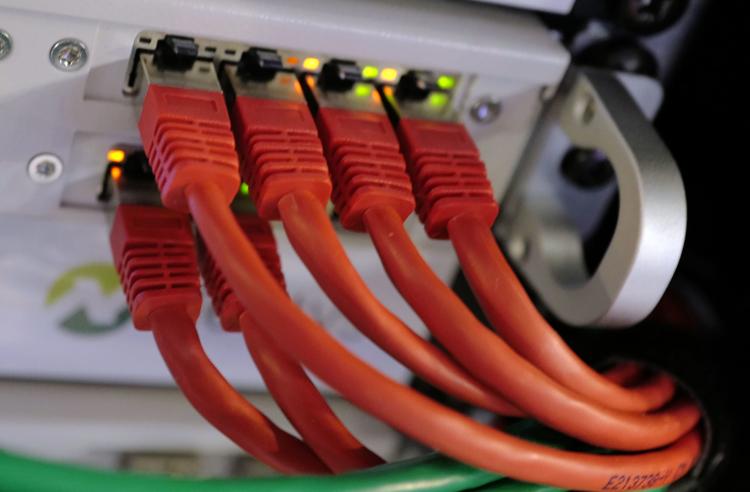 So, too, is Wyoming, which sees facilitating the technology employed by emerging industries — like those that utilize blockchain — as a cheap and effective way to attract multimillion dollar businesses to the state in a sector that is only expected to grow. According to a March 2018 report from Transparency Market Research, the global blockchain technology market was valued at $315.9 million in 2015 and, according to the report, is expected to reach $20 billion by 2024.
"My focus and my peers' focus had been on ways we can support businesses without spending a lot of money," said Lindholm. "And a lot of that requires creating regulations and laws to help these companies get started."
"We're creating a law these people have been looking for," he added. "They've been looking for this from the SEC, the FDIC… but they haven't been created yet. This is what we're doing in Wyoming, letting these companies know we're open for business."
However, lobbyists for the Wyoming Banking Association say they oppose the crypto-supporting institutions, particularly due to their lack of federal insurance. Michael Geesey, executive director of the WBA, said that status puts the reputation of the whole banking industry on the line if those institutions were to fail, and that — if adhering to federal laws — blockchain-dependent industries already have access to traditional banking services, pointing to four active accounts already operating in Wyoming. He said because of federal reporting laws, banks are required to have complete insight into the functions of the businesses they deal with and, with cryptocurrency somewhat difficult to track, he said the accountability measures needing to be taken would be difficult — but possible — to implement.
"If they comply with all the federal laws, we can bank with them," he said.
Setting up Wyoming's economy for success
In letters to the Wyoming Legislature's Blockchain Task Force last week, numerous entrepreneurs said the lack of a place to store their money is a significant burden on their ability to conduct business. Andrew Barnard, a co-founder of a Florida-based company that allows easy cash for Bitcoin transactions, said the lack of comprehensive banking facilities has been an inhibitor for his own company while, at the same time, has resulted in bankers effectively shooting themselves in the foot.
"Without safe, convenient places such as Bitcoin ATMs to buy bitcoin, customers are forced to do peer-to-peer transactions which are high-risk and riddled with scams," he wrote. "The difficulty of obtaining a reliable bank account makes it tough and expensive to provide this much-needed service. The ironic part is that we believe that Bitcoin can provide banks with brand new revenue sources and new opportunities. Sensible regulatory guidance and action from regulators may be some ways to make banks more comfortable with banking bitcoin businesses."
By establishing state regulations outlining what a private bank dealing in cryptocurrency can do, Wyoming's legislature can create an environment of greater legal certainty which can allow businesses with millions of dollars in assets to keep them here in Wyoming without fear of losing their accounts.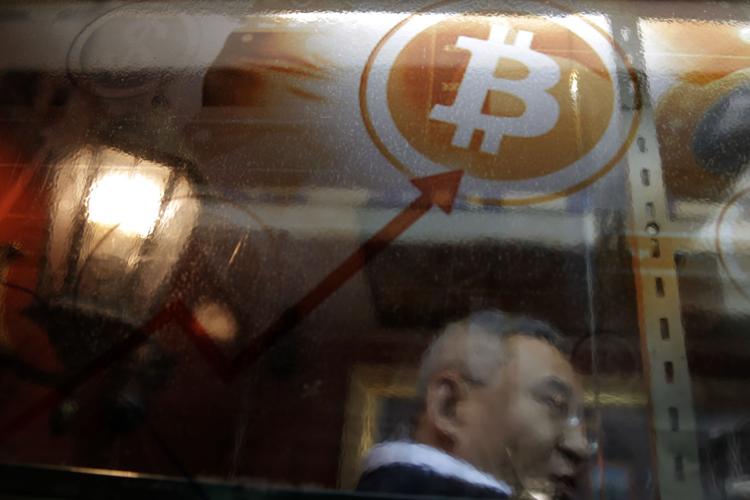 "The necessity for it comes in my mind because of the reticence of traditional depository institutions to take on clients in this field," said David Pope, a Cheyenne-based accountant and a member of the Blockchain Task Force. "Whether they deal in crypto or not, most of the firms I deal with are truly blockchain developers, which is a totally different animal. Yet, because the foundation of cryptocurrency tech is a blockchain database, they're associated, and a number of these clients have had their accounts summarily shut down. That's one of the things we are hoping to eliminate with this, or at least create an avenue into traditional banks."
Essentially, these new depositories would serve almost as a transfer institution, where businesses could convert cryptocurrency into U.S. dollars, creating a way for that money to engage in the market.
"It brings that legitimacy into the system, and money will be able to go from this institution into other institutions, improving that flow for a payment system and all of that," he added. "As it stands right now, without the crypto or digital currency side of the equation, the members of this bank will have to find another way of converting digital assets into fiat currency, but at least they'll have a place for the money to go once it's there."
Who can use it?
While these institutions will not be state-owned, they will be subject to state and federal financial regulations. However, not everyone will be able to use these banks.
Currently, the state's task force is looking at a proposed threshold of $5,000 minimum to store with the bank, an amount low enough to keep the bank accessible to entrepreneurs while high enough to maintain a standard for membership. Members of the bank — called "subscribers" — can only be established businesses, and are subject to the oversight of the bank's operators to ensure the services offered by bank are being used for legitimate purposes.
The banks will also technically be uninsured, though they will be permitted to apply for insurance coverage through the FDIC.
Most importantly, Pope said, the proposed banking regulations — if passed — will allow businesses that once had to tip-toe precariously around state law to engage in an emerging industry. By being progressive in creating that framework in Wyoming, the state immediately becomes a more attractive place to do business by default.
"This is a natural add-on to the bills we passed last year," said Pope. "What this is attempting to do is create an ecosystem where capital, development and business will flow into Wyoming and be retained here … That's the goal, to have businesses here and the capital to remain in Wyoming. What better way than to have a banking system for those businesses here?"
The legislation, if passed through the committee at its meeting in November, will likely be considered in session this winter.
Follow politics reporter Nick Reynolds on Twitter @IAmNickReynolds
Be the first to know
Get local news delivered to your inbox!