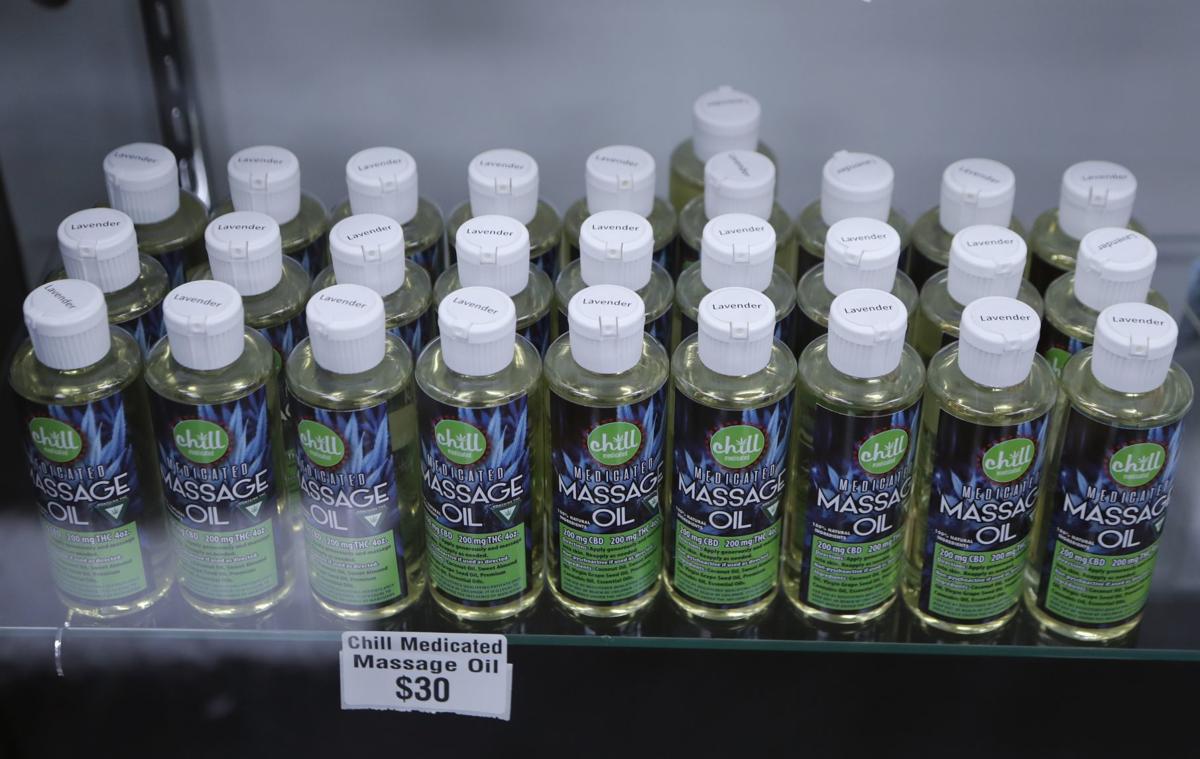 CHEYENNE – Despite numerous regulatory hurdles, the use of products made with Cannabidiol, more commonly known as CBD, has exploded over the past several years.
According to the Hemp Business Journal, sales of products containing CBD, the "nonpsychoactive" component of marijuana, have exploded more than 1,700 percent since the first state in the U.S. legalized the compound's use in retail products in 2014. Since then, 17 states have legalized products utilizing CBD compounds, which can be incorporated in anything from homeopathic remedies for joint and muscle pain – like creams and ointments – to over-the-counter products that can ease the effects of serious neurological conditions, like seizures.
Whether or not Wyoming will be among the states to legalize the substance at the end of the 2019 general session, however, is seriously in doubt, after the House Judiciary Committee on Tuesday defeated a bill sponsored by Rep. Stan Blake, D-Rock Springs, to decriminalize the substance.
The bill was similar in wording to a similar CBD legalization bill to sneak out of the judiciary committee in last year's budget session. The bill, which is less than a page long, would allow for adults to possess and use hemp extract as well as authorize a parent or legal guardian to administer hemp extract to a minor or vulnerable adult.
Despite the success of similar legislation last year, the bill died on a 4-4 vote in the nine-person committee, after lawmakers expressed concerns both with marijuana's federal status as a Schedule 1 controlled substance and law enforcement's inability to test for the compound, among other concerns. "No" votes included Rep. Mark Jennings, R-Sheridan, Rep. Bill Pownall, R-Gillette, Rep. Tim Salazar, R-Dubois, and Rep. Art Washut, R-Casper.
Judiciary committee chairman Dan Kirkbride, who helped a similar bill reach the floor of the House last winter, was not present for Tuesday morning's vote and did not leave a proxy vote.
Emotional testimony
Despite being widely available for purchase in Wyoming, CBD products are still technically against the law.
Swaths of Wyomingites, however, have found medicinal uses for the substance, something that has resulted in numerous drug possession arrests for what, by many accounts, is a harmless substance. Under Wyoming's interpretation of statute, drug possession is evaluated not by THC content, but by the total weight of a product containing THC.
This means that under the law, CBD oil – which only contains trace amounts of the active ingredient found in marijuana – would be treated the same as products like hash oil, wax, and other liquid forms of marijuana.
Lawyer and Rep. Charles Pelkey, D-Laramie, told fellow members of the committee that he had signed onto the bill as a sponsor after seeing several cases in Jackson, Evanston and Gillette where individuals – holding nothing more than a CBD product — were arrested for possession of marijuana in liquid form. Though CBD oil is available commercially in the state, Pelkey has sent letters to retailers warning them of the state's current interpretations of existing statute, something many consumers of CBD products are not aware of.
Advocates for reform say this should change as CBD – unlike marijuana – cannot be exploited for recreational use and that Wyoming's policies toward the substance have actually caused them significant hardship. While Wyoming residents can be issued a prescription for CBD products, they require a referral from a neurologist (of which, committee member Sara Burlingame said, there are only 12 across the state).
They would then be able to go see a medical provider, who can write them a prescription. However, they can only do so if an individual has a demonstrable neurological disorder, like epilepsy.
Though there are several FDA-approved products containing CBD already on the market, these have numerous shortcomings. Consumers often have no way of knowing what their insurance companies will cover, nor what pharmaceutical companies would charge for those. Meanwhile, many of the products have similar side effects to what have been found in early studies on CBD, which many in the medical community are reluctant to endorse due to a lack of long-term clinical trials.
However Nina Hebert, a spokesperson for the Legislature's Democratic Caucus and herself an epilepsy patient, said it took her and her doctor two years to find a combination of medication to control her seizures to a level of fewer than seven a week. Despite having the best drugs money can buy, she said, the medication had "destroyed her kidneys," and may put her on dialysis before 45 years old.
Once Colorado legalized the use of recreational marijuana, Hebert was able to cross the border to get some patches with CBD and CBD oil. But doing so was an arduous process. Because she couldn't drive with her condition, she said, she would need to find someone to drive her across the border. Meanwhile, she had to book a hotel and pay for child care while she administered the CBD.
"I am not a stoner," she said. "I am not running off to get high. My kids have not even had a cavity until this year. I am a successful and educated person, living a successful life with a number of things showing that I am not looking to run off, get high and eat pizza. I have a chronic disease literally taking things from me, and I have to get someone to drive me all the way across the border to get the help I need."
David Wheeler, Casper neurologist and vice president of the Wyoming Medical Association, submitted a statement in support of the bill and, throughout the meeting, other members of the public came forward to offer their personal experiences. One person who spoke during the public comment period told the committee she had administered hemp oil – which she bought in Wyoming — on her aging dog. She said there were no warnings on the bottle when she purchased it and, tearing up, told the committee that she had no idea she could potentially be arrested for possessing it.
"Something needs to be done," she said.
Opponents of the bill
However, the CBD legislation found several opponents on the committee who, while recognizing its practicality, expressed reluctance to try and supersede federal law.
Washut, a former police officer, said he believed the issue should be a federal one, but he would support addressing the issue again in the interim session. Jennings said law enforcement needed to get involved in the conversation because CBD use was becoming a more common practice. Finding a reasonable conclusion that would involve both the medical community and law enforcement, he said, would be a challenge, albeit a necessary one.
"We really need an answer that's not just throwing the doors open, but gives people leeway," said Jennings. "I'm not going to support this, but one day I'm going to. Because it's crazy that people who need this are risking a felony or live in fear of losing their jobs."
Pelkey, who supports the bill, added that federal marijuana law was already jumbled and, with the recent descheduling of hemp in this year's Federal Farm Bill — which allows for limited production of legal, commercially-produced CBD under extremely specific circumstances — showed the law has "no real value."
Hope for CBD in the future?
Though Blake's bill technically died in committee, he hinted after Wednesday's meeting he might attempt to reintroduce the bill into another, friendlier committee, like agriculture.
However, he might not have to. On Tuesday afternoon, Rep. Bunky Loucks, R-Casper, introduced his own bill – HB-0171 – that would impose state-level regulations on hemp and cannabidiol. The bill currently has 17 sponsors in the House and seven in the Senate.
Addressing everything from licensing requirements to cultivation and law enforcement, the bill has not yet been assigned to a committee for introduction.
Follow politics reporter Nick Reynolds on Twitter @IAmNickReynolds