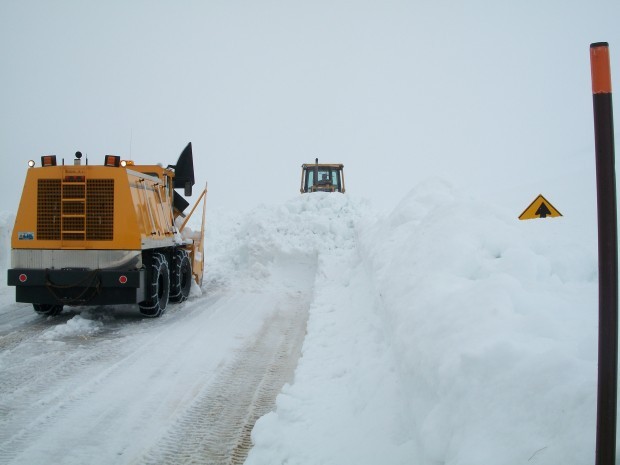 The state's snow plowing budget for the year is going bust, and the Wyoming Department of Transportation may have to dip into a construction budget to clear the roads during the wettest season of the year, the department announced Friday.
That could delay of some road construction projects, said department spokesman Dave Kingham.
As of Feb. 28, WYDOT had spent $21.9 million on snow plowing. But this year's budget for snow control was $22.6 million, WYDOT said in a statement. March costs are not in yet and department officials expect them to exceed the budget's remaining $674,000.
"Historically, March and April are our heaviest snow months, but even if there is no more snow this spring, just reopening the mountain passes will put us significantly over the budgeted amount," WYDOT Chief Engineer Del McOmie said in the announcement.
The three passes McOmie referred to are Wyoming Highway 130 over Snowy Range Pass, Wyoming Highway 70 over Battle Pass, and U.S. 14A west of Burgess Junction over the Big Horns. WYDOT considers it impractical to keep them open during the winter, the statement said, because of heavy snowfall and light traffic. Opening the passes requires extensive plowing of more than a foot of snow.
It cost an average of $305,000 a year during the past five years to open the passes, with a high of $602,000 in 2011. Since most areas of the state have heavier-than-normal snow, this year's cost will likely to be higher than average, WYDOT warned.
The budget overrun could be as much as $6 million this year, WYDOT Budget Officer Kevin Hibbard said.
The department doesn't yet know for sure where the extra money will come from, Hibbard said. If the budget overrun is small, it could come from unused funds in budgets for equipment, purchases and building repairs.
But if the budget overrun approaches the millions, it would have to come from the state construction budget. That budget has $12 million left for the year, Hibbard said.
It's too early to know which state road projects would be delayed if the budget is tapped, Hibbard said. The priority list for the state road construction isn't decided until July, when snow plow season is over. The state construction budget also pays for road repair as a result of springtime flooding, Hibbard said.
Hibbard said WYDOT isn't ready to ask the Legislature for more snow plowing funds because additional money isn't needed every year, he said.
Renny MacKay, a spokesman for Gov. Matt Mead, said last year's budget for snow removal covered expenses. In 2012, the agency spent less than what was budgeted, he said.
This year isn't the first time when funds for snowplowing have been up in the air.