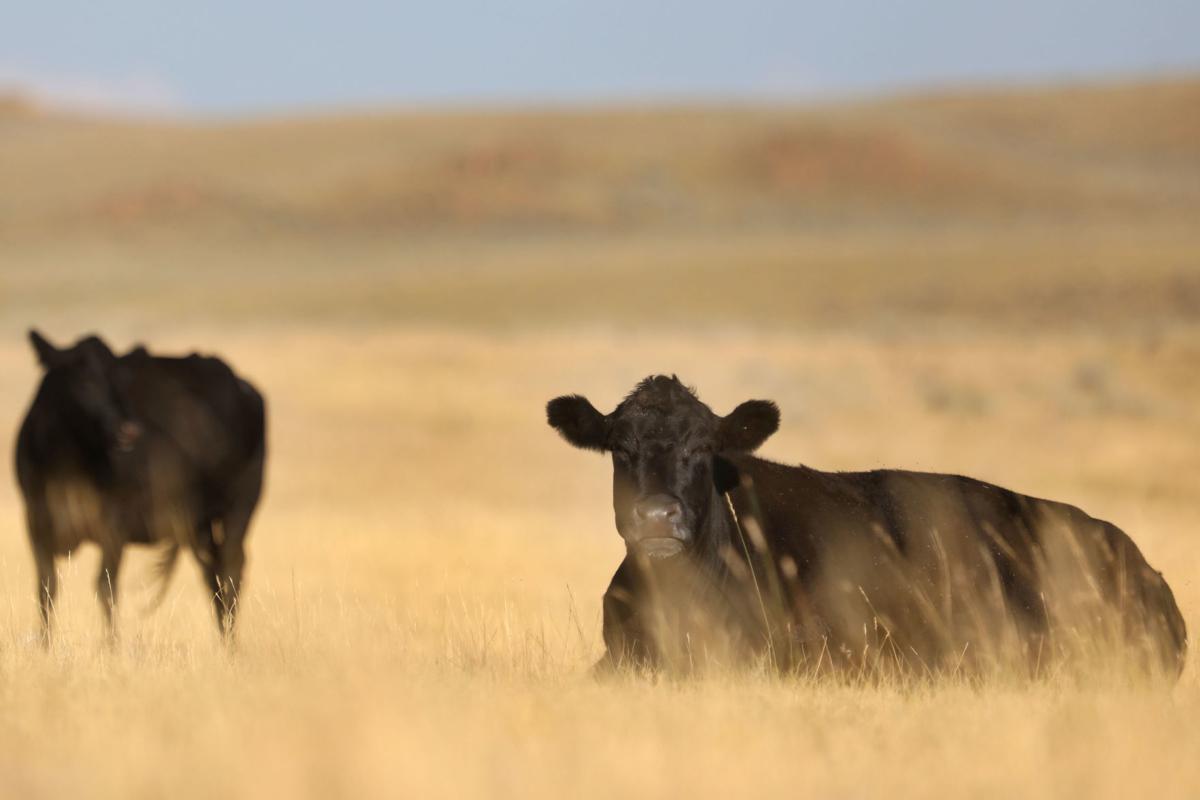 Even as citizens of Torrington and its surrounding communities depleted the Torrington Main Street Market's homely meat shelves, local farmers nervously wiped their brows at the nearby Torrington Livestock Markets.
Panicked carnivores throughout America have kept meat market inventories low during various COVID-19 restrictions. That increased demand for Wyoming's cattle production hasn't led to increased profits for local farmers and ranchers due to alleged price gouging from the packers, however.
"It's disturbing to us that it seems because the demand for product is there in the grocery stores that the price of box beef has shot straight up and yet the price of cattle has stayed down there in the basement," Jim Magagna of the Wyoming Stock Growers Association said. "Money is being made and it's not going to our producers, and that's a major concern."
Magagna said the association has alerted the U.S. Department of Agriculture Secretary Sonny Perdue — as well as the White House — about these allegations in hopes of intervention. Repeated messages to the Wyoming Meat Processors Association were not returned.
The Torrington Livestock Markets' sale barn and auctions have remained open with permission from Gov. Mark Gordon's office because they're conducting commerce deemed valuable to Wyoming's economy ($897 million in production alone out of the Cowboy State's $1.77 billion agricultural industry, by 2017 statistics provided by the Wyoming Farm Bureau Federation). They've increased sanitary standards, although their immediate worries pertain more to the market than disease.
According to Lex Madden, one of three owners of the Torrington Livestock Markets, the price for live fat cattle (cattle ready for slaughter) was near $127 in December versus $101.60 at March 23's closing markets. It was even at $105 the week before. Boxed meat prices, meanwhile, continued to rise to $257.52 for choice boxed cutout. Madden stated he had witnessed a $5 raise in box meat prices in the past week alone. That's a 20 percent drop for farmers' prices while packers' profit margins have risen.
As Madden broke down the numbers, he stated it's meant the packers make anywhere between $500 to $600 on fat cattle while producers earn just $105 to $110 per head of cattle.
"It's just frustrating how greedy and ruthless the packers are," Madden said. "They're smart business people but they're so ruthless and greedy that they do not care about the American rancher, farmer or producer."
Madden shared that he expected prices to continue to rise.
The USDA announced last month that American beef producers can increase shipment to China. The USDA estimated in the statement that the agreement could result in $1 billion annual in exports for American farmers. That's some form of hope as local prices stay stagnant.
Then there's the prospect of the $2.2 trillion coronavirus aid package to alleviate market woes, although producers aren't aware of how that money will be divvied or how much they could see in aid.
Pricing discrepancies didn't start during the coronavirus pandemic, however. It's an issue that became worrisome to Wyoming's markets months before panic buying could be exploited by aspects of the market.
"I don't attribute this to the pandemic," Danny Matney at the Buffalo Livestock Auction stated. "It damn sure hasn't helped it, but there's been a lot more frustration with the whole deal."
Roy Castle of Castle Auction in Gillette said he'd had a 45 percent loss of value in the past month, adding to the frustrations of having a pandemic during calving season and not when Wyoming's cattle supplies boast its highest numbers in October-November.
This has created a perfect storm in the agriculture market, forcing nervous ranchers to wait on government action. Typically shy of government intervention or assistance, bailout discussions have given local farmers and ranchers hope to continue operations in a time of unprecedented uncertainty.
Farmers and ranchers operate largely through banking. Magagna explained that while low interest rates benefit those ranchers, not extending credit as profit margins get slim could be disastrous.
"We're not one for federal handouts but there's no way you could have prepared for this," Magagna said. "Even if you knew it was coming no farmer or rancher could have put money away for it."
Follow sports reporter Brady Oltmans on Twitter @BradyOltmans
Concerned about COVID-19?
Sign up now to get the most recent coronavirus headlines and other important local and national news sent to your email inbox daily.