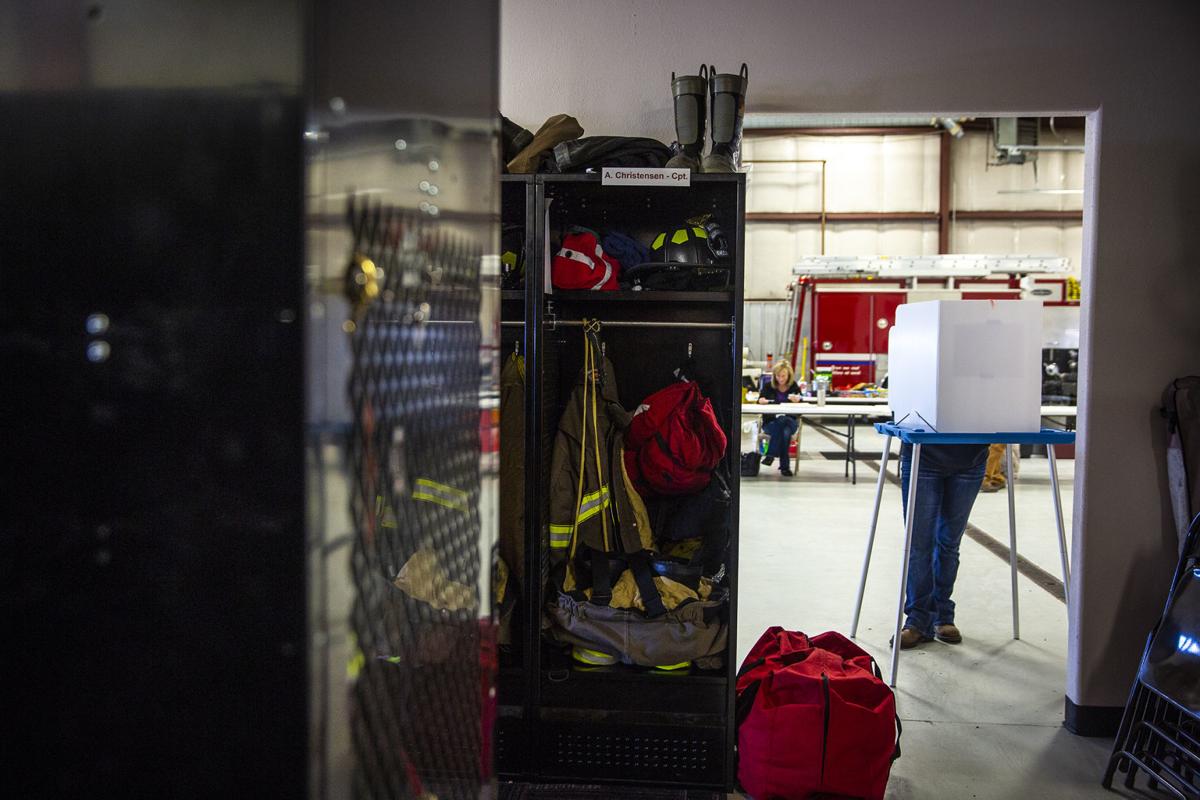 When July comes around, Wyoming will have its first set of campaign finance reforms in years.
However, campaign finance experts say the reforms passed by the Wyoming Legislature this year leave a number of gaps that could potentially be exploited by "dark money" groups in the 2020 elections.
While sponsors acknowledged Senate File 18 was not a perfect bill, it does make a number of changes to a system that, in the 2018 cycle, was exploited by multiple political action committees of often mysterious origins. Some of these fixes include improving the reporting of late political activity, requiring PACs formed outside of Wyoming to disclose their activity to the Wyoming public and defining what electioneering communications actually are.
For all the bill's good intentions, however, SF18 contains a pair of significant oversights that will allow dark money to continue to exist in Wyoming politics, according to Pete Quist, research director for the National Institute on Money in Politics in Helena, Montana.
The first issue lies with enforcement. According to Quist, the bill's reporting requirements – which only demand that organizations report "only those expenditures and contributions which relate to an independent expenditure or electioneering communication" – is difficult to enforce, largely because the question of what qualifies as a "related" expense is highly open to interpretation, and could mean very little of the mysterious spending in Wyoming's elections will actually get reported – largely because donors rarely earmark what their funding is spent on.
"In states where this is the extent of the disclosure requirement, we find very little reporting," said Quist. "It is easy to say that no contributions were earmarked for a specific expenditure, or for political expenditures in general in the case of these organizations (LLCs and 501cs), and it is hard to prove otherwise."
Enforcement, as it stands
One of the most significant issues in the bill lies with its inability to address the root of dark money itself – the sources that cash actually flows from.
For example: If an organization reports a donor, there is nothing in the bill to address situations where the donor itself is a dark money group – either an LLC or a 501c – making the founders of the group nearly impossible to track down. This is particularly true if the founders of a political action committee use a third party to register their group with the Secretary of State's office, as is often the case in Wyoming politics.
"This is a nearly ubiquitous problem with campaign finance disclosure," Quist said.
A lot of the solution relies on the accuracy of the information provided by the LLCs filing the campaign finance reports. According to Kai Schon, Wyoming's director of elections, in the instance of organizations that may have formed for non-political purposes, it would be up to them to exercise discretion over how the money contributed to them is ultimately spent.
To be reported, it doesn't necessarily boil down to whether or not a contribution was "earmarked," Schon wrote, but whether or not that contribution was used for an independent expenditure or electioneering communication.
"Again, this requires the organization's discretion," he wrote. "An organization could theoretically not list any contributions and only their expenditures, however, they have to report and they may subject themselves to public scrutiny if the information is incorrect and potential misdemeanor charges if they falsely report under Wyo. Stat. § 22-26-112(a)(x)."
There are other sideboards to the law that provide some teeth, Schon wrote, while offering some insight into the flow of campaign expenditures. While it is legal for one organization to receive money from another organization, legal action could be taken if a group contributed to other candidates or if a committee contributed funding to a candidate that originated with another PAC.
"If an organization is participating through the use of independent expenditures and/or electioneering communications, there is no clear violation," Schon wrote.
Is anything being done about it?
Though the largest and most expensive statewide race in Wyoming's history – the 2018 governor's race – wrapped up in November, next year will feature a presidential election – races that historically have had consistently higher turnout and engagement than in mid-term election years.
Meanwhile, numerous state legislative seats and local offices will be up for grabs, and will likely be caught up in the tide.
Despite having just one legislative session left to revise these loopholes, campaign finance reform will likely not be revisited in this year's interim session, according to Sen. Bill Landen, R-Casper, the newly appointed co-chair of the Joint Committee on Corporations, Elections and Political Subdivisions. The committee will largely be confined to some specific requests from the Secretary of State's Office – which has limited rulemaking ability outside of the legislative process.
"That does not mean individual legislators won't take up any of the issues related to campaign finance," Landen wrote in an email. "The committee spent the past interim on campaign finance reform (that was before my time on Corporations), and just won't be taking it up as a committee."
An inadvertent fix to the LLC loophole?
Barring a legislative fix to Wyoming's remaining campaign finance loopholes, a decision in a federal court in Virginia last year could affect corporate filing law in loosely regulated states like Wyoming, potentially impacting dark money groups' ability to hide behind LLCs and other entities.
The case – which was recently decided in the 4th U.S. Circuit Court of Appeals – involves a man who set up 168 separate LLCs to sign up for 168 plans through DirecTV, which were then divided between 2,500 units in the Virginia resort he owned, according to court documents.
In an email, Landen said the case's implications on Wyoming would be reviewed during this year's interim session to determine whether or not "changes are needed to Wyoming LLC Act."
The case's significance to Wyoming – and its campaign finance laws – comes from the court's decision to allow "reverse piercing" of the corporate veil in the case, or the company that was essentially set up as an alias for one person. Reverse piercing is when courts disregard a corporation as an entity separate from one of its shareholders or, in this case, the founder. Conversely, piercing the corporate veil is a legal decision to treat the rights or duties of a corporation as those of its shareholders.
Whether or not the court's outcomes could be used in the context of cleaning up campaign finance in Wyoming, however, is iffy, according to University of Wyoming law professor Ken Chestek, whose group – Wyoming Promise – has advocated for campaign finance reform in the Wyoming Legislature.
"Using this device to fight election fraud, as opposed to ordinary fraud on creditors, is an interesting concept," Chestek wrote in an email. "But I have a hard time seeing how it might work at a practical level."
According to Chestek, the method to get to the source of one of Wyoming's shadowy LLCs would have to come through ordinary veil piercing, not reverse piercing, since the problem with political LLCs is that nobody knows who the individual owners are. Then, to get to the bottom of the issue, you would need to sue the LLC, obtain a judgment against it and then engage in discovery to determine who the "owners" of the LLC were, in order to enforce the judgment against them.
"But how could you get a judgment against the LLC, if what the LLC does is legal?" wrote Chestek. "Citizens United gives corporations (LLCs) the legal right to engage in political speech, including direct advocacy for candidates. And since what those corporations are doing is classified as 'independent expenditures' (i.e. not direct donations to candidates or candidate committees), there is no dollar limitation on how much they can spend. So these shadowy LLCs have the legal right to do what they are doing. Unless you can catch them coordinating with a candidate, or otherwise violating campaign finance law, there is no way to obtain a judgment against them."
"The solution, of course, is to overturn Citizens United and related cases through a Constitutional amendment declaring that corporations are not people for the purpose of political speech," he added. "If that happens, then state legislatures and Congress could make the independent expenditures illegal, or at least regulate them, and we can then really solve the problem."
The gold standard of campaign finance law
The only way for the public to really understand the mechanics of campaign finance, Quist said, is for states to provide additional avenues for people to identify the nature of the organization.
Two case studies can be found in Minnesota (which set stricter disclosure requirements for a group's donors after all earmarked funds had been accounted for) and in California, which – after earmarks are counted – requires committees to report their most recent donors backward chronologically until it accounts for all the money that group spent on elections in the state.
"Both states were trying to give the public information about who the group is while limiting the group's disclosure burden to the amount the group decided to spend on politics in the state," Quist said.
California has additional stipulations in its laws where, in the event a dark money group is listed as a donor to an entity making the political expenditure, that group may be subject to donor disclosure requirements until a human source – or at least, a non-dark money group – is identified.
But if reforms to Wyoming's laws do come, they likely won't arrive until after the 2020 elections.
"Many of us were aware that SF-18 did not go as far as some would like, but I considered it to be a step in the right direction," Landen wrote. "I have been concerned for some time about anonymous mailers from dark money coffers. Candidates deserve to know who is throwing rocks at their windshield. That said, I think we allow the new law to play out and see if it provides that transparency."
Follow politics reporter Nick Reynolds on Twitter @IAmNickReynolds
Be the first to know
Get local news delivered to your inbox!