Wyoming will team with Bill Gates to build a new type of nuclear power plant, a move proponents hope will help diversify the state's economy while speeding the nation's transition toward low-carbon energy.
The state will house the first Natrium reactor in a partnership with Gates' TerraPower company, the U.S. Department of Energy and PacifiCorp, Gov. Mark Gordon announced Wednesday. The reactor would be built within one of four retiring coal power plants, signaling a greener energy future for a Wyoming economy that has long relied on fossil fuels.
"Wyoming has been a leader in energy for over a century," Gates said remotely at a news conference held at the state Capitol, "and we hope our investment in Natrium will allow Wyoming to stay in the lead for many decades to come."
The reactor is scheduled to begin generating electricity in mid-2028. It's estimated that the project will involve two to three years of design and licensing work before construction begins. The plant will house one of the first small modular reactors in the U.S.
Gordon said the project will create hundreds of jobs that are comparable in pay and quality to fossil fuels industry positions.
"Today's announcement really, truly is game changing for Wyoming," he said.
The exact location of the new reactor is still up in the air. The plant will replace a current coal-fired plant operated by PacifiCorp. Gary Hoogeveen, president and CEO of PacifiCorp division Rocky Mountain Power, said the goal is to decide by the end of 2021 which of the utility's four plants will house the nuclear power plant: Jim Bridger near Rock Springs, Naughton in Kemmerer, Dave Johnston in Glenrock or Wyodak near Gillette.
U.S. Department of Energy Secretary Jennifer Granholm, who also spoke remotely at the event, said the new reactor will produce 345 megawatts of power.
"We are ready to make investments in advanced nuclear technology so that communities all over the country can enjoy the benefits of safe and reliable and clean power that will leave them with lower energy bills and greater opportunities," Granholm said.
The reactor will use small, modular reactors. These reactors can be used individually or be combined to create a single large power plant.
TerraPower was one of two companies to receive an $80 million Federal Energy Department grant in October, the first installment to put toward establishing a nuclear power plant.
"This country is going to continue to depend on Wyoming energy for decades and decades to come," Sen. John Barrasso said at the news conference.
Economic driver?
The announcement comes as state leaders are grappling with how to position Wyoming in a diminished future for fossil fuels — traditionally the state's economic driver. Coal production in particular has been on the decline as coal-burning power plans continue to retire amid increased competition from natural gas and renewable energy.
The downturn in the state's energy sector, along with the COVID-19 pandemic, prompted multiple rounds of cuts to the state's budget amid declines in revenues.
"The development of a nuclear energy facility will bring welcome tax revenue to Wyoming's state budget, which has seen a significant decline in recent years," according to a Gordon news release.
That assertion was questioned by the Powder River Basin Resource Council, a landowners and conservation group based in Wyoming.
"There are no royalties and very little severance tax generated from uranium mining, so communities will not realize a windfall from this endeavor," Marcia Westkott, the council's chairwoman, said in a statement. "Perhaps the most dangerous aspect of this latest claim of a 'silver bullet' to save Wyoming's economy is that it once again diverts attention away from our very real crisis in revenue, jobs and community survival. Wyoming's elected leaders have still not come forward with a real plan to address lost jobs, declining revenues and the dissolution of coal communities. This speculative feasibility study will not do that."
Gordon stressed that the state's pursuit of nuclear power does not indicate that he was giving up on traditional fossil fuels like coal, oil and natural gas. He advocated for continued investment in carbon capture technology, particularly in Wyoming.
"I am not going to abandon any of our fossil fuel industry," he said. "It is absolutely essential to our state."
The Wyoming Mining Association also took a positive view on Wednesday's announcement.
"This is an exciting opportunity for Wyoming to open a new chapter in the nuclear power industry. Advanced nuclear generation clearly fits the bill for zero-emission, reliable and dispatchable electricity necessary to power our country into the future," executive director, Travis Deti, said in a statement. "Wyoming is the nation's leader in the production of domestic uranium. Our producers stand ready, willing and able to safely and responsibly provide the vital fuel for America's next generation of nuclear power."
Wyoming is the nation's top producer of uranium, Barrasso said, and some of that material will now be used here.
"This is the future of nuclear energy in America compared to what we've been doing over the last 65 years, with the energy being clean, affordable, reliable, safe," he said.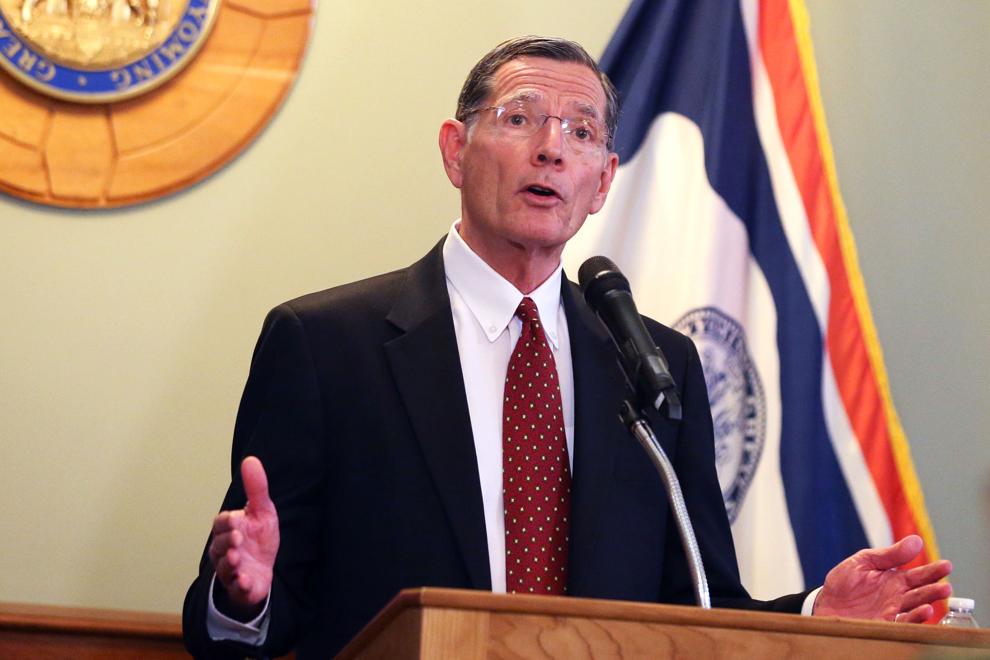 Nuclear power's carbon footprint is equal to wind, less than solar and far less than coal. Nuclear power plants also occupy much less land than solar and wind farms, which people in Wyoming complain can be an eyesore.
Gordon recently set a goal for the state to become carbon neutral. He cited Wednesday's announcement as a piece of his "all-of-the-above" energy strategy.
State leaders have talked for decades about diversifying Wyoming's economy from the boom-and-bust cycle tied to oil, natural gas and coal. However, that effort has yet to move Wyoming away from its dependence on energy to fuel its economy.