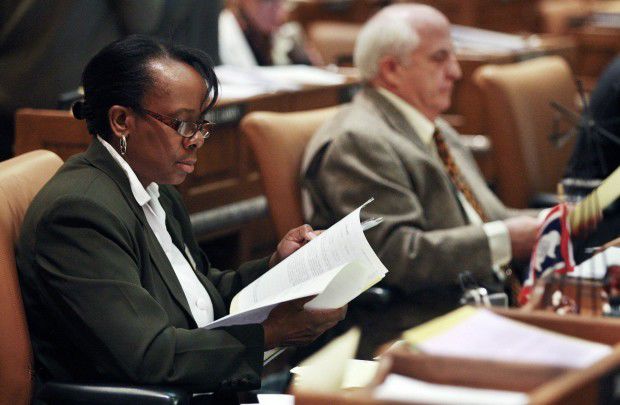 CHEYENNE — The Wyoming Democratic Party called for a Republican state senator's resignation Monday, days after a civil rights group filed a complaint alleging she compared homosexuality to pedophilia and bestiality in a meeting with high school students visiting the Legislature.
GOP Senate leaders, meanwhile, said they were taking the concerns raised against Sen. Lynn Hutchings seriously and stressed that no one should be made to feel degraded.
Hutchings, R-Cheyenne, did not comment Monday morning when reporters asked her about the allegations. But in a statement last week to a Casper TV station, she denied making the comparison.
In a statement Monday afternoon, Wyoming Democratic Party Chairman Joe Barbuto called for Hutchings, a first-term senator and former House member, to resign in the wake of the allegations, which the group Wyoming Equality made public Friday on its website and Facebook page.
"Sen. Hutchings's comments are indefensible, insensitive, and repugnant," Barbuto, a former state lawmaker himself, said in a statement. "Her remarks were not appropriate for any audience, but that she said this to children is especially revolting. It shows a clear lack of good judgment. Senate District 5 deserves a Senator who they can trust to behave and speak in a manner that upholds the dignity of the office and reflects an understanding that every person deserves to be treated with respect. Lynn Hutchings is now incapable of providing that level of representation. She must resign immediately."
Later Monday afternoon, state Republican leadership released a statement from Senate President Drew Perkins, R-Casper; Majority Floor Leader Dan Dockstader, R-Afton; and Senate Vice President Ogden Driskill, R-Devils Tower, addressing the controversy.
"In Wyoming, we believe in respect, civility and compassion," the statement said. "Here in the Wyoming Legislature, it is no different. We take the concerns raised on behalf of these students very seriously. Absolutely no one should be made to feel dismissed, disrespected or degraded. Let us be clear, the message from the Wyoming Senate is this — all Wyoming citizens are welcome here. We want to hear from you. We need to hear from you. We are blessed to have a citizen legislature in Wyoming, and that means the voices of every single person should be heard and considered.
"In the coming days, we will continue through the process designed to properly vet and address complaints filed against Members. Both Senator Hutchings and these students deserve fair consideration and respect as we work to address this matter."
Group lodges complaint
According to Wyoming Equality, the members of the Cheyenne Central High School Gay-Straight Alliance had requested to speak with Hutchings to ask for support on a nondiscrimination bill that had bipartisan sponsorship, including from Perkins. The 10 students, accompanied by their club sponsor and teacher, visited the Capitol on Feb. 1 while taking part in a biannual Gas-Straight Alliance Civics Day, according to Wyoming Equality.
The group says Hutchings met with the students, who introduced themselves and shared their thoughts on the bill. In the complaint, Wyoming Equality says Hutchings responded by saying, "If my sexual orientation was to have sex with all of the men in there and I had sex with all of the women in there and then they brought their children and I had sex with all of them and then brought their dogs in and I had sex with them, should I be protected for my sexual orientation?"
Wyoming Equality said it sent its complaint letter to Senate leadership Feb. 4. The group said it was told last week that Perkins was set to meet with Hutchings. Since then, the group hasn't heard from Perkins outside of public statements, a Wyoming Equality spokeswoman said Monday.
Earlier Monday, Perkins issued an individual statement affirming that he believed in upholding the Senate as an institution where one's right to free speech is protected.
Perkins' statement did not mention Hutchings or the incident itself. A spokesperson for Perkins deferred all comments to that statement.
"The Wyoming Senate is a wonderful institution entrusted with crafting the laws of this state through the informed and civil exchange of ideas," Perkins said in his statement. "The Senate is made up of a wide array of Members representing a people as diverse as the Wyoming terrain; a people of varying beliefs, goals and visions for the future."
"As the Senate President," he added, "I am dedicated to maintaining the long tradition of the Senate as an institution where Wyomingites can respectfully express ideas to their citizen Senators and receive the same level of respect in return. I welcome all residents to the Senate and encourage everyone to share their thoughts with us all."
Senator's response
Last week, Hutchings gave a comment to Casper's KTWO-TV, the first outlet to report the story, in which she denied comparing homosexuality to bestiality and pedophilia: "No comparison of that nature was made. If the children took my questions of 'what is sexual orientation?' and turned it into 'a comparison,' that is indeed a lie. I can say nothing further."
Hutchings did not respond to messages from the Star-Tribune on Friday after Wyoming Equality posted the complaint. Monday morning, she declined to comment when approached by reporters. However, the news site WyoFile reported Monday that Hutchings told a journalist that reporters' negligence in covering the incident led to her receiving "death threats," and suggested that she might pursue legal action, though it was unclear against whom.
According to WyoFile, three student members of Central's Gay-Straight Alliance corroborated in separate interviews the claims made in the Wyoming Equality statement.
"It was really upsetting to think that she legitimately equates who I am to people who are pedophiles or commit bestiality," an unnamed student, 15, told WyoFile.
WyoFile's story also included a letter from Liz Edington, who sponsors the school's Gay-Straight Alliance. When reached by the Star-Tribune on Saturday, Edington deferred comment to Wyoming Equality.
The civil rights group's accusations have been covered by national media outlets, including the New York Daily News.
Hutchings, a former lobbyist for the Wyoming Family Coalition and former state representative, ran unopposed in November in Senate District 5. She has been the subject of controversy in the past over comments she made concerning the LGBTQ community. When the Legislature debated domestic partnership legislation in 2013, Hutchings, then a state representative, said being gay was harmful to the mind, spirit and body and noted the number of cases of AIDS.
In 2015, she was an outspoken opponent on a bill to extend protections for LGBTQ people, saying they would create an "undue burden on society," according to the Wyoming Tribune Eagle. She also argued discrimination faced by LGBTQ people paled in comparison to the discrimination faced by African Americans like herself.
"When and where have we seen these atrocities happen among Wyoming's small homosexual, lesbian, bisexual and transgender community?" Hutchings said at the time. "Race, sex and color are things you can never change. They happen to us at birth. Sexual orientation and sexual identity, you can change that at any time."
Politicians react
No mention of the incident was made when the Senate gavelled in Monday morning. However, some lawmakers did offer comments to reporters.
House Bill 230's sponsor, Rep. Dan Zwonitzer, R-Cheyenne, told reporters he had not spoken with Hutchings as of Monday afternoon.
"Many of the points Sen. Hutchings brought up were not really about the merits of the bill," Zwonitzer said. "They seemed like they were more her opinion of LGBT issues in general."
"I do think it's important legislators speak their minds, and that helps inform their constituencies of their true thoughts on the matter," he added.
Cheyenne Mayor Marian Orr criticized Hutchings in a tweet on Friday night and commented further to reporters on Monday.
"I trust leadership will look into it," Orr said. "I think they too don't want Wyoming's wonderful reputation to be tarnished."
"It's unfortunate," she added. "Certainly, I think our city council here in Cheyenne might very well be taking up the nondiscrimination issue again. Maybe we can put up some good publicity over all the bad."
Protections rolled back
In December, the Legislature's Management Council — which sets rules of conduct for members of the Legislature — rolled back language instituting anti-discrimination protections for members of the LGBTQ community in cases of defamatory speech. While the complaint has been filed, with the new, vague language — which includes no specific protected groups — it is unclear whether Hutchings could face disciplinary measures. According to Legislative Service Office Director Anthony Sara, the language in statute would leave it up to Management Council leadership to decide how to enforce their own rules. Per Management Council policy, all proceedings are confidential.
Spokespeople for both the Republican and Democratic delegations said there was no date yet for when the Management Council would meet.
"If we hadn't removed those protections, I think this complaint would have been elevated to a greater level than this complaint will go," Zwonitzer said. "This is a complaint directed to Senate leadership, and those will not be made public if there are any consequences for that alleged incident. I think it does reinforce the strong need for Management Council to revisit this policy, as this is an issue that's not going away, and it exemplifies the need for us to hold legislators to a higher standard of thought, conduct and speech than the general citizenry."
It is unclear if the Senate itself has recourse against Hutchings. According to the Senate Rules, a two-thirds majority vote can be held in order to censure officers of the Senate — not individual members — an understanding which the Democratic caucus is currently operating under, a spokeswoman said.
Follow politics reporter Nick Reynolds on Twitter @IAmNickReynolds