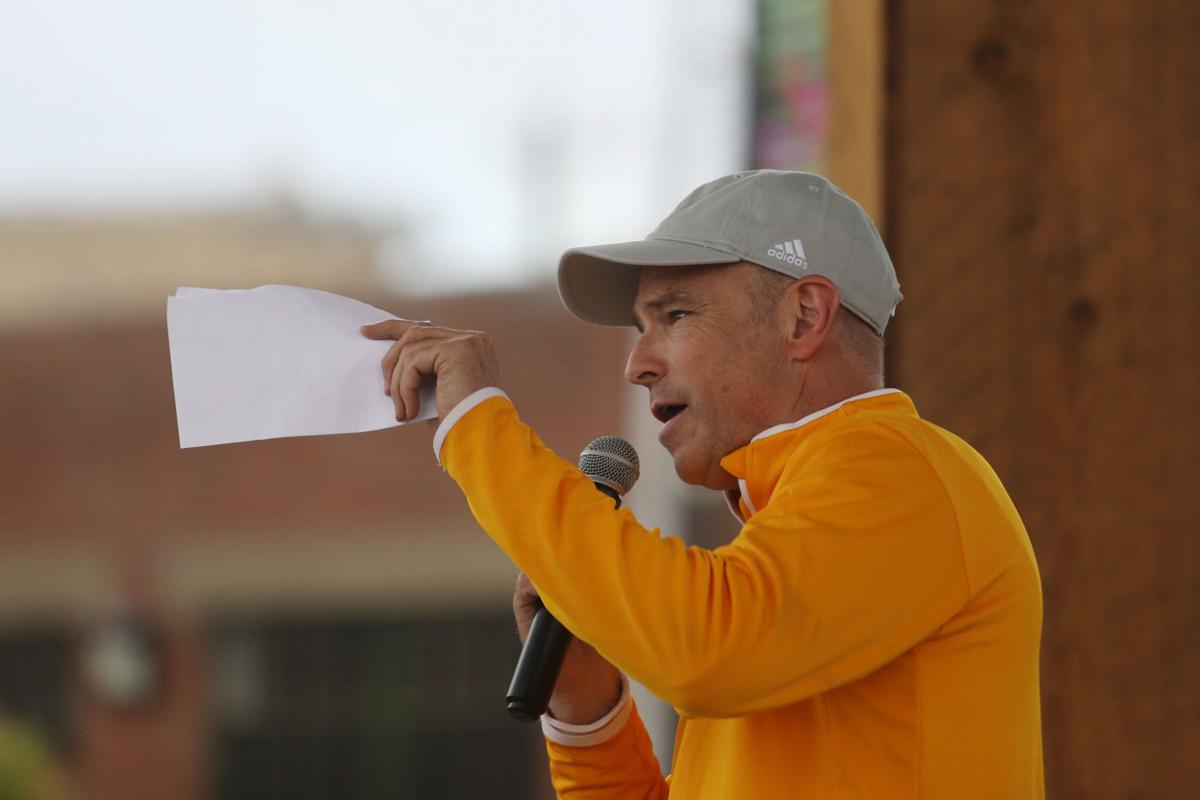 LARAMIE — Players, coaches and fans in the Mountain West are still trying to come to grips with the conference's decision to cancel football and other sports this fall. The same can be said for a handful of other Football Bowl Subdivision conferences, including the Pac-12 and Big Ten.
Yet some leagues are conducting business as usual.
While programs like Wyoming have been put on pause as they try to decide what the next move is, six FBS leagues are still planning to play football in the fall. SEC teams opened preseason camp Monday while the Big 12 and the ACC are the other Power Five conferences that plan to start preparing for a modified season soon. The Sun Belt, Conference USA and the American Athletic Conference are also pressing forward for now.
Even some of the conferences that have called off football for the time being are fresh with dissension. Those voices have been the loudest in the Big Ten, where some players, coaches and parents have publicly voiced their displeasure with the league's decision.
Ohio State quarterback Justin Fields, widely regarded as a top-10 pick in next year's NFL Draft, created an online petition over the weekend to reinstate the Big Ten's fall season that, as of Monday, had more than 252,000 signatures. The petition came on the heels of letters written by football players' parents at Ohio State, Penn State and Nebraska among other Big Ten schools seeking an explanation from league commissioner Kevin Warren as to why, in their minds, the conference made the decision to postpone so quickly.
Penn State athletic director Sandy Barbour said during a press conference Monday that she doesn't envision the Big Ten presidents changing their minds, but the dysfunction around the sport is evident in its various responses to competing this fall amid the coronavirus pandemic.
"It's unfortunate," UW athletic director Tom Burman told the Star-Tribune in a recent phone interview. "We could've done better."
So why are conferences on different pages when it comes to whether to play or not this fall? Independence is a good place to start.
In March, the NCAA canceled the Division I men's and women's basketball tournaments as well as the rest of the championships in winter and spring sports. Championships in fall sports were recently canceled at the Division I level, which includes Football Championship Subdivision football, as well as Divisions II and III. But those calls were made after the NCAA left it up to the schools, conferences and divisions to decide for themselves what to do, a back-seat approach that's drawn the ire of some coaches, players, fans and university administrators.
"I stand with all of my brothers who choose to opt out this season. I stand with all of my brothers who want to play this season," UW fullback Jahmari Moore tweeted. "But what I won't stand for (is) the disorganization and lack of leadership from the NCAA. We, as players, deserve way better than this."
While Burman said some of the criticism of the NCAA's perceived lack of leadership is "probably justifiable," he placed most of the blame on the FBS conferences themselves given their freedom when it comes to football. Unlike its governance of most other sports, the association doesn't have the authority to cancel FBS bowl games or the College Football Playoff because it doesn't sponsor either one.
Those are operated by the conferences. And since the NCAA couldn't cancel the FBS's postseason, which may have forced every conference's hand when it came to the regular season, the 10 leagues were left to fend for themselves. That led to each conference consulting with its own medical advisory board, but even their input on whether it's safe enough for teams to play in the face of a pandemic has differed depending on the league.
UW President Ed Seidel called the opinions of those in the Mountain West's medical advisory group "unanimous" that there wasn't a safe path to playing a football season this fall. Seidel said recent studies linking potential heart damage to COVID-19 was particularly concerning to him and other league presidents.
"That's particularly complicated for athletes who are pushing the edge of the cardiovascular system in practice," Seidel said.
For now, though, other leagues are comfortable enough with the medical feedback they're getting to try to play this fall. SEC Commissioner Greg Sankey reportedly told The Dan Patrick Show last week that the conference's medical advisory group gave the league the green light to "continue to go forward" with its plan to play this fall. Dr. Cameron Wolfe, an infectious disease specialist at Duke University who heads the ACC's medical advisory team, told Sports Business Daily last week that he expects the league to be able to play.
"What's really interesting to me is every Division I conference and certainly the FBS conferences absolutely have very active medical groups, and those groups are uneven and unsure of their comparative notes to each other," Mountain West Commissioner Craig Thompson said during an in-house interview with the Mountain West Network. "Different studies show different things, and it's amazing that intelligent people can reach different conclusions."
The SEC on Monday announced its revised 10-game conference-only schedule for each team, which has been delayed until Sept. 26. The Mountain West and Pac-12 also postponed the start of their respective seasons to the same weekend before ultimately deciding to cancel.
It's a process, Burman said, that's been anything but united.
"The NCAA manages the rules. We (NCAA member institutions) create the rules," Burman said. "We determined that the NCAA doesn't have power over college football, and we have not worked very well together. I will tell you that. The communication, whether it's been from the NCAA or the conference offices, has been inconsistent. And you see this right now: It's an every-man-for-themselves kind of mindset."
Follow UW athletics beat writer Davis Potter on Twitter at @DavisEPotter.
Be the first to know
Get local news delivered to your inbox!