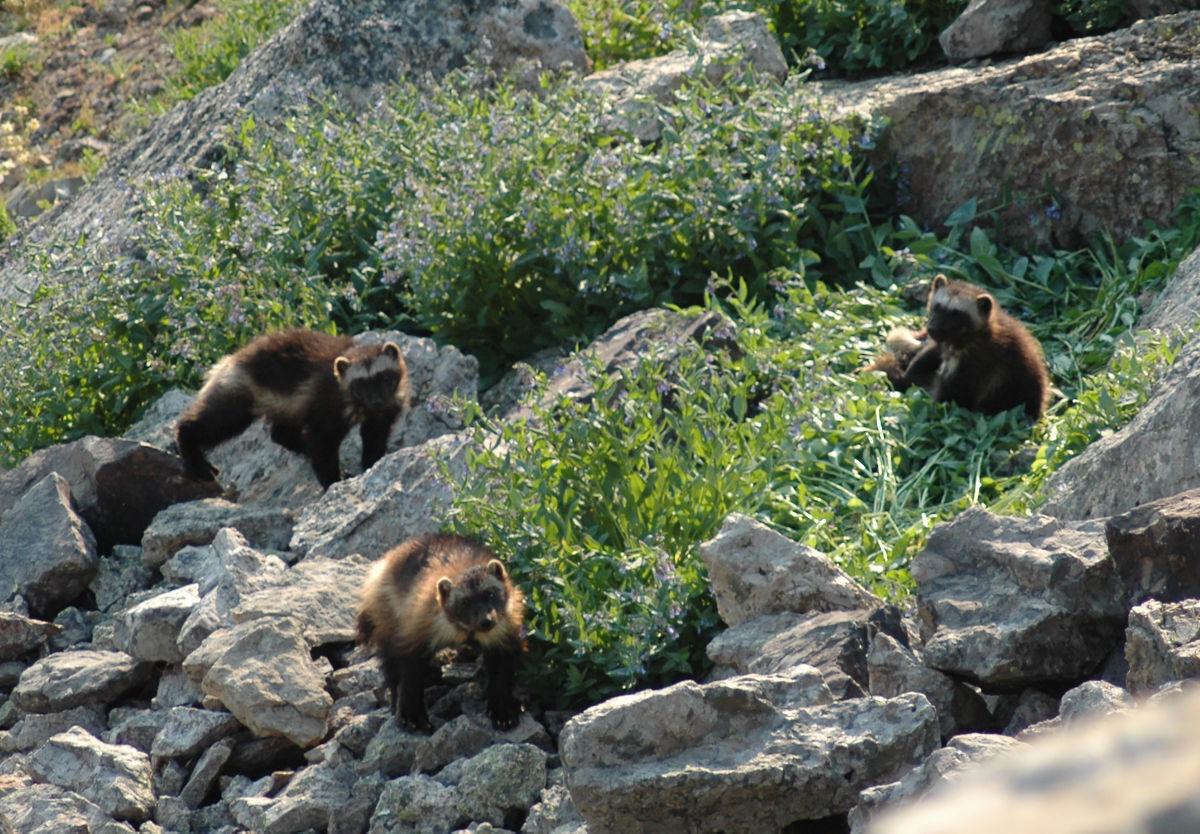 POWELL — A video of a wolverine loping through the woods in Yellowstone National Park turned the spotlight on the rarest of animals in the lower 48 states. It's a species that may also be making a comeback in mountains surrounding the North Fork of the Shoshone River and through the Greater Yellowstone Ecosystem.
The video shared on Yellowstone's Facebook page was short. The wolverine appears like a ghost, tripping the motion-sensitive camera late into its arrival and making four strides in less than 3 seconds. It may not seem like much, but that little taste has amped interest in the mammal and created an explosion of media attention. The clip generated more than 35 media outlets requesting interviews for local, state and national stories — the kind of attention wildlife biologist Dan Stahler is unused to in his 24-year career in the park.
Stahler was setting out camera traps for a study on cougars. He leads research of the big cats at the national park, as well as being the main project biologist for the wolf program and a team member on the elk research program. All three of those species are tied together in their life and death struggles.
Stahler has a dedicated crew of field researchers helping set up and monitor camera traps to monitor mountain lions. On one trip late last year, he was lucky enough to have personally set up the camera that — on the morning of Dec. 4 — captured the wolverine.
"It was the last thing I thought we would have gotten on it," Stahler said in an interview last week.
He "got goosebumps" while editing the images. Once uploaded and shared with other outlets, the video was viewed tens of thousands of times.
"It really says a couple of things to me: Like the power of Yellowstone, a symbolic place of wilderness and wildlife. And also the power of video or photos of an animal to tell a story," Stahler said. "That one image generated a lot of interest to this rare, elusive mid-sized carnivore."
Wolverines don't really fit in with the mountain lions, wolves and elk that he also helps study, but Stahler also serves as the park's threatened and endangered species coordinator. While not listed for protection under the Endangered Species Act, the charismatic creatures have found their way to Stahler's desk as a species of concern.
They are classified as a Species of Greatest Conservation Need in Wyoming's State Wildlife Action Plan and are currently listed as a proposed threatened species under the Endangered Species Act. Additionally, the U.S. Fish and Wildlife Service is currently reviewing a recent decision not to list the species as endangered in the lower 48 states.
As rare as they are, wolverines have been seen in the southeast part of Yellowstone and in the Shoshone National Forest. A recent study followed two previously known wolverines in Wyoming, but there may be more, said Wyoming Game and Fish Department Nongame Wildlife Biologist Nichole Bjornlie.
"I would be fairly comfortable saying that we know we have at least eight," she said.
In 2016-17, Bjornlie and fellow non-game biologist Clint Atkinson set out remote cameras in an effort to spot two female wolverines that had been captured as juveniles a decade earlier. At nearly 11 and 12 years old, both were documented in the same areas where they had previously appeared to set up home ranges previously, suggesting continued residency.
Wyoming now plans to join a new multi-state study. Next winter they'll deploy bait, hair snares and camera traps in the North Fork and the Bighorn Mountain range. The use of bait helps the department get tufts of hair which, when tested, can identify DNA from specific individuals. It won't be easy, Bjornlie said.
"We'll be out there with skis, snow shoes, snowmobiles, tracked side-by-sides and trucks as far as we can get," Bjornlie said. "Anything we can use to move over the snow."
In the most isolated areas, cameras will be set up and won't be able to be checked until the following spring. The Greater Yellowstone Ecosystem likely represents the southernmost point of reliable wolverine occupancy in the state. There have been sporadic reports of the species in the Bighorns, but the Game and Fish team has yet to capture any on camera. Studies are extremely difficult due to the range of the species. Females have home ranges of approximately 100 square miles and males will have home ranges as large as 500 square miles.
One of the positive takes from the previous study is that wolverines are doing better than scientists may have originally thought, Bjornlie said.
"Given how far this species can travel, we really didn't have any areas where we expect them to be that they didn't show up," she said. "The only exception to that may be the Bighorns, but it is a pretty small, isolated section of potential habitat. But otherwise, every geographical area that we looked for wolverines, we were finding evidence."
One hope of the new study is to document a continued repopulation of the predators' traditional range, after they were nearly killed off in the early 20th century by trappers and predator eradication programs using poisons. The non-descriminating practice is now illegal.
The species isn't out of the woods. With estimates of about 300 individuals in the lower 48, fragmentation of habitat and climate change still threaten to derail the comeback. The new study may help determine if the species is in need of protections as a threatened species, but Bjornlie has hope.
"I think it's definitely a species that is on its way towards population increases," she said. "And hopefully, that's something we'll be documenting."
Game and Fish wants to hear your reports of wolverines in Wyoming. Tracks in the snow, sightings or photos are important.
"If you come across the wolverine and can get a photo — even if it's fuzzy — we'd love to see it," Bjornlie said.
In the wild, you'd be lucky as a lottery winner to see one of the predators, but one place you can be sure to see a wolverine is at ZooMontana in Billings.
Sid, one of two wolverines at the zoo, was "called up" on Monday to make a Super Bowl prediction. Zookeepers placed two servings of a delicious meat mixture topped with whipped cream next to flags representing the Kansas City Chiefs and the Tampa Bay Buccaneers.
Sid came out running, choosing the Bucs in a quick decision. He was tabbed to make the prediction this year after Ozzy — the zoo's grizzly bear — picked the losing team in 2020 and showed some reluctance to come out for the event.
"Ozzy is pretty excited he's retired. He doesn't have to worry about the pressure," ZooMontana Executive Director Jeff Ewelt said at the event.
Both ZooMontana wolverines got a taste of the sweet treat, with Sid running away with the Tampa Bay plate.
"Sid is loving it," Ewelt said. "Hopefully Sid will be our Super Bowl contender for years to come."