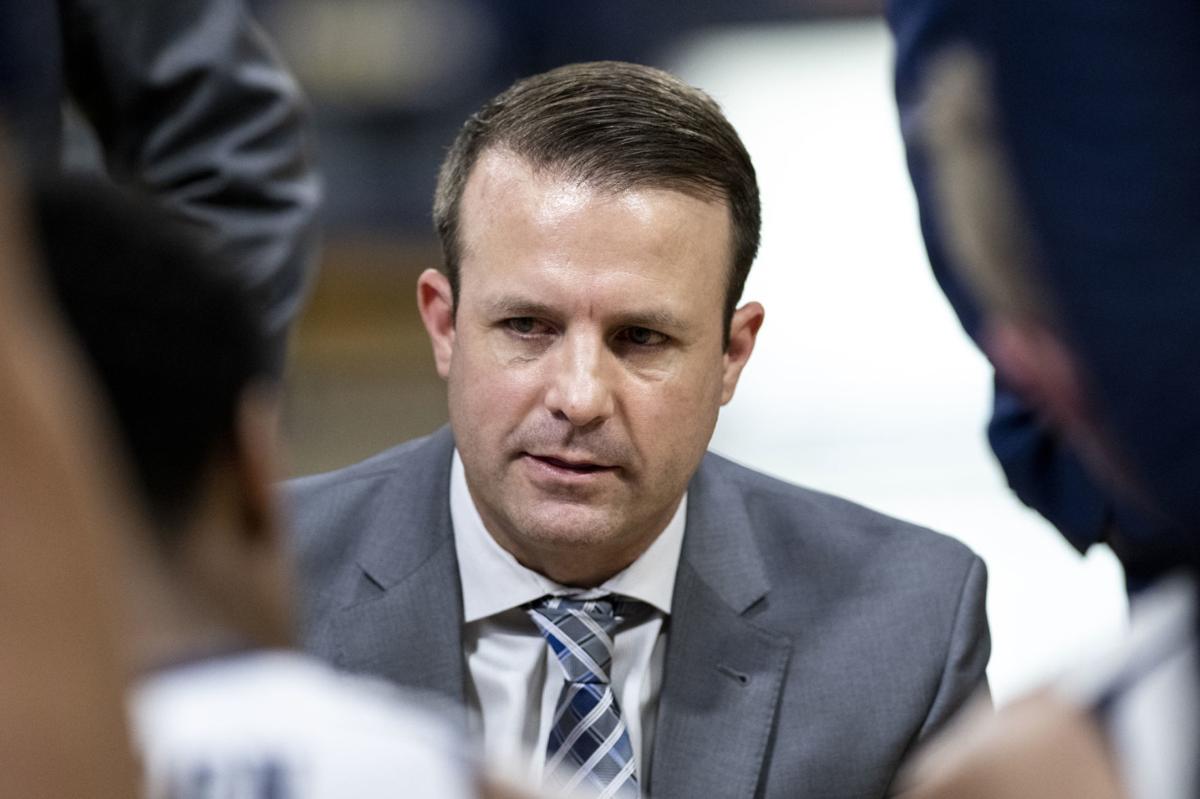 LARAMIE — After hiring Jeff Linder as Wyoming's men's head basketball coach more than a month ago, UW athletic director Tom Burman said Linder's five-year contract included a "handful of incentives."
The Star-Tribune recently obtained a copy of Linder's contract through a public records request. Linder has many of the same incentive bonuses built into his contract that former coach Allen Edwards had during his four-year tenure, which ended when Burman fired him a few days after the Cowboys' semifinal loss in the Mountain West Tournament.
But a couple of others have been added that could push Linder's annual salary beyond $500,000 depending on how many teams — and which ones — his Cowboys beat beginning next season. Linder's base salary will start at $225,000, and he'll also make a fixed amount of $260,000 in additional guaranteed compensation each year for the duration of his contract, which runs through April 2025.
Like Edwards, Linder will have the opportunity to earn additional income related to his players' performance in the classroom. UW's team grade point average has to be at least 2.8 for a bonus to kick in, but Linder would earn a $30,000 bonus if his team's cumulative GPA is at least 3.0 and $20,000 if it's between 2.8 and 2.99. The team's annual GPA will be calculated by the athletic office of academic support, according to Linder's contract.
There are also incentive bonuses of $10,000 for being named Mountain West Coach of the Year, $25,000 for winning the MW regular-season championship and $25,000 for winning the MW Tournament championship, amounts that will be cumulative should more than one happen during the same season. As for other postseason incentives, he will get the equivalent of one month's worth of base salary if UW makes the NCAA Tournament or a $10,000 bonus for a National Invitational Tournament appearance.
Linder will also receive $2,000 for each regular-season conference win after 10 wins (for example, if UW wins 12 league games in a season not counting the MW Tournament, Linder would get $4,000). He will also earn a bonus of at least $10,000 if UW generates at least $650,000 in single-season ticket revenue. The level of the bonus increases by $10,000 for every additional $100,000 generated in ticket revenue up to $1 million, though the levels aren't cumulative. If $1 million in ticket revenue is reached, Linder will get a $50,000 bonus.
Linder will also receive a bonus of at least $5,000 each year in which the NCAA's most recent single-year Academic Progress Rate score for men's basketball is at least 940. The biggest difference, however, between Edwards' and Linder's contracts when it comes to bonuses is the incentive to play a more challenging non-conference schedule.
Linder will receive $10,000 for scheduling an opponent that finished in the Top 100 of the NCAA Evaluation Tool rankings the previous season, an incentive that wasn't included in Edwards' contract. The NCAA Evaluation Tool, more commonly referred to as the NET, uses strength of schedule, game locations and margin of victory and defeat among other criteria to assess teams' body of work over the course of a season for possible at-large berths into the NCAA Tournament.
The Cowboys, who've won just 26.1 percent of their games since the end of the 2017-18 season, didn't finish higher than 271st out of 353 Division I teams in the NET during Edwards' final two seasons at the helm. During that time, the Cowboys combined to play eight non-conference games against teams that finished in the top 100 of the NET, though only five of them came outside of a tournament.
UW has yet to announce any non-conference games for its 2020-21 schedule. The Cowboys' last postseason appearance came in the 2015 NCAA Tournament.
Follow UW athletics beat writer Davis Potter on Twitter at @DavisEPotter.
Be the first to know
Get local news delivered to your inbox!