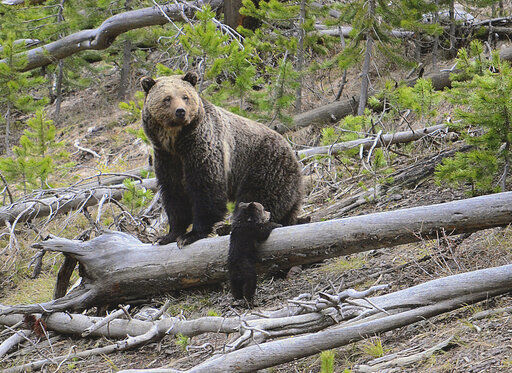 CODY — The story of bears in Yellowstone National Park in 2018 can basically be summed up as bears leaving people alone, but people not leaving bears alone.
According to the park's annual report on the species, the number of conflicts between humans and bears were limited, but the curiosity of visitors desiring to take pictures resulted in extra cautionary work for rangers.
"There were few bear-human conflicts inside of the park in 2018," said Kerry Gunther, Yellowstone bear biologist. "However, managing visitors that stopped to view and photograph bears foraging in roadside meadows and thus creating large bear jams was a considerable management challenge."
Tracing the recent decades of bear population growth in the Greater Yellowstone Ecosystem and the discussions about delisting grizzlies from Endangered Species Act protection, combined with the four-million-plus people annually touring Yellowstone, the report offered some predictions.
"As visitation increases, park managers should expect an increasing number of bears to become habituated to people and a higher level of habituation among those bears, thereby causing more bear jams and jams of longer duration," the report said.
"As the level of habituation increases, the distance at which bears allow visitors to approach before fleeing will become shorter, resulting in interactions at closer distances."
You have free articles remaining.
While certainly not all visitors notify park rangers when they see a bear roaming the park's 2.2-million acres, the report cited 1,627 bear sightings, grizzly and black bears combined. That covered a period of March 10, the first sighting of bear activity of the spring, through Dec. 20, the last black bear sighting of the year.
Noting bear viewing "contributes millions of dollars to the economies of gateway communities annually," park officials counted 240 bear jams.
They also believe there was only one bear death through natural causes within park boundaries during 2018. It was suggested a wolf pack may have killed that bear.
There were eight bear-human conflicts recorded in 2018, three with grizzlies, three with black bears and two in cases where the species of the bear was not known.
One injury was noted following an accidental meeting on a hiking trail, though in all there were reports of 24 encounters with bears on trails.
Two other incidents revolved around garbage bears found.
Eleven times bears entered back country camp sites.
In continuing efforts to reduce bear-human conflicts, rangers removed 87 wildlife carcasses that might have attracted bears and installed 162 food storage lockers during 2018.