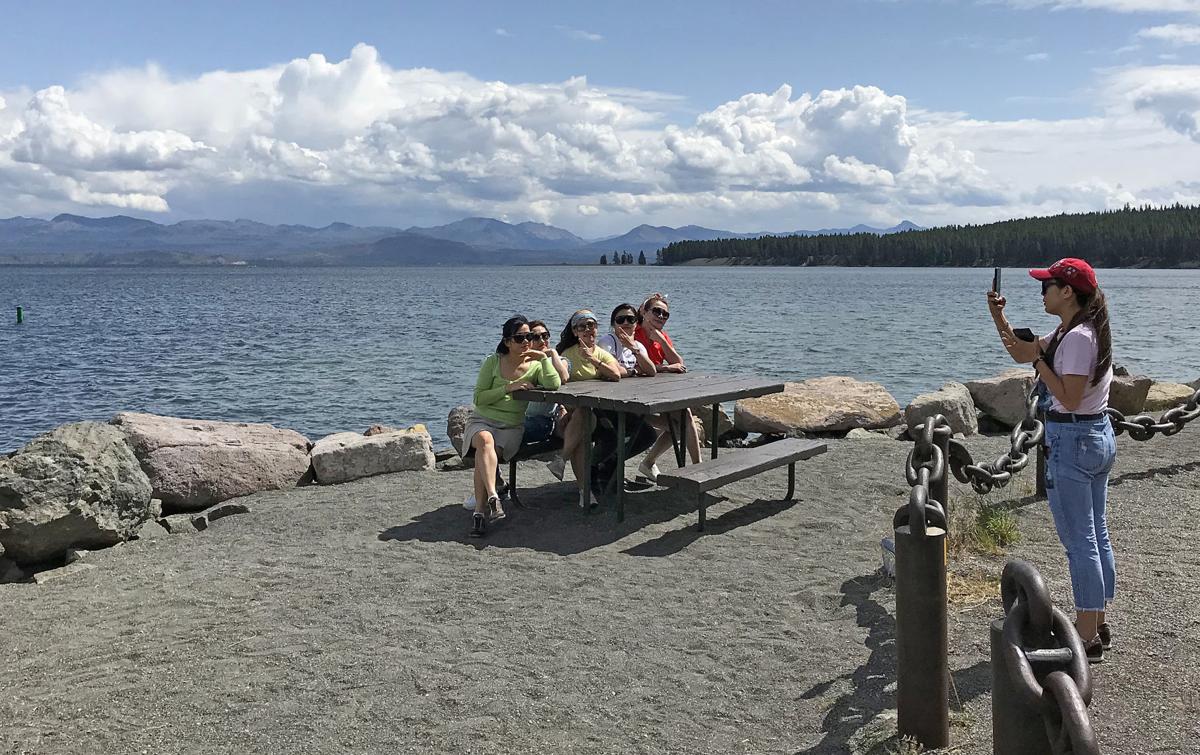 An environmental group's press release criticizing Yellowstone National Park's consideration of adding Wi-Fi to developed areas has drawn a strong rebuke from park officials and a counterpoint press release.
The park is considering whether to allow AccessParks to install equipment to supply high-speed internet to park visitors and employees. "Equipment needs for this project include five microwave antenna locations, 12 wireless backhaul antennas ranging between three and six feet in diameter, and up to 480 transceivers of 11 inch-diameter or less installed on receiving structures," according to a park press release.
Such technology is key to attracting and keeping employees and helping them conduct their lives in an increasingly computerized world, said Cam Sholly, park superintendent.
Dueling releases
On Nov. 27 the Public Employees for Environmental Responsibility, or PEER, issued a press release criticizing the AccessParks plan and Yellowstone.
"Park managers see Yellowstone's future as a telecommunications hub at the expense of its historic values," said Jeff Ruch, Pacific director of PEER.
Calling the release filled with inaccuracies and distorted, Sholly said, "If anything we're more cognizant than ever of not damaging resources in this park, scenic or otherwise."
The PEER release claimed that the proposal would: "Violate the park's existing Wireless Plan that promises no Wi-Fi in historic buildings or lodges, yet 400 of the impacted buildings are National Historic Landmarks, within historic districts, or are eligible for inclusion on the National Register of Historic Places."
"That's not true," said Brett DeYoung, supervisory telecommunications specialist for Yellowstone.
Wi-Fi is allowed anywhere cellular service is allowed, with the exception of the Old Faithful Inn and Lake Hotel, two places where Wi-Fi still won't be allowed under the current proposal.
Tobin Roop, chief of the Branch of Cultural Resources, said the park is talking with the Wyoming Preservation Office regarding the Wi-Fi proposal and the park is seeking comments regarding historic buildings and Wi-Fi. The planning documents also mention hiding antennas in attics and out of sight of visitors.
Other claims
Park officials also contradicted other PEER claims, including:
PEER: The plan would "Extend to areas where the Wireless Plan now bans coverage."
YELLOWSTONE RESPONSE: "Nothing in the applicant's proposal extends coverage to areas where the wireless plan bans coverage."
"Anyone who has driven through the park could attest to the fact that you don't get cell service through two-thirds of the park," DeYoung said.
Sholly noted that the road corridor in the park makes up about 1% of the entire acreage, and not even all of it is covered.
PEER: "Be finalized without environmental review, consultation required by the National Historic Preservation Act, or any further public review."
YELLOWSTONE RESPONSE: "Public comment, which the park is doing currently, is a major part of the environmental review and consultation process, required by the National Historic Preservation Act."
You have free articles remaining.
"That's what we're doing right now," DeYoung said.
In addition
The park press release also attempted to clarify the issue by adding these additional comments:
"This is a proposal by a service provider. The park is required to, and is, following the law in evaluating the proposal, including making the proposal available for public comment.
"For clarity, nothing in the application asks to install towers or antennas in backcountry areas, or areas outside of current developed areas.
If approved, two microwave antennas would be placed on the existing support structure on Mount Washburn.
"No new 'cell towers' or towers within scenic viewsheds are being considered under this proposal.
"While all structures were included in the proposal, only a limited number of those structures would actually receive the 7 to 10-inch antennas.
"The proposal was delayed from moving forward earlier this year until: 1) the NPS had confidence that it would provide connectivity for employees (concessioner and NPS); 2) impacts of any installation of equipment would not harm historic structures; 3) any infrastructure necessary to support the system would be minimally intrusive and not damage resource values, scenic or otherwise."
Sholly said in the release that "… as technology evolves, we will continue to upgrade and improve connectivity within the developed corridors of the park in ways that do not negatively impact resources in the park, scenic or otherwise. There are many reasons to do it: public safety, NPS and partner operations, employee recruitment and retention, and visitor experience."
Balancing act
The controversy raises the question of how national parks should or should not be developed to address a world of visitors increasingly tied to their cellphones and laptop computers. For example, Yellowstone has developed apps that help visitors learn more about the park, DeYoung pointed out.
"Yellowstone managers apparently believe that its vistas, geysers, and wildlife are no longer sufficient visitor draws without a high-speed broadband experience, as well," Ruch charged.
"I think we're constantly trying to find a balance," Roop said.
He noted that there's a committee that evaluates each wireless proposal to help ensure that balance is considered. He also pointed out that places like Old Faithful are fairly urban on peak summer days when thousands of visitors are pouring in.
Sholly also said so far Yellowstone has been done a good job of trying to hide technology like antennas.
"You don't see cell towers littering the mountain tops," he said.
"The park continues to be very wild," he added.
This summer Sholly trekked into the park's remote Thorofare Valley and saw few other travelers. Much of the region looked the same as when he visited it 30 years ago, he added.
"That's the beauty of this place."