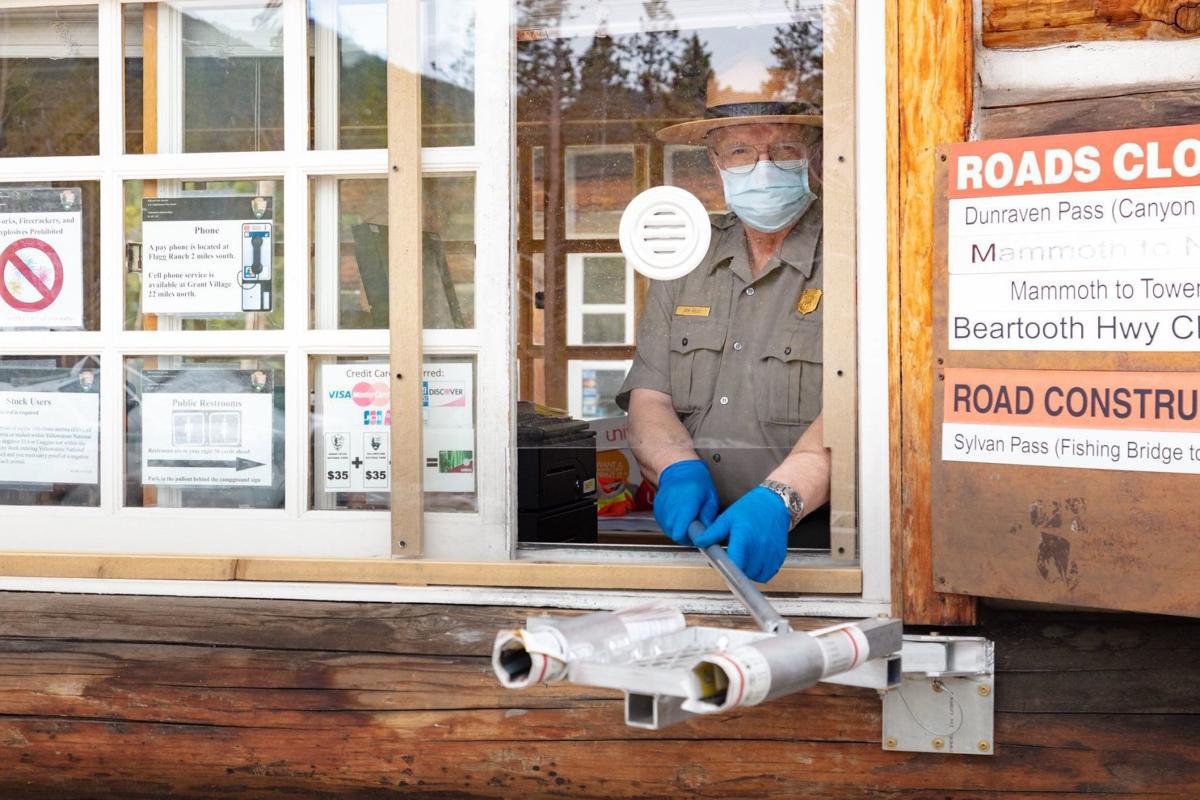 With no fanfare or even much public notice, Yellowstone National Park has opened its North Entrance at Gardiner to motorists traveling to Silver Gate, Cooke City or beyond.
Rumor of the opening began circulating Thursday morning. By late afternoon the Gardiner Chamber of Commerce had a notice from the park about the opening.
The order states in part: "For the purposes of recreating in Cooke City or Silver Gate, MT, you are allowed to proceed through the closure along the park road between the North Entrance and the Northeast Entrance.
"While traveling through the closure:
Do not stop in the park, through traffic only.
Do not recreate in the park.
Follow posted speed limits (never more than 45 mph).
"Failure to adhere to these restrictions may result in a citation being issued."
The Park Service and Montana Gov. Steve Bullock had been criticized by some Cooke City and Silver Gate business owners who felt they were being unfairly isolated from tourists by the road closure. On Monday, Yellowstone opened its South and East entrances in Wyoming to tourists but not the three Montana gates.
Bullock stated earlier this week that his staff was working with the park to open the Montana gates by June 1, the same date that the state would lift its 14-day quarantine for out-of-state travelers.
Before Bullock, his staff and county health officials feel comfortable opening Montana's park gates, the governor "has requested the park consider additional mitigation measures in the park for managing large groups, contingency plans for managing sick employees and visitors, and plans to build capacity for surveillance testing and COVID-19 response needs in gateway communities and among park staff," according to information provided to the Billings Gazette by the governor's office. "In the end the decision to open the gates will be made jointly, recognizing that the park also has to be confident it can handle increased visitors with limited staffing based on their experiences with a limited reopening this week."
A so-called soft or limited opening was ruled out, the governor's office said, because "the park lacks the ability to equitably meter travel into and out of the gates among visitors. Just as local businesses need time to ramp up staffing, food distribution and other services, business and community officials will also require time to update operating plans, ensure sanitation protocols and resources are in place, and support public information needs to comply with state and local directives. The current reopening timelines afford local public health and businesses with time to adequately prepare, even as they take on increased visitation independently over the Memorial Day weekend."
The governor will make a formal request to open the park's North and West gates early next week, his office stated.
Park Superintendent Cam Sholly said in a Thursday press release, "The decision to reopen Yellowstone is not and has not been a unilateral decision. These decisions are being made in close concert with our state and local partners, including health officials, and with support from the Department of the Interior and the National Park Service. We have implemented a reopening plan that is limited in nature. It gives us time to observe and make adjustments, expand operations if conditions are favorable, and contract them if they are not. We welcome realistic feedback on how we can continue improving our reopening strategy while working together to maintain the safety for our employees and visitors. Keeping Yellowstone closed is not a viable strategy."
Visitation through the first three days of the park's operations was 90% of normal through the East Entrance (near Cody, Wyoming) and approximately 60% of normal through the South Entrance (near Jackson, Wyoming), according to a Park Service press release. Vehicle counts per day are broken down below. The park expects traffic and visitation levels to grow over the Memorial Day Weekend.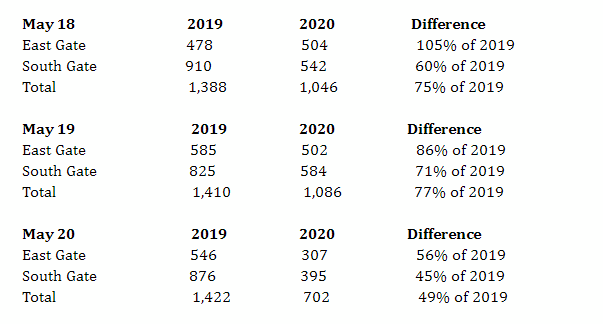 "Last year, with all five entrances open on these same dates, there were 5,022 cars in the park on May 18, 4,880 cars in the park on May 19, and 4,723 cars on May 20," according to the Park Service. "It is estimated over the past three days, there is less than 20% of the normal traffic volume in the park compared to when all five entrances are open at this time of year."
Not opening the Montana entrances has angered business owners in gateway towns and some of their allies. The Montana Free Press reported that last Friday a Bozeman man passed through the North Entrance on his way to Cooke City and was pulled over by park and Park County law enforcement before being arrested.
Tyler Vance posted videos of his attempt to enter the park and his arrest.
Although the Park Service is opening the gate to the communities near the Northeast Entrance, the superintendent's order also noted that there is still a mandatory 14-day quarantine in effect for all out of state travelers to Montana. "It is your responsibility to follow this order," the document says.
---
Photos: Yellowstone reopens after COVID-19 shutdown
Concerned about COVID-19?
Sign up now to get the most recent coronavirus headlines and other important local and national news sent to your email inbox daily.