KUALA LUMPUR, Malaysia (AP) — A Malaysian student whose cellphone was stolen while he was sleeping has tracked down the culprit: a monkey who took photo and video selfies with the device before abandoning it.
Zackrydz Rodzi, 20, said Wednesday that his phone was missing from his bedroom when he woke up Saturday. He found the phone's casing under his bed but there was no sign of robbery in his house in southern Johor state.
When his father saw a monkey the next day, he launched a search in the jungle behind his house. Using his brother's phone to call the device, he found it covered in mud under a palm tree. But a bigger surprise came when he checked his phone and found a series of monkey selfies and videos recorded in the phone.
"My uncle was joking that maybe the monkey took some selfies with the phone. ... So when I checked my phone picture gallery, I was shocked. The suspect's face was plastered on the screen. It was hilarious," Zackrydz said.
He said he was curious why the monkey took the phone and not the camera or other things in his room. He said the primate must have thought it was food as it has a colorful casing.
Most of the images were blurry, but some showed the monkey's face. One of the videos taken from atop a tree showed glimpses of the monkey opening his mouth and appearing to try to eat the phone.
"My house is now in a total lockdown," Zackrydz said, laughing, adding that he didn't want a repeat of the incident.
Other news of the weird
Grave mistake: 'Casket' seen in river turns out to be dock
ANNAPOLIS, Md. (AP) — Police in Maryland investigating reports of a casket photographed bobbing up and down in a river discovered the object was something far less macabre.
A post to a local radio station's Facebook page Tuesday showed a rectangular object with flat sides and a curved top floating in the South River, a tributary of the Chesapeake Bay near Annapolis.
The concrete slab, resembling a coffin, sparked complaints of a possible hazard in the water, The Capital Gazette reported.
Department of Natural Resources police were dispatched to the river, where a hydrographic operations team helped pull what turned out to be a floating dock from the water, according to the agency.
The shocking moment a passenger took a walk on an airplane wing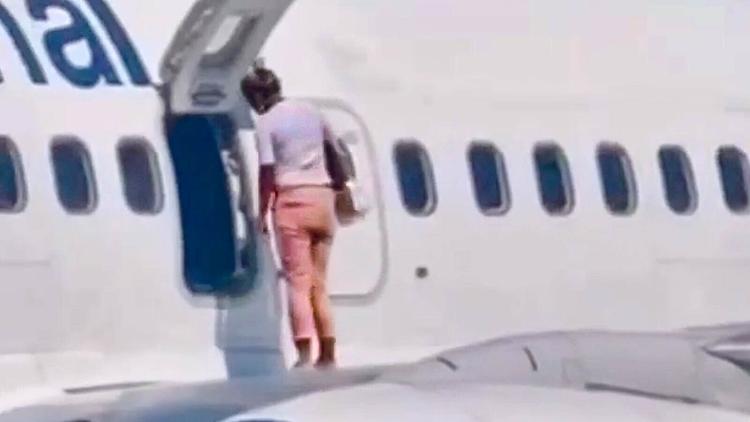 We've all experienced the frustration of being stuck on an airplane, so close to the end of the journey, yet forced to wait while some technical problem is sorted out.
But while common sense stops most people from opening the doors ourselves, one passenger in Ukraine apparently decided the best course of action was to pop open the emergency exit and take a stroll on the aircraft's wing.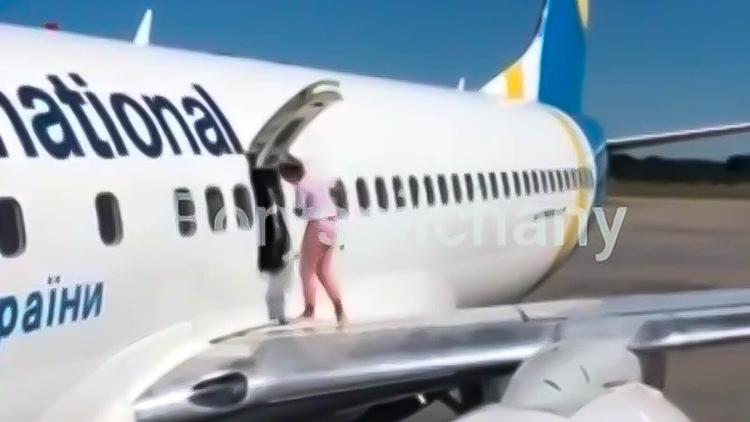 Cooling off
A minute-long video has emerged of the woman, dressed in a white top and light pink trousers, hanging out on the wing in front of stunned onlookers at Boryspil International Airport in Kiev, before being summoned back on board by the airplane's crew.
The unidentified passenger, who was traveling on a Ukraine International Airlines flight from Antalya, Turkey to the Ukranian capital with her husband and children, was reportedly overheard saying she was "too hot" and needed to cool down.
Her unauthorized walk on the wing of the Boeing 737 has seen her banned from all future UIA flights.
According to a statement from the airline, airport security and police attended the scene, along with doctors, who determined the woman "was not under the influence of alcohol and/or drugs."
The Ukraine airline went on to criticize the passenger for setting an inadequate "parental example," stressing that she may be subject to "an exceptionally high financial penalty in the form of a fine."
A spokesperson for Boryspil International Airport declined to comment on the incident, which took place on August 31.
2 pythons weighing 100 pounds collapse ceiling in Australia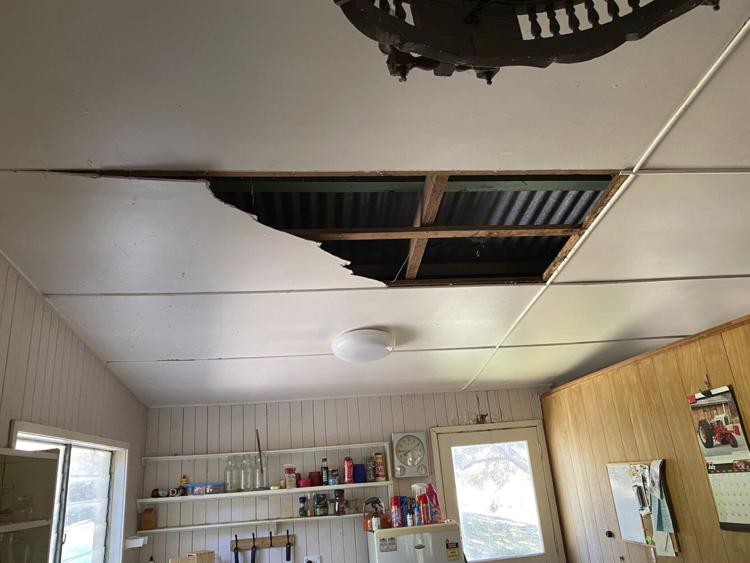 An Australian returned home and was surprised to discover that his kitchen ceiling had collapsed under the weight of two large pythons apparently fighting over a mate.
David Tait entered his home in Laceys Creek in Queensland state on Monday and found a large chunk of his ceiling lying on his kitchen table.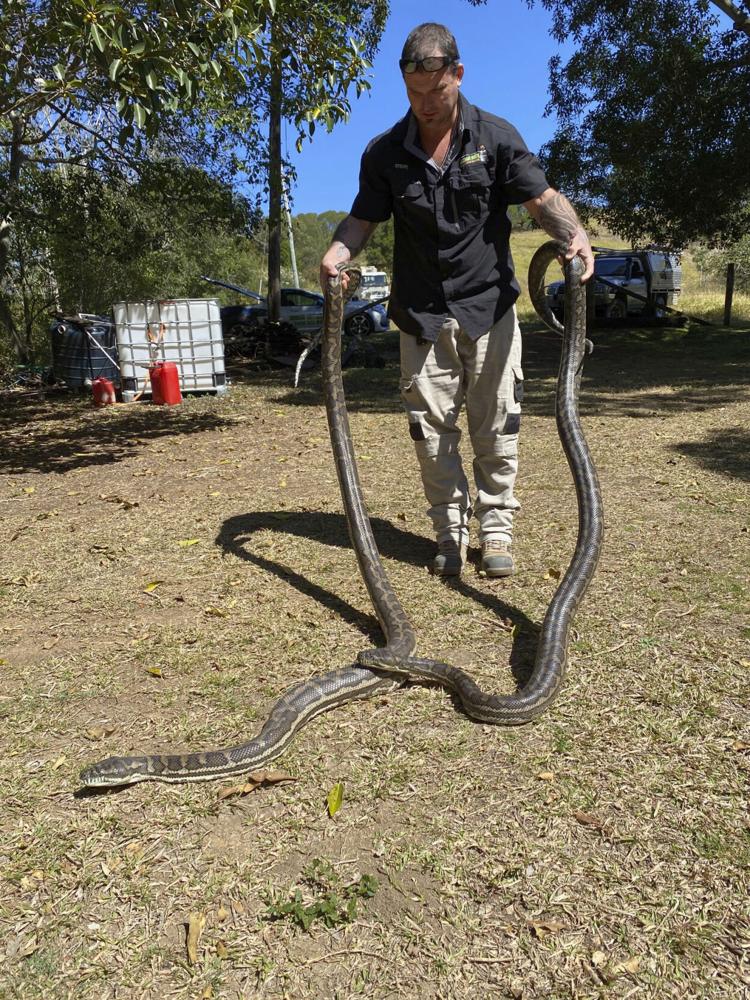 "I knew we hadn't had rain, so I looked around to find what had caused it," Tait told Nine Network television on Tuesday.
He soon found two culprits -- non-venomous carpet pythons 2.8 meters (9 foot, 2 inches) and 2.5 meters (8 foot, 2 inches) long -- that had slithered into a a bedroom and living room. The snakes have an estimated combined weight of 45 kilograms (100 pounds).
Snake catcher Steven Brown was called to remove the two snakes.
"I would assume that it was two males fighting over a female that was nearby in the roof," Brown said. He suspected the female could still be in the ceiling or nearby.
The males were returned to the wild.
'Meals on Heels' mixes drag, food during virus
Berlin zoo's twin panda cubs celebrate 1st birthday
BERLIN (AP) — The Berlin zoo's popular twin panda cubs have celebrated their first birthday with a special frozen cake and a portion of snow from the penguin house.
Pit and Paule — Chinese names Meng Xiang und Meng Yuan — were the first pandas to be born in Germany and have become a star attraction at the capital's zoo since they made their public debut in January. They are on loan from China, as are their parents.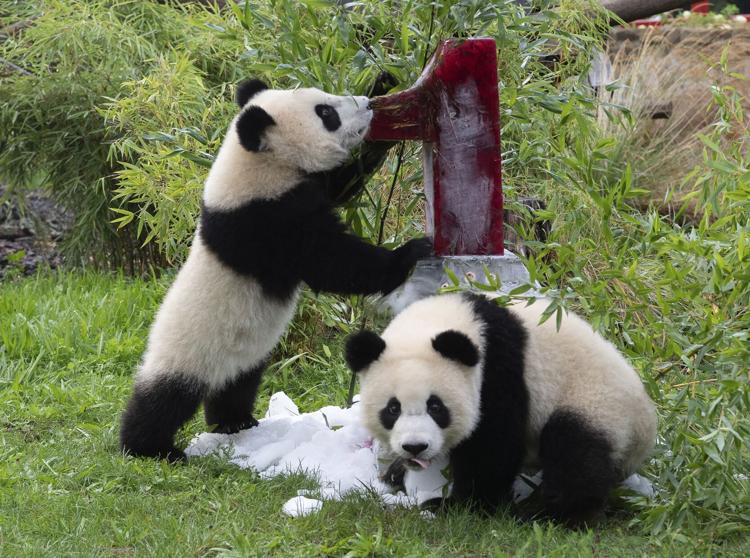 The cubs, who weighed less than 200 grams (7 ounces) at birth, now each weigh in at about 28 kilos (62 pounds).
Zookeepers on Monday brought the duo a frozen cake in the shape of the figure 1, made out of beetroot juice, apples, sweet potatoes and bamboo. The creation was garnished with a portion of snow.
Wheel-y mysterious: Hamster DNA find baffles German police
BERLIN (AP) — German police said Wednesday they are losing hope of finding out who left on a train a box of vials with hamster DNA, which caused alarm in the southwestern town of Heidelberg last week.
Federal police sent a bomb squad to investigate after a train driver found the styrofoam box with three vials of liquid on a local train Friday. Forensic specialists later determined that the liquid contained genetic material from rodents.
Officers had hoped to crack the case by publicizing the unusual find, but despite intense media interest the owner has remained elusive so far, said Jan Doering, a federal police spokesman.
Doering said police had already disposed of the vials as the cold chain had been broken.
Heidelberg is home to several research centers, including the European Molecular Biology Laboratory.
770-pound crocodile caught at Outback tourist destination
DARWIN, Australia (AP) — Wildlife rangers have trapped a 4.4-meter (14.5-foot) saltwater crocodile at a tourist destination in Australia's Northern Territory, the biggest caught in the area in years, a wildlife ranger said Monday.
The 350-kilogram (770-pound) male was caught in the Flora River at a remote nature park 120 kilometers (75 miles) southwest of the Outback town of Katherine, said Katherine senior wildlife ranger John Burke.
A larger 4.7-meter (15.5-foot) croc was trapped three years ago in the same wildlife management zone, but that one was caught in the Katherine River, which is closer to the sea, Burke said. He said he did not know of a larger croc caught in the Flora River.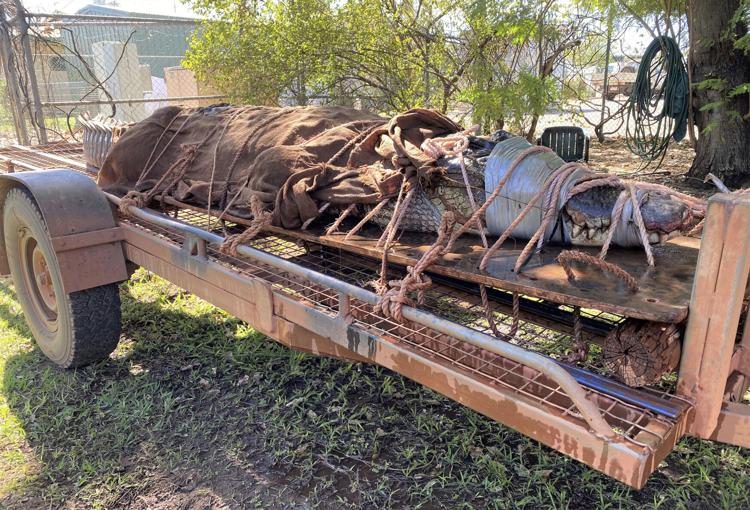 Crocodile numbers have been increasing across Australia's tropical north since federal law made them a protected species in the early 1970s.
"They certainly are increasing (in number), and that's part of the reason we have the management zones — to reduce the numbers in high-visitation areas so there's less chance of interaction between salties and people," Burke said, referring to saltwater crocs.
The captured croc had been taken to a crocodile farm to become part of a breeding program. Farmed crocodiles can be killed for their meat and leather.
The crocs are trapped in large cages baited with wild pig and other meats and submerged in waterways.
Be the first to know
Get local news delivered to your inbox!