(Family Features) While there are many ways to maintain a healthy lifestyle, pet ownership offers a plethora of mental and physical health ben…
(Family Features) People living with Graves' disease have a lot to focus on. The disease, an autoimmune disorder that causes an overproduction…
(Family Features) One of the perks of working from home is more time with your pets. While it can be exciting to have your furry friends by yo…
How to navigate a crisis and come out stronger
(Family Features) Although many young people care deeply about global issues like food and the environment, they don't necessarily see these m…
(Family Features) Summer is officially here and while it may be the perfect time for family trips and outdoor activities, it's also a great ti…
(Family Features) As stay-at-home orders ease, many families are eager to get out of the house and hit the road for a summer trip. However, va…
Get back to basics with warm weather skin care tips
(Family Features) If the words "happy little trees" and "almighty mountains" slow your pulse and bring a sense of calm, you're probably alread…
(Family Features) Across the country, people are fostering and adopting furry friends more, with the number of animals in foster homes 43% hig…
(Family Features) Consistent website traffic is an essential building block for a successful online business. While paid ads and search engine…
5 impactful books for building your small business
(Family Features) An amazing product, a phenomenal business model and a great team may put you on the right path, but ultimately, they mean li…
Tips for keeping older adults connected
(Family Features) Rapid growth and long-term success are the dreams virtually every entrepreneur pursues. The fire pushes you to ascend to the…
(Family Features) With many tools and resources available, it is easy for entrepreneurs to build successful businesses. The United States has …
(Family Features) Rapid growth and long-term success are the dreams virtually every entrepreneur pursues. The fire pushes you to ascend to the…
(Family Features) With many tools and resources available, it is easy for entrepreneurs to build successful businesses. The United States has …
(Family Features) Battery-powered power tools make it convenient and efficient to tackle chores around the house and job site. While batteries…
(BPT) - Scientists across the world are charging forward in the fight to prevent and treat COVID-19. And they're harnessing the latest tech an…
(BPT) - When he was younger, Eli knew he wanted to become a police officer and fight crime in his community. Today, he gets to do just that as…
(StatePoint) Having food allergies in one's household is not only stressful, it can cost substantial time and money.
(BPT) - Summer is here, which means fun outdoor activities for kids will fill the long, sunny days. While the season is typically marked by fa…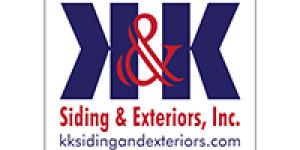 K & K Siding and Exterior Inc.
(BPT) - American farm life is often portrayed with images of a happy family, healthy animals, sunshine and green fields. Working in agricultur…
(BPT) - For many people today, anticoagulants or blood thinners are a normal part of everyday life. In fact, it's estimated that more than eig…
(BPT) - If you've ever experienced that almost Zen sense of calm just after a workout, you understand the positive effects exercise can have o…
(BPT) - Since the World Health Organization (WHO) declared the rapidly spreading coronavirus outbreak a pandemic on March 11, 2020, the Center…
(BPT) - With nearly 50 million outpatient surgeries performed in the U.S. each year and the increasingly complex nature of the procedures, pat…
(NAPSI)—According to the United States Department of Agriculture, in the U.S., more than 12 million children receive free or reduced-price bre…
(BPT) - A common misconception is that all bacteria are bad; however, there are thousands of different strains of bacteria, both good and bad,…