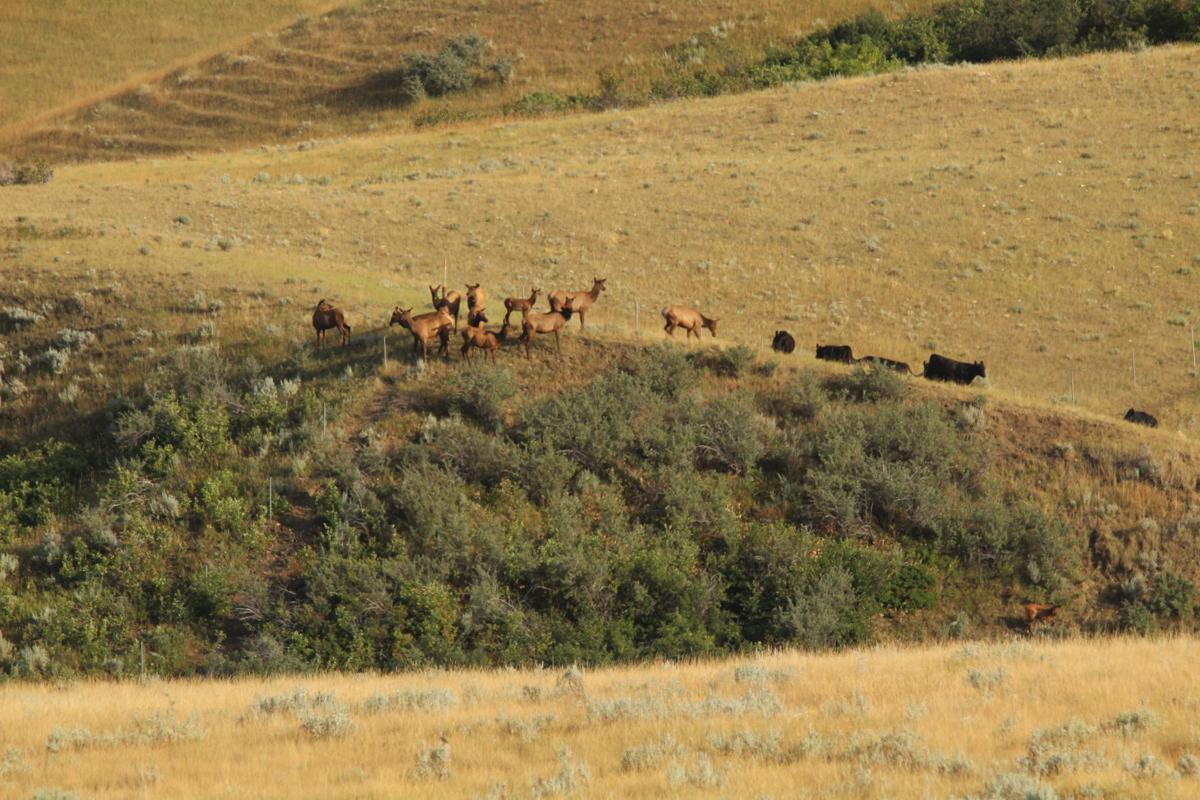 'Can we stop the process?" a voice rang out in a room in the Tongue River Community Center as Cyrus Western, a Wyoming state representative in Sheridan County, was bombarded with questions from concerned residents about a "land swap" proposed by Columbus Peak Ranch. The exchange involves 560 acres of state trust land that serves as range for a large elk herd, mule deer and other wildlife near the face of the Big Horns to be received by Columbus Peak Ranch in exchange for 628 acres of rangeland 2.5 miles east of Dayton and $410,950.
Mr. Western, who was kind enough to host this meeting, was questioned earnestly but respectfully by approximately 28 in attendance. Those present included representatives of several advocacy groups, Game and Fish, and a range detective from Sunlight Ranch.
Mr. Western emphasized that he feels there needs to be more transparency and better criteria provided for the public noting that the process takes two years and that the public has only two months to respond. He asserted that the public should be alerted immediately when a land exchange is proposed.
State Trust Lands, at one time federal lands, are today regulated by the Office of State Lands and Investments (OSLI). The No. 1 objective of the OSLI is to increase revenues for Wyoming's public schools. The No. 3 objective has to do with community needs such as public access and recreation.
When a land swap is proposed, the OSLI works with WGFD and the landowner to develop a "detailed analysis" for eventual public review. There have been 80 successful land exchanges by the OSLI since 2006; 29,331 acres of public access opened to the public; and $83.5 million deposited in the Common School Permanent Trust Fund. So, what's the problem? The problem is both the process and that some "land swaps" may not be as good for the public as others.
In the Columbus Peak Ranch Land Swap, the detailed analysis is confusing and has at least one major factual error. On page five, it states that the state trust parcel is four miles east of Dayton, when it is actually four miles west. This is very confusing because four miles east of Dayton would make the state trust land appear to be dry rangeland similar to the private parcel on Dayton East Road instead of wild and pristine habitat near the face of the Big Horns being acquired by Columbus Peak Ranch. How can the public understand a land swap when one parcel's given location is off by eight miles?
The analysis also says there is "no "crucial habitat" on the state trust land. One WGFD official admitted that there probably needs to be a more current study on that. It appears that the Western Governor's Wildlife Council created the definition of "crucial habitat" as a "place likely to provide the natural resources important to aquatic and terrestrial wildlife, including species of concern, as well as hunting and fishing species."
Who would not consider these rich meadows crossed by mountain tributaries feeding reservoirs at the base of the foothills to the Big Horns "crucial habitat?" The permanent elk herd is only part of the terrestrial life that migrates through this state trust land. Some local residents have reported numerous black bear and some mountain lion sightings. One day I counted over 160 mule deer, and I have seen sharp tail grouse, Hungarian partridge, sand cranes, geese, ducks, coyotes and ruffed grouse in the larger state parcel. When I asked WGFD about a fish (aquatic) sampling from the large reservoir mostly on state trust land, they said, in effect, no, but that they do consider the reservoir a bass fishery. Others have reported that they have caught trout there in the past. Obviously, a "crucial habitat" exists on this state trust land, as evidenced by the profuse wildlife that thrives thereon.
On page 10 of the detailed analysis, the WGFD recommends OSLI work with WGFD to enroll the Dayton East Road parcel in the "Access Yes Program" so it may be managed for hunting and recreation. In a conversation with Jason Crowder, deputy director of the Wyoming Office of State Lands and Investments, I asked how the OSLI will significantly increase revenues since the interest on the $410,950 payment works out to only about $1.00/day per school district. He indicated that because power and natural gas are available along Dayton East Road, OSLI will eventually sell this property as real estate.
As a result, the public will not only lose 560 acres of pristine public land along the Big Horns but also use of the Dayton East property, unless they buy a house there. As one resident asked Cyrus Western, "Who wants to live near a rifle range?"
Yes, the state has the power to sell state trust lands, but is this the best we can do? Wyoming has always been negatively affected by downturns in the mineral industry, but we have always recovered. Let's be innovative and move forward, not reactionary with Land Swaps that "dispose" of some of our most wild and scenic public lands. This is a poor solution, and a permanent loss for the public.
One bright prospect for the state was announced this week by the U.S. Travel Association, which projects that around 72% of Americans are planning summer trips in 2021 as compared to only 37% in 2020. We are a favorite destination for many Americans, some of whom have lifetime dreams of visiting our state. Tourism is our No. 2 industry, and according to the Wyoming Office of Tourism, it created $161 million in taxes alone in 2020. Using the travel projections above, the amount of revenues from tourism this year may create $313 million, an increase of $152 million in additional taxes to the State. Those taxes paid by tourists in just one year are over $68 million more than has been raised through land swaps and sales for the Common School Permanent Trust Fund since the program started in 2006.
Let's not panic and sell off our natural treasures. Let's reject this particular land swap, move forward, and, along the way, revise the land exchange process so that this does not happen again.
Rick Clark is a craftsman, musician, student, and former teacher with degrees from the College of William and Mary and the University of Wyoming. He lives west of Dayton, has the grown children and, coincidentally, a family member who was involved with Wyoming natural resources in the early years.