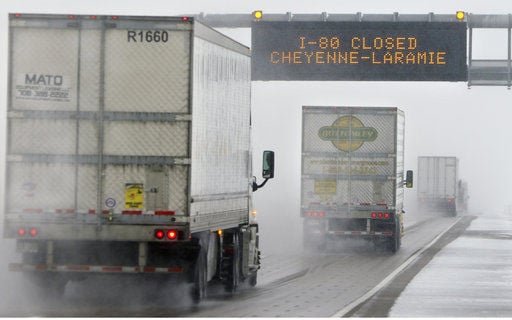 Washington lobbyists and Democrats in the House of Representatives are teaming up to make drivers in Wyoming pay significantly more at the pump. I won't let that happen.
Everyone in Wyoming depends on safe roads and bridges. The average Wyoming driver logs over 22,000 miles per year behind the wheel, more than any other state. 
At the same time, our roads are in need of serious attention. Across the country, nearly 200,000 miles of major highways require repairs and more than 47,000 bridges are deemed "structurally deficient."
Our aging highway system is hurting America's truckers as well. According to the American Transportation Research Institute, congestion cost the trucking industry $74.5 billion in 2019 alone. It's critical we invest in our roads and make sure they are safe and support our economy for years to come.
That's why I developed "America's Transportation Infrastructure Act," bipartisan legislation that will make an historic investment in our highway infrastructure, while removing the regulatory roadblocks to getting construction projects done cheaper, faster and smarter.
The legislation was the result of working with important stakeholders and public hearings that included input from the current and former directors of the Wyoming Department of Transportation, Bill Panos and Luke Reiner. Both testified the policies in my bill were a big win for the people of Wyoming.
During his State of the Union address, President Trump called on Congress to pass my legislation "to invest in new roads, bridges and tunnels all across our land." But this important legislation should be paid for and not add to the runaway federal debt.
The U.S. Highway Trust Fund – the bank account for America's highway infrastructure – will run out of money in the next year. Paying for our roads and bridges must be a priority.
The American Trucking Association and Democrats in the House think those funds should come from the pockets of Wyoming drivers. They're advocating to more than double the federal gas taxes to get the infrastructure investments they want.
Wyoming drivers already pay significantly more in gas taxes than other Americans do. Right now, the average Wyoming driver pays over $200 in federal gas and diesel taxes every year. Spiking the national gas tax even higher will result in Wyoming drivers paying hundreds more. That would hurt Wyoming families and the Wyoming economy, and I strongly oppose it.
The American trucking industry is vital to our economy. It creates good-paying jobs and ships American-made products from one coast to the other. The largest trucks also put significantly more wear and tear on our roads and bridges than a local teacher or family.
In fact, according to a Wyoming Department of Transportation study, one 40-ton truck causes as much stress to a highway as 4,000 cars.
While vocally opposing a modest vehicle miles traveled fee on the very largest trucks, the American Trucking Association has championed a hike in the federal gas taxes on individual drivers to cover the bulk of the cost of road maintenance.
There is no silver bullet to pay for America's roads. Congress should look at different options to ensure drivers who use the roads the most are fairly contributing to road maintenance.
For example, right now, drivers of electric vehicles contribute nothing to the Highway Trust Fund because they do not buy gas or pay a fuel fee. I have offered legislation to create a fair fee for electric vehicle drivers that is comparable to the current gas tax. There is bipartisan agreement these drivers have an equal responsibility to help fix our roads.
The American Trucking Association should listen to Wyoming drivers and drop their plan to massively increase the federal gas tax. The organization that represents the heaviest vehicles, with the greatest impact on our roads, should play a constructive role in the discussion on how to pay for the highway infrastructure our country needs.
John Barrasso of Casper, a Republican senator from Wyoming, is chairman of the Senate Committee on Environment and Public Works.
Catch the latest in Opinion
Get opinion pieces, letters and editorials sent directly to your inbox weekly!