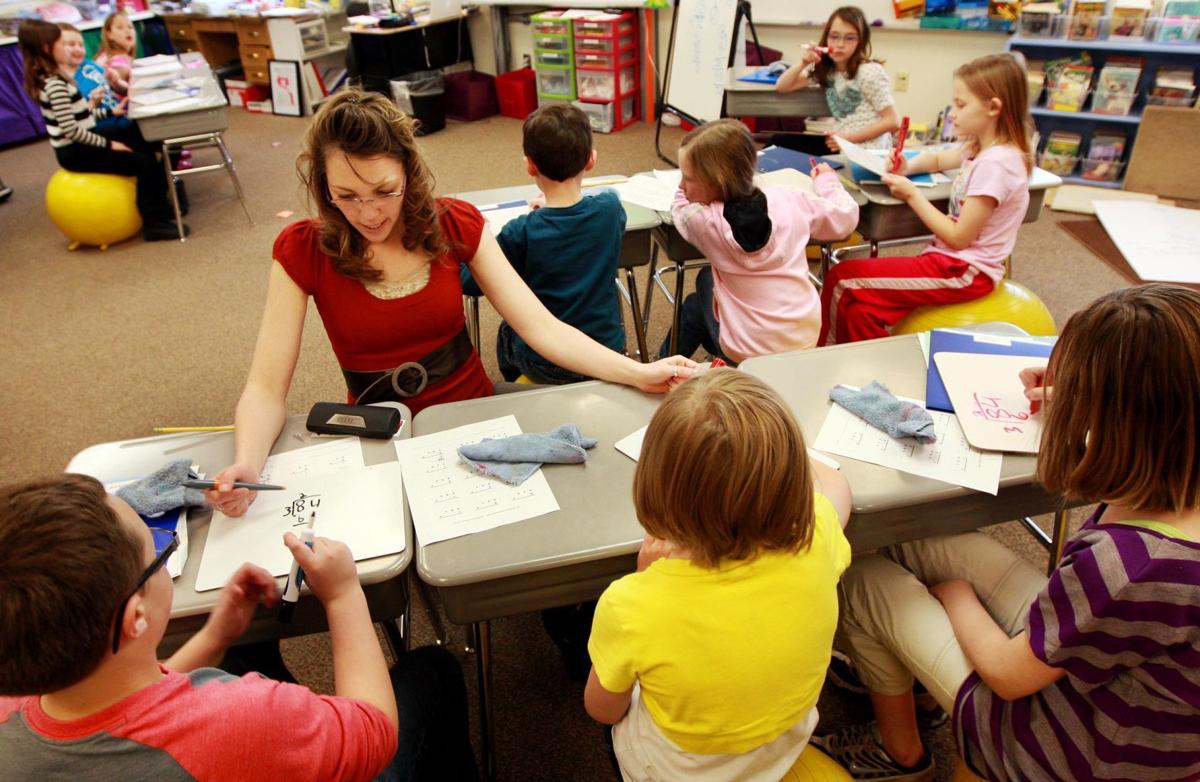 Gaylord Nelson, the late senator from Wisconsin, was responsible for the first Earth Day in 1970. He said this about environmental education: "How important is environmental education? How long can a person live without doing a math problem or spelling a complex word? How long can a person live without air to breathe or water to drink?" Environmental education is much more than giving students an appreciation and understanding about good air and water. Solutions to our environmental dilemmas rest in environmental education and behaviors that manifest our environmental understanding. In Wyoming, natural resources education/environmental education has never been primary to the curriculum, though the great Wyoming outdoors is just beyond the doors of most schools. In the past decade this education has been pushed to the back burner with more focus on technology education.
For Wyoming the focus is the PAWS (Proficiency Assessment for Wyoming Students) test. Students weren't tested in science until 2007 and environmental education is rooted in science. Paul Erlich, the celebrated ecologist at Stanford, said in a Ft. Collins speech that he had just met the first PhD student, who's major was computer science, who didn't know the source of butter. Most "moderns" have become so separated from the land that Erlich's observation is understandable.
There is an addiction that has replaced reality, "Sixty Minutes" reporter Anderson Cooper relates. It especially affects teens. For many, a real anxiety develops when they are away from their mobile phones. At California State University Dominguez Hills, Psychologist Larry Rosen says technology wreaks havoc on anxiety levels. Time away from the phone causes anxiety levels to rise, similarly to addiction to drugs. When the phone rings, it relieves the anxiety. The phone prevents the child from being "present" in his life. Our lives in the past were close to nature, or at least to the nature of rural life.
The United States began as a largely rural nation, with most people living on farms or in small towns. In 1850 only 15.4 percent of people lived in cities. By 2010 the urban population was 81 percent of the total.
The change from living directly off of the land to living from the grocery store was made real for a group of junior high students that were members of the Science Club when I taught at the Lab School at the University of Wyoming. Membership in the club my first year was less than 30 and grew to more than 70. Each spring we took what we called the "Big Trip." It was 9-10 days of camping out and visiting the western states' national parks and monuments and natural places along the way. At Zion National Park we met a ranger around a campfire who told us about the Anasazi people who inhabited Zion hundreds of years ago. He held up a long green stem-like leaf of a Great Basin Yucca plant. "They wove strips of these green stringy leaves into sandals," he said. "They made strips of them to tie poles together that framed their clay brick homes. They ate the fruit. The root was their soap," — he demonstrated how it would make lather with water (Anglo pioneers called it soap weed) — and they made baskets with the stringy leafs." The ranger laughed as he said, "Other that, they had no use for it." The yucca will no longer be "just a desert plant" to those students.
We still live off of the land, but not directly, as did the Anasazi. Our lives are made rich by knowing that all of our energy and our actions are tied to the sun through plants and animals we eat. To go into the natural world and discover how organisms are tied to the sun and tied to each other in ecosystems should be in the curriculum. How we depend upon stable ecosystems and upon each other enriches our lives and we appreciate the fact that we too are creatures of nature.
Richard Louv's book, Last Child in the Woods, copy written in 2005, explains that PhD's "butter deficiency" problem. This is how The Christian Science Monitor sums up its content, "As Louv so eloquently and urgently shows, our mothers were right when they told us, day after day, 'Go outside and play.'" Louv writes, "Our children are the first generation to be raised without meaningful contact with the natural world."
It will be up to parents, those who govern our schools, and ultimately to those we elect to govern us, whether our children understand, appreciate and protect their natural inheritance. Rachel Carson saw the advancing diminishment of this inheritance when she said, "The more clearly we can focus our attention on the wonders and realities of the universe about us, the less taste we shall have for its destruction."
Star-Tribune contributing columnist Duane Keown is a professor emeritus in science education at the University of Wyoming.