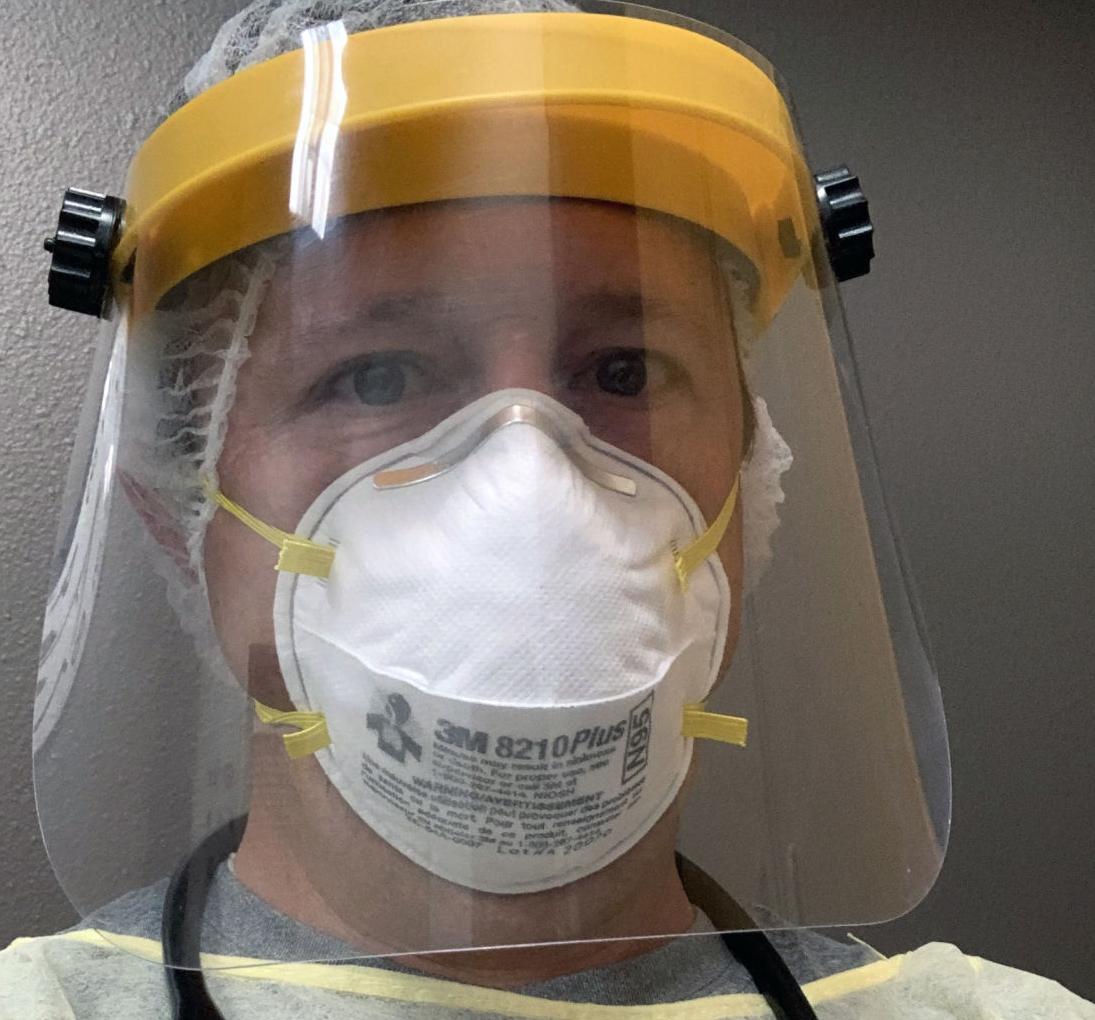 It is 5:30AM and time to get up and head into another day on a COVID unit.
Before arriving at the hospital, I'm exceptionally anxious. How many new patients were admitted overnight? Are any patients stable for discharge or will more get sicker and possibly die? How are the nurses, CNAs and custodial crew doing? What will another exhausting day bring?
The unpredictability is draining.
I arrive at the hospital, review charts then put on my PPE — a gown, two sets of gloves, a tight N95 mask, and a face shield. I'll spend several hours going room-to-room with an outstanding group of nurses.
I will look into the eyes of exhausted, scared patients and tell them that we are doing our best to get them better. Unfortunately, I will have to tell the sickest that we may not be able to save them. It's gutting. These are people just like you, caught up in the horrors of this pandemic that has landed right at our front door.
The human suffering is heartbreaking; no, it is soul crushing.
Take Nancy for example. She and her husband Jim have been married for 46 years. They are avid travelers and had plans to visit Alaska this fall. COVID had other plans. Now Nancy is fighting for her life here in Casper while her husband is battling the virus in Rapid City. There wasn't enough room for both of them in South Dakota, so she was transferred here. They haven't spoken in weeks. I watched tears fall down her face longing to hold her husband's hand one more time.
Then there is Frank in the room next door. He can't breathe without a non-invasive ventilator squeezed tight against his face 24 hours per day. He has four daughters who call multiple times per day to check on his condition. I had to tell them that there is a real possibility their dad might not make it. There was just silence on the other end of the phone soon followed by audible sobbing.
I am a hospitalist physician at WMC. Yes, one of the "frontline" healthcare providers, but I am also a Casper native who returned home several years ago to serve our community.
What happened to the place I grew up in where we used to feel the pain of our neighbor and make personal sacrifices for the greater good? The virus is very real and it is killing some local people. It makes no sense to me that some of us won't work together to try and stop it.
It doesn't have to be like this. Each of us can do something. Right now healthcare workers don't need thanks and gratitude. We need everyone to pitch in and do their part.
There are no miracle cures for COVID, but low tech interventions work! Wear a mask. Avoid gathering in groups. Get take-out rather than dining in. Don't travel unless it's absolutely necessary.
We all know what to do, so let's do it.
I'm begging you all for help.
Editor's note: patient names have been changed to protect confidentiality
Tim Olson, MD, works as a hospitalist physician on the front line in the COVID unit at the Wyoming Medical Center.
Catch the latest in Opinion
Get opinion pieces, letters and editorials sent directly to your inbox weekly!