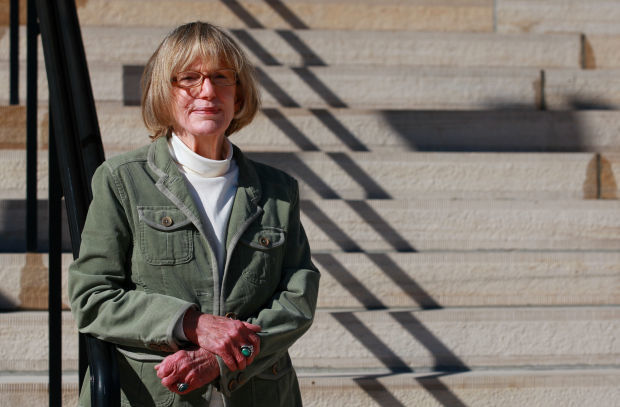 For nearly a half century, Joan Barron was arguably the most constant presence in Wyoming government.
She outlasted the politicians she questioned, the bureaucrats she covered, the governors she quizzed at press conferences. She began her career in 1966, when people waited to get their news from the morning paper and the evening broadcast. When she retired in 2014, the news industry had transformed into one of constant digital updates, of stories delivered to cell phones and laptops.
Along the way, she earned a reputation for her curiosity, her doggedness and her professionalism. Governors would wait for her to arrive before starting press briefings. She was truly the dean of Wyoming journalism.
On Friday night, her contributions to journalism were recognized with her induction into the Wyoming Press Association Hall of Fame. She became the first person to spend her entire career as a reporter to receive that honor – until now, the hall had been the domain of publishers, editors and executives. We can't think of a more deserving person.
To support Joan's nomination, many of her former colleagues wrote letters of support. Their comments demonstrate just how valuable Joan's reporting was to the state of Wyoming, and how much she was liked and respected by her peers.
Anne MacKinnon, former Star-Tribune editor: How has she done such good reporting for so long? People trust her – trust her to understand what they're saying, convey it accurately and keep confidential what they say to her in confidence.
Dave Simpson, another former Star-Tribune editor: Joan was the best reporter I ever worked with in well over four decades in the newspaper business. She was accurate, prolific and a wonderful writer.
Erich Kirshner, a reporter who worked alongside her: She brought such integrity and commitment to her job each day. She understood how important she was to Wyoming's democracy. From an explicitly neutral place, she explained what the government was doing and what government officials were saying to explain their actions.
As the Star-Tribune edit board, we want to congratulate Joan on her outstanding reporting career and induction into the hall. We cannot think of a more worthy journalist to be so honored.
We also want to thank those who played an instrumental role in Joan becoming a member of the Hall of Fame: longtime Wyoming publisher Pat Schmidt, former Star-Tribune publisher Rob Hurless, former Star-Tribune editor Dan Neal and all of the journalists and others who wrote letters of support.
Six years after retiring, Joan continues to write a weekly column for the Star-Tribune. That work demonstrates not only her commitment to Wyoming journalism, but also that her insights into state government have not diminished with time. She represents the finest values of journalism: integrity, fairness and tenacity. We are all better for her decades of reporting in Wyoming.
Catch the latest in Opinion
Get opinion pieces, letters and editorials sent directly to your inbox weekly!