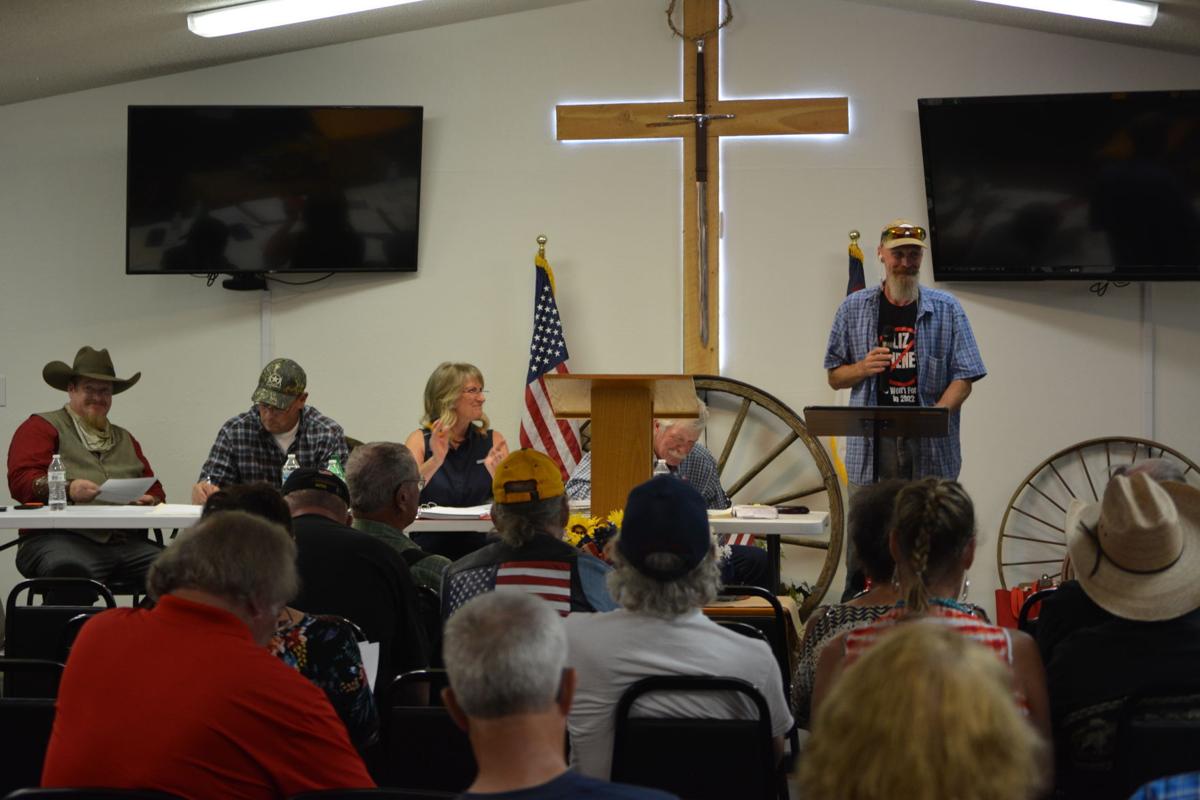 We shouldn't have to say that it's unacceptable to call someone a vulgar obscenity simply because you disagree on a political matter. Nor should we have to argue that it is unacceptable to suggest that a political opponent should kill themselves. Such behavior is so beyond the pale in a democratic society that we should reject it without a thought. And yet, it appears that in Wyoming's increasingly coarse political world, some people are willing to excuse or minimize egregious actions if the attacks are directed at political opponents.
Consider the relatively tepid response by many in Wyoming politics after a Park County GOP official wrote a vile email to state Sen. Tara Nethercott, R-Cheyenne. Last month, Park County Precinct Committeeman Troy Bray emailed Nethercott to express his displeasure with her opposition to a bill that would have prohibited the state from requiring COVID-19 vaccines. Although the bill was defeated this spring, Bray incorrectly blamed its failure for giving President Joe Biden the power to enact a vaccine mandate here. (The bill did not cover federal actions.)
It's completely appropriate to let a lawmaker know that you disagree with their position. It's fine to be direct in that criticism. That's part of a healthy democracy.
But Bray, who signed his letter with his political title, didn't merely state a policy objection.
"If I were as despicable a person as you, I would kill myself to rid the world of myself," he wrote. "You sicken me. Thank you for ensuring that the people of Wyoming are subjected to tyranny once again. F—- YOU C—-."
Wyoming has traditionally enjoyed a measure of civility in its politics that made it different from other states. A person who wrote an email as vulgar as Bray's would quickly find themselves without political support — or their elected office. The calls for their resignation would be quick and uniform, sending the clear message that egregious behavior is not tolerated here.
But that's not what happened.
Yes, Bray resigned his position as secretary of the Park County Republican Men's Club after being asked to by the group. And yes, legislative leadership called on him to resign his Park County GOP position. But Bray has refused to do so. Meanwhile, those with the most power to influence him failed to clearly say that Bray's behavior was simply unacceptable.
The chairman of the Park County Republican, Martin Kimmet correctly said that Bray's comments were "very disrespectful," as he told the Powell Tribune. But then Kimmet sought to make excuses for inexcusable behavior, saying Bray was a "great patriot" and "bright as hell, but passionate people do passionate things and sometimes they come out the wrong way."
Meanwhile, Republican Party leadership, which has no problem blasting its opponents or censuring other Republicans in the state, offered little reaction at all. Chairman Frank Eathorne put the onus back on the county party.
Bray, meanwhile, apologized "for the language that he used" but then went on to say to Nethercott "the cowardice and pettiness being shown by you and your supporters proves every other word of my e-mail."
"I will not be bullied, nor will I allow bullies to win," he added, as if he was the victim here.
Meanwhile, some lawmakers went so far as to back Bray and suggest Nethercott was the true villain. And many other lawmakers — Nethercott's coworkers — stayed silent.
Why is it so hard to say that there's no justification for Bray's behavior? Full stop. No excuses, no explanations.
If a child had told a fellow student the things Bray wrote to Nethercott, he would be suspended and likely expelled. If an employee said that to a coworker, he would be swiftly fired. An employer who failed to act would quickly find themselves on the wrong end of a workplace harassment lawsuit.
Some Bray defenders have bizarrely tried to make his comments into a First Amendment issue. What nonsense. Of course, Bray has a First Amendment right to criticize Nethercott however he wants, as long as that criticism does not cross the line into a criminal threat. But the rest of us have a First Amendment right to tell him that his behavior is despicable and shows that he's not fit to hold an election position.
Some in Bray's party deserve credit for speaking up. Speaker Eric Barlow and Senate President Dan Dockstader, both Republicans, called for his immediate resignation. (Bray can't be removed because he holds an elected position.) Even Carbon County Republican Party Chairman Joey Correnti IV, whom no one would ever accuse of being a RINO, condemned Bray's comments as "questionable and vulgar content."
But the politicians who've stayed silent need to realize that by not speaking up, they are sending the message that it's OK for others in Wyoming politics to act this way. Case in point: Bray has already said extreme things that go well beyond civil discourse. Earlier this year, he said, in a meeting discussing mask rules that "power-hungry dictators with an MD behind their name need to be fired — or executed. I'm good with either one."
Do we really want to send the message that it's OK to suggest execution is an appropriate response to COVID measures? Do we want to condone through silence behavior that intimidates lawmakers who don't share the same policy views? And at a base level, do we want to promote more incivility in our civic life?
The answer to those questions, of course, is no. We should allow free speech to flourish. And we should use that speech to send a clear message that such behavior has no place here. If we look the other way, if we remains silent, this coarseness will continue to fester until it rots what's made our state's politics different from the rest.