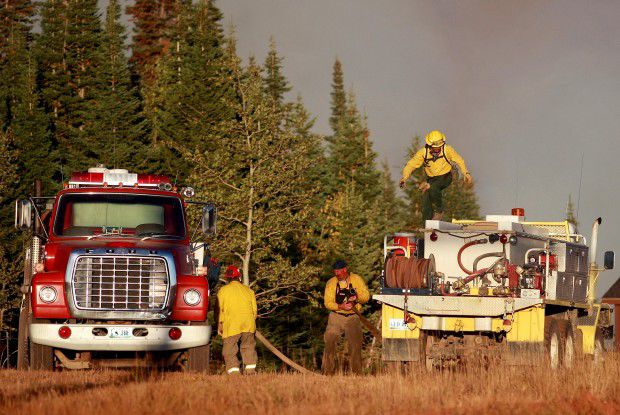 Depending on your perspective, we've either enjoyed or endured a cool and wet summer. Temperatures are expected to finally reach the upper 80s this week, but the past months have been milder than most Wyomingites have come to expect for this time of year.
Given that reality, some people might think that wildfires aren't a concern this summer. But nothing could be further from the truth. It's essential that all of us remain vigilant against the ever-present danger of wildfire. Because letting our guard down increases the likelihood of a fire that consumes homes and threatens lives.
Yes, it's true that the prairie is much greener than normal. Parts of Casper Mountain are still damp. But fire experts say it will take only a week of hot and dry conditions – which could arrive as soon as this week – to dry out the vegetation. And because of the wet spring, there is more of that vegetation around than normal.
What can be done? First, homeowners who live in forests or out on the prairie, should make sure they've taken the necessary steps to protect their property, should a wildfire ignite. That means creating a defensible space by clearing away extremely flammable timber and brush. Such actions have been proven to decrease the likelihood of a wildfire destroying homes.
But property owners aren't the only ones with a responsibility to protect our community against wildfire. Anyone who spends time outdoors has a role to play. If you plan to camp this summer, make sure you build a safe and contained campfire. When it's time to leave, make sure it's fully extinguished. Not doing so can be incredibly destructive. The Roosevelt Fire, which destroyed 55 homes in western Wyoming last fall, was caused by an abandoned campfire.
Similarly, people should heed burn bans, should authorities put them into effect later this year. Those bans are in place for a reason, and while it might be tempting for some to ignore them while away from civilization, they are there to keep our community safe. The same goes for fireworks bans. Here in Natrona County, fireworks are a big no-no. And yet every year, people defy the ban and set them off – endangering everyone in the process. Finally, be smart and be considerate. If you're a smoker, properly dispose of your cigarettes when you're outdoors. If you're riding an ATV, avoid dry areas that might be ignited by a spark from the exhaust.
Living in Wyoming means beautiful, open landscapes. It means a life that is unburdened by crowds and congestion. But it also means wildfire are a fact of life. We can't eliminate the threat, which could come from a passing thunderstorm. But if we all do our part, the chances of a catastrophic fire sweeping through our state will be lower.