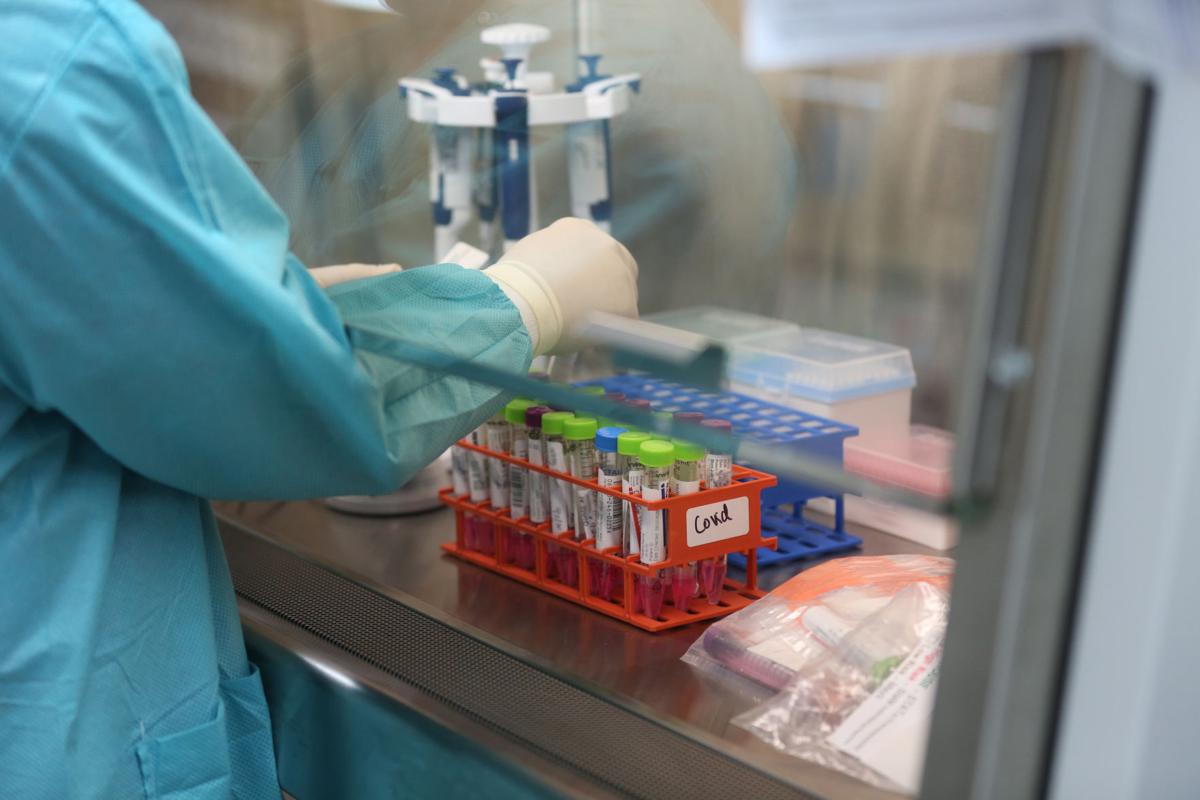 For most of the coronavirus pandemic, Wyoming's hospitals treated fewer than 20 coronavirus patients a day. The numbers would sometimes rise, like they did in July, but they'd soon fall again. The state's health system was not being overrun as was feared when the virus first emerged here in March.
Then in mid-September, the numbers began to rise. The growth was slow at first, but has dramatically accelerated of late. On Sept. 28, there were 19 coronavirus patients hospitalized statewide. By Thursday, only 10 days later, that number had spiked to 56. The state set new hospitalization records on four consecutive days.
Along the way, the state's intensive care units, where COVID-19 patients on ventilators are treated, began to get more crowded, according to figures kept by the Wyoming Department of Health. On Thursday, only two of Cheyenne Regional Medical Center's 15 ICU beds were open. Only four of 14 ICU beds were open at Wyoming Medical Center. All but two of Campbell County's seven ICU beds were full. And Cody's hospital had no open ICU beds at all, health department figures show.
That dramatic rise in hospitalizations and decline in ICU space follows a similar spike in cases throughout Wyoming. Consider that it took Wyoming 168 days to record its first 1,000 COVID cases. It took only nine days for cases to rise from 5,000 to 6,000.
That's hardly the only concerning statistic. On Thursday, the state set new records for 10-day average in confirmed cases, 10-day average in total cases, confirmed active cases and total active cases. Here in Natrona County, we recorded more cases in the month of September than during previous six months combined.
Put simply, COVID-19 infections are spiking like never before in Wyoming. And that's beginning to tax our health care system in new ways. Hospitals are contending with the spike, but they're not alone. A dozen long-term care facilities in the state have now experienced outbreaks. And when rates of COVID-19 spike in our state, the number of health care workers who are infected inevitably rise as well.
In other words, as the number of coronavirus patients grows, there will be fewer health care workers capable of caring for them.
"We are now all-hands-on-deck to keep the hospital staffed," Paul Beaupre, the CEO of Jackson's hospital wrote in an Oct. 2 message to the community. "With our best effort, we can keep our heads above water today. What will happen if today's COVID surge doubles next week?"
A fair question. And one with a concerning answer. In Wyoming, we've enjoyed a summer with rolled back COVID-19 restrictions. Unlike many states, our schools are still open. We can dine at restaurants and attend events. In a few weeks, the Wyoming Cowboys will play football again at War Memorial Stadium.
But what will happen if the number of cases and hospitalizations continue to spike? If one hospital in Wyoming is already experiencing an "all-hands-on-deck" moment, how many others are far behind? At what point will Gov. Mark Gordon and State Health Office Alexia Harrist be forced to add new restrictions rather than take them away?
The consequences of new restrictions, especially as we head toward winter, would be catastrophic for our economy. More businesses would close. If schools can't stay open, parents will be forced again to quickly find day care options or stay away from work.
And more hospitalizations inevitably bring more deaths. COVID-19 fatalities tend to trail spikes in cases by a few weeks. So we likely haven't felt the full impact of this latest surge.
The irony here is that the people with the loudest voices demanding the opening of our state are also the ones doing the least to keep it from closing again. They are the ones who callously refuse to help protect not only public health, but also our economic vitality, by failing to take simple measures to rein in the virus. How difficult is it wear a face covering at the grocery store? Why is it so hard to simply keep a safe distance from strangers?
The simple truth is that if we want to avoid more death and more economic calamity, people are going to have to decide that a mild inconvenience is not an attack on their personal liberty. They must realize that there is no weakness in taking simple precautions to avoid a potentially deadly illness. They should understand that taking the pandemic seriously isn't about politics. It's about us all doing our part to make sure Wyoming gets through this most challenging of times.