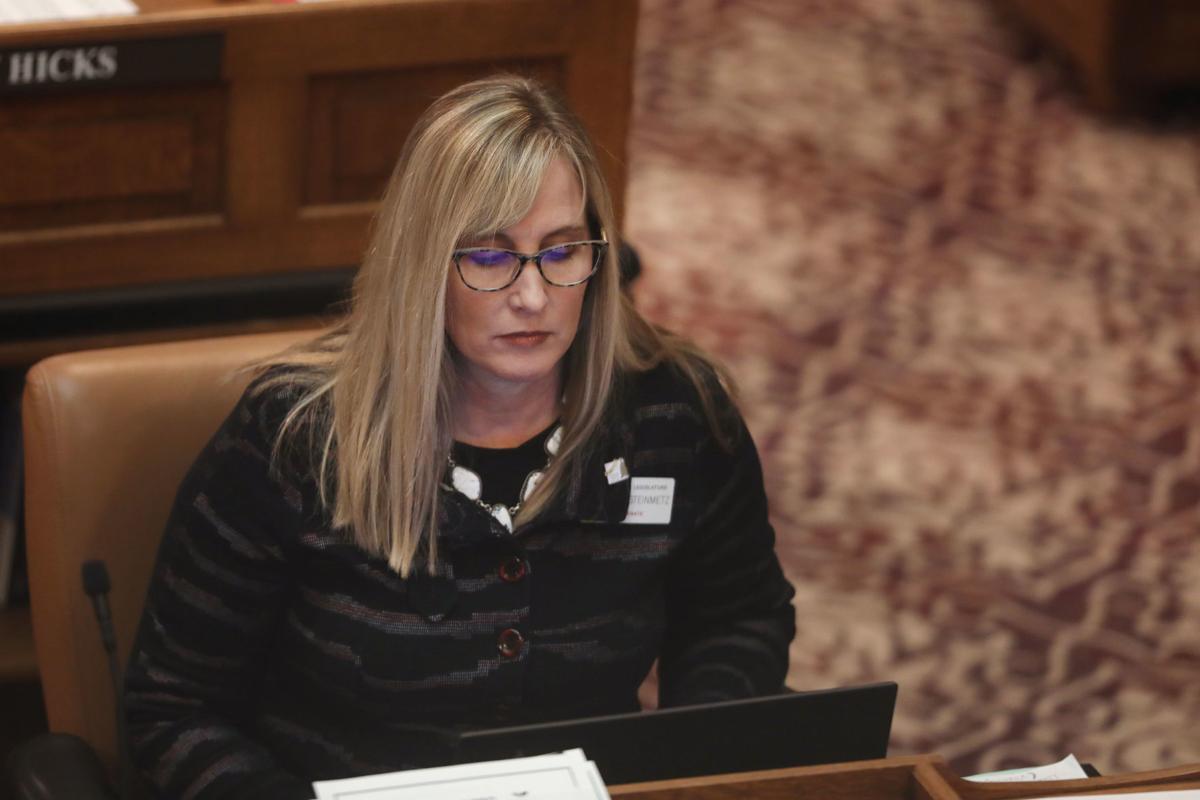 For a long time, Wyoming politics seemed to lack the bitter ideological partisanship that exists in other states. That's not to say politics in Wyoming aren't tough at times. But until the past decade, lawmakers seemed less interested in wedge issues and more focused on pragmatically solving problems.
Now, even minor issues are politicized in ways that only distract us from the profound issues that our state actually faces. Consider the attempt earlier this month by Sen. Cheri Steinmetz, R-Lingle, to scuttle the nominations of three people appointed by the governor to serve on state commissions. Though Steinmetz ultimately failed, the fact that several lawmakers went along with the effort hints at a coarseness to our politics that we hope doesn't become more pervasive.
On the weekend prior to the vote, Steinmetz had penned a handwritten note to Gov. Mark Gordon. In the note, which the governor's office released after a reporter requested it, Steinmetz said she was "unable to vote to confirm these candidates as they have demonstrated the inability to remain impartial in the areas they would oversee." Steinmetz went on to encourage Gordon to replace the three – Dr. Rene Hinkle, Ryan McConnaughey and Keren Meister-Emerich – with "candidates more in step with Wyoming values."
When a reporter asked her about the letter, Steinmetz declined to elaborate or explain what exactly she meant by "Wyoming values." But we would argue that challenging three qualified appointees, ones vetted by the governor and possessing impressive resumes, showed a lack of Wyoming values. It hinted at exactly the kind of politics that turn off so many Americans.
Because the candidates' abilities weren't in question. McConnaughey is a spokesman for the Petroleum Association of Wyoming, one of the most powerful industry groups in the state, and a former staffer for former Congresswoman Cynthia Lummis. Hinkle is an OB/GYN and chief of staff at Cheyenne Regional Medical Center, one of the state's largest hospitals. Meister-Emerich is a longtime educator in possession of a doctoral degree from the University of Wyoming.
Although Steinmetz didn't detail what was behind her opposition, some of her colleagues suggested politics were at play. McConnaughey speculated it might be based on his LGBTQ advocacy work. Hinkle, meanwhile, had testified about bills aimed at limiting access to abortion, with objections that were medically based, rather than stemming from ideology.
Is this really what we want as Wyomingites? Qualified appointees turned away from public service for what appears to be political concerns?
Thankfully, that didn't come to pass this time, although 13 senators did vote again Hinkle's nomination. Eight senators voted against McConnaughey and five opposed Meister-Emerich.
Some who supported the nominations suggested that when appointees were opposed in the past, it was because they lacked the necessary qualifications or created a conflict of interest. Not this time.
"There was some political motivation there, I think," said Sen. Charlie Scott, the longtime Republican lawmaker representing Natrona County. "And a lot of us thought that was improper. That was probably why the effort went nowhere."
We hope similar efforts go nowhere. Because Wyoming's true values emphasize pragmatism over ideology. They reward politics that strive to solve our problems, not divide us. They are the values that honor someone for their qualifications, and their willingness to contribute time and effort, not their politics.
Catch the latest in Opinion
Get opinion pieces, letters and editorials sent directly to your inbox weekly!